Columbus enjoys a wealth of Latin American restaurants, representing cuisines from Mexico to Peru, Cuba to Venezuela and many other countries. Get to know them by exploring some of these sandwiches from the city's great Latin American eateries.
Si Senor | Jumping Beef
The family-run Si Senor started as a popular lunch spot in a downtown alley, and has added a second location in Grandview. They feature Peruvian sandwiches, with specialties like the criollo fish with fried tilapia, mayo, jalapenos, and pickled red onions, or the chicharron peruano with tender fried pork shoulder and sweet potato mayo. One of the house favorites is the jumping beef sandwich: sliced beef with sautéed onions and tomatoes, melted manchego cheese and avocado mayo.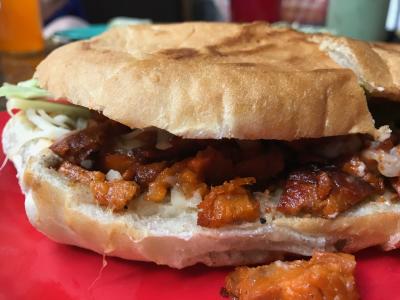 Tula Taqueria | Adobada Torta
The torta is a popular sandwich that you'll find on the menus of most Mexican restaurants and taco trucks. Tula Taqueria features tortas prominently; they give you the choice from 11 different proteins or vegetables, which gets layered with beans, avocado, onion, tomato, lettuce, cheese, mayo and sour cream on a crusty white bread. While you can choose from chicken tinga or lengua, chorizo or barbacoa, their adobada – or marinated pork – is a must-try.
Pablo's Havana Cafe | El Cubano
This new Cuban outpost set up shop in Powell, serving home-cooked recipes to hungry crowds. One whole section of the menu is dedicated to varieties of Cuban sandwiches, with meats like grilled chicken or Genoa salami – they even offer Cuban sandwich sliders. But the signature is El Cubano: pressed Cuban bread with roasted pork, honey ham, Swiss, pickles and mustard.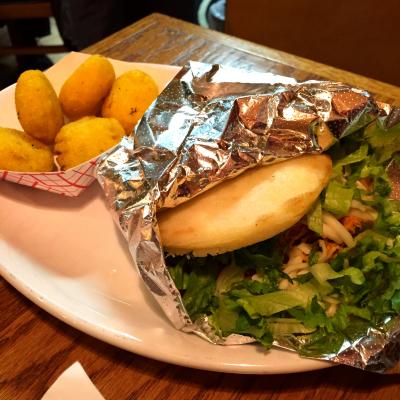 Arepazo | Venezuelan Arepa
With a focus on Venezuelan staples, the much-loved Arepazo has been introducing Columbus audiences to Latin American dishes for years. Arepazo features two locations, one in the Brewery District and one in Gahanna. Their signature dish is the Venezuelan arepa, a pocket of fried cornmeal dough, split and filled with meats, cheeses and vegetables. The Arepazo Classic includes your choice of protein – shredded beef, steak, chorizo or chicken – plus avocado, queso fresco and mojito. And certainly don't forget their popular cilantro sauce – you can even buy a bottle to take home!
Plantain Cafe | Pan Con Lechon
Plantain Cafe is a hidden gem in downtown Columbus, serving lunch and dinner daily. Their signature sandwich is the Pan Con Lechon, a shredded, slow-roasted pork topped with tomatoes, onions and a tangy mustard. You'll also find a Cuban sandwich, plus concoctions with fried tilapia, pan con bistec (marinated steak), ropa vieja (shredded brisket) and Frita – a Cuban-styled burger with ground beef and Spanish chorizo.