In the Beginning
Since its founding in 1812, Columbus has always been a haven for immigrants. One of the earliest groups to come to the city in large numbers were Germans, and they settled in the area south of Downtown, which soon became know as "die alte sud ende" or the Old South End. Over time, the name of this area became German Village. The original settlers were instrumental in building the original Ohio Statehouse, and their homes were an easy walk away from this project. The original homes in this area were simple brick structures with little ornamentation.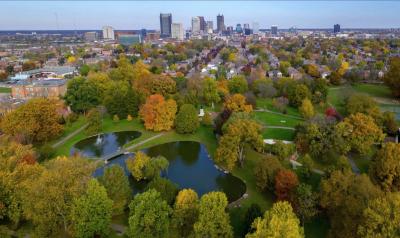 By 1865, fully one-third of Columbus' residents were German, and German language newspapers, schools and churches filled the neighborhood. The breweries that gave the adjacent Brewery District its name were largely owned and staffed by the German-American community. As the city's borders edged south, an area known as Stewart's Grove became protected parkland in 1867, and is now known as Schiller Park, one of the city's public gems. It was quickly surrounded by homes and businesses. The majority of the neighborhood's existing buildings date from the last quarter of the 19th century, and the homes around the park include some astounding examples of architecture.
Decline and Rebirth
World War I was a turning point for the neighborhood, as anti-German sentiment ran high across America. Street names were anglicized and schools were no longer permitted to teach in German. Prohibition, starting in 1920, hit the brewery-based economy of the neighborhood hard, and many people left the area to find work in other parts of the city. The entire northern third of the neighborhood (the portion between Main Street and Livingston Avenue) was demolished to make way for I-70, and what remained became an undesirable place to live. 
Visionaries in the late 1950s, including Frank Fetch, saw the potential in German Village's historic and distinctive building stock, and people slowly began moving back to renovate old homes. Historic preservation was a fairly radical idea at the time, but the community began to rebuild itself, with the area's history held high as its strongest asset. By 1963, the German Village Society and German Village Commission, an architectural review board, were established to keep the neighborhood a special place. In 1974, German Village was added to the National Register of Historic Places, and by 1980, it became one of the most desirable places to live and visit in Columbus.
The Village Today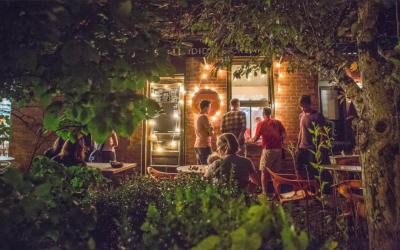 Buoyed by the historic character of its brick streets and buildings, as well as the mixed-use origins of the neighborhood, German Village retains a lot of German character. Schmidt's Sausage Haus, in business since the 1880s, draws crowds for its sausages and giant cream puffs. Valter's, a recently-opened restaurant, serves eclectic German-inspired fare. A new German restaurant will be opening on S. 4th Street later this year. You can see a statue of German poet Friedrich Schiller in the middle of his namesake park. The Columnbus Maennerchor, a German men's choir founded in 1848, is still going strong. For a true neighborhood feel, you can even stay in a restored historic home with German Village Guesthouse, a three-suite property with a beautiful garden. There are plenty of places to shop (including the 32-room Book Loft) and many other spots to enjoy an elegant patio dinner or savor a latte. To learn more about the German Village experience, check out our guide here. 
Guided Tours
Now, it's easier than ever to experience the heritage, architecture and flavors of German Village. A new tour company, German Village Tours, hosts a $15, 90-minute walking tour every Saturday, starting at 1 p.m.
The German Village Society operates walking tours between April and October, departing the German Village Meeting Haus at 11 a.m. on Wednesdays and Saturdays. Tickets cost $15. The biggest event in the neighborhood is the German Village Haus und Garten Tour, which takes place this year on Sunday, June 24. Tickets are $30. This special tour gets you access to the interiors and garden spaces of more than 10 neighborhood homes. 
Columbus City Adventures operates an $18 German Village walking tour that runs an hour and 45 minutes every Sunday starting at 2 p.m., which can be booked here. 
Columbus Food Adventures runs a weekly $60 German Village Food Tour, that lasts about 4 hours and includes 7-8 stops and tastes at the restaurants, bakeries and patios of the neighborhood. You can book tickets for that tour here.