In a city brimming with great cocktail bars, imbibing enthusiasts were excited for the opening of Law Bird cocktail and wine bar in November of 2019. The corner hotspot is the brainchild of two of the city's most accomplished mixologists: Luke and Annie Williams Pierce. The duo has experience at the now-gone Curio, Veritas, Guiseppe's Ritrovo, The Sycamore, Land-Grant Brewing, Brothers Drake, Watershed Kitchen & Bar and other haunts. In 2017 Williams Pierce was the first woman to win the United States Bartenders Guild's Most Imaginative Bartender competition in London. The two also created Four Thieves Thirst Parlour, a pop-up cocktail program that held events all across the city.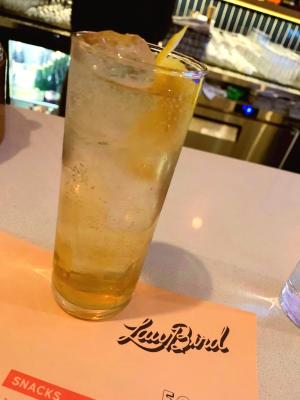 Eager cocktail drinkers beyond Columbus were excited for the opening. PUNCH magazine called out the bar, even before it opened, as one of the Best New Bars in America in spring/summer 2019. While the couple built out the bar in a former pet supply shop, they ran a successfully crowdfunding campaign to build excitement and help fund the operation.
Law Bird can be found on the booming stretch of South High Street in German Village and the Brewery District, close to Antiques on High, Ambrose & Eve, The Daily Growler and other spots.
The focus is a creative cocktail program that's serious about the details while overall not taking itself too seriously. Cocktails come with inventive descriptions. The Rambler Highball, for instance, is crafted with Scotch, plum wine, sherry and soda, and feels like "taking a sun-splashed walk through a fruit orchard on a fall afternoon." The Graeter Flavor Savor, meanwhile, combines stone fruit, port, cynar and egg, and feels like "going to Graeter's with a flask in your pocket."
There's an equal emphasis on the wine selection as well. The Pierces have a stated goal of introducing guests to a wider range of wine by exploring the dynamic offerings available from around the world. The duo curates a rotating menu, with wines available by the glass, bottle and for retail purchase.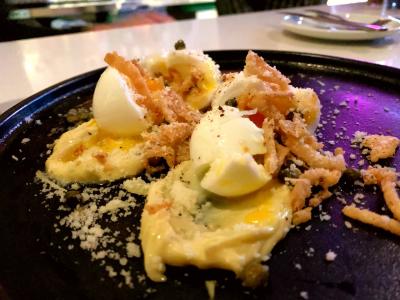 Law Bird rounds out the beverage menu with an expert selection of sake, sherry and local beers. You won't go away hungry, either, as the kitchen produces snacks and shareables that are more than a match for the cocktails. While you sip a glass of wine or a Thundergun Espresso cocktail, you can feast on sambal cashews, oeufs mayo (creamy soft eggs in a Caesar mayo with capers and onion), hummus, burrata, fragrant mushroom risotto or the chicken liver PB&J with chicken liver mousse, peanut butter powder and blackberry gastrique.
Ready for a drink now?
Law Bird
740 S. High St.
Columbus, OH 432062
lawbirdbar.com
Find them on Facebook and Instagram