Spring means blooms are bountiful in Columbus. With warmer weather comes new sights (and smells) to enjoy in our city.

This spring, treat your eyes to the beautiful wildflowers along the trails in our Columbus Metro Parks or even enjoy blooms indoors at some of our major attractions. Here is our list of the best places in Columbus to see flowers this spring.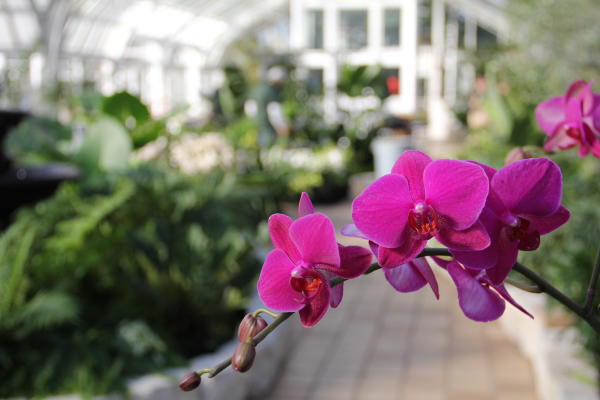 Franklin Park Conservatory & Botanical Gardens
Franklin Park Conservatory & Botanical Gardens
Blooming beauty can be found year-round at Franklin Park Conservatory and Botanical Gardens. Located on the east side of downtown Columbus, the conservatory is considered at top destination for residents and visitors alike to experience nature during every season, especially in the Pacific Island Water Garden collection.
This spring celebrates the return of their iconic exhibition, Blooms and Butterflies. Check out the gorgeous tropical nectar blooms accompanied by thousands of exotic butterflies. The kids will love the Metamorphosis Lab where they can witness the life cycle of these amazing creatures first-hand. Blooms and Butterflies is open now through May 29 and is included with general admission.
Also, visitors don't have to travel to Washington, D.C. or Japan to take in cherry trees. Columbus is home to more than 5,000 iconic trees, with a high concentration in Franklin Park. Franklin Park's lower and upper ponds are lined with 80 cherry trees, making it a great location for a spring picnic.   
See the trees during their peak bloom in early April during the 2023 Greater Columbus Cherry Blossom Festival. The second-annual event takes place April 1-9 throughout Columbus, with the final celebration happening April 8 at Franklin Park and featuring food trucks, entertainment, exhibits and cultural displays.  
Franklin Park Conservatory is located at 1777 E. Broad St. in Columbus. Get tickets and plan your trip today.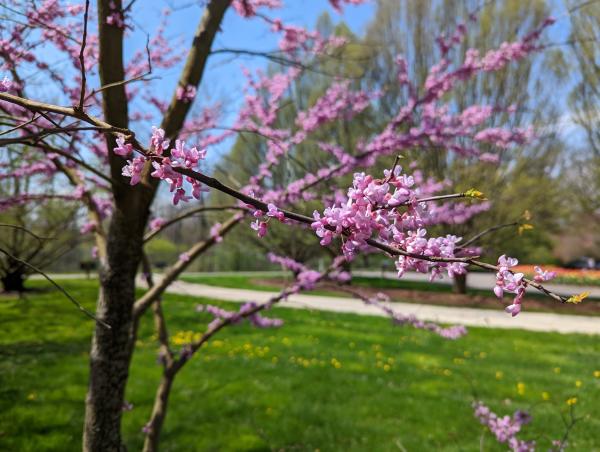 Spring blooms at Inniswood Metro Gardens, credit, Facebook
Inniswood Metro Gardens
Inniswood Metro Gardens are home to more than 2,000 species of plants situated on 123 acres in Westerville, about 20 minutes northeast of downtown Columbus. Inniswood was founded in 1972 when two sisters, Grace and Mary Innis, donated their estate to Franklin County Metro Parks. Ever since then, the gardens and trails have served as a place where residents and visitors can experience the beauty of nature.
This spring, explore the half-mile loop of the Boardwalk Trail. You'll find thousands of blooming large-flowered trillium, spring beauty, marsh marigolds and wild geraniums.
Don't miss their upcoming Spring Fling event, on Sunday, March 26! Get tickets and learn more. Inniswood Metro Gardens are located at 940 S. Hempstead Rd in Westerville.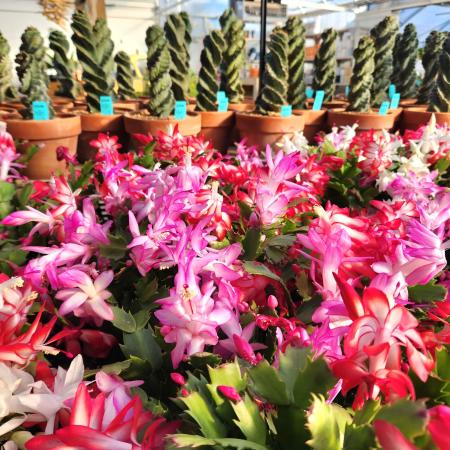 Bloom at Groovy Plants Ranch, credit Facebook
Groovy Plants Ranch
Looking to bring some blooms home with you? Groovy Plants Ranch is a family-owned greenhouse specializing in unique botanicals from across the globe. Groovy Plants Ranch doesn't just sell flowers – they offer a full calendar of events where you can learn about the blooms you love and create magical displays to take home with you.
Visit Groovy Plants Ranch at 4140 Co Rd 15 in Marengo, north of downtown Columbus.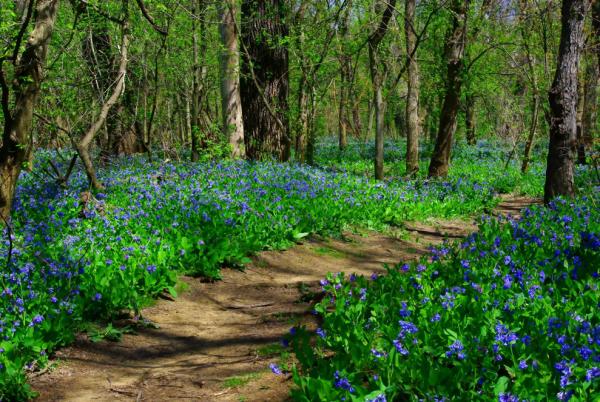 Virginia Bluebells in bloom at Three Creeks Metro Park, credit Chuck Hughs
Three Creeks Metro Park
Three Creeks Metro Park gets its name for its location at the confluence of the Alum, Big Walnut and Blacklick creeks. From late April to early May, Three Creeks Metro Park boasts some of the most beautiful wildflowers in Columbus.
Perhaps one of the most stunning places to see these blooms is the Bluebell Trail that winds through acres of Virginia bluebell flowers along the Big Walnut Creek.
Three Creeks is a dog-friendly park and is also a great place to see wildlife year-round. Three Creeks Metro Park is located at 3860 Bixby Rd. in Groveport, southeast of downtown Columbus.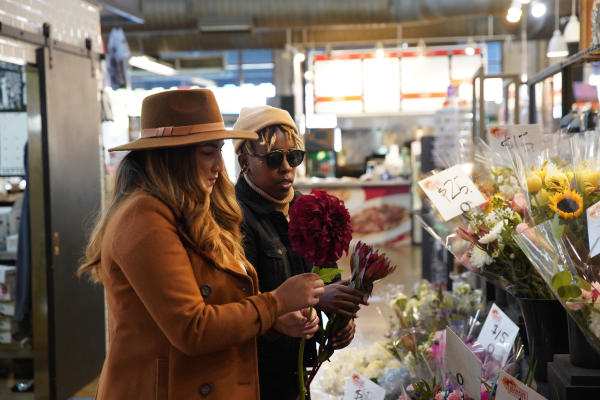 Shopping for stems at Market Blooms
Market Blooms at North Market
With plenty of flower-giving holidays and occasions coming up, Market Blooms is a great place to source beautiful booms. Fondly referred to as Columbus' Neighborhood Flower Shop, Market Blooms greets guests with locally, nationally and internationally sourced blooms year-round inside of the North Market.
Market Blooms sells handmade and custom bouquets and bundles and also offers online ordering.
Visit Market Blooms at 59 Spruce St. in downtown Columbus.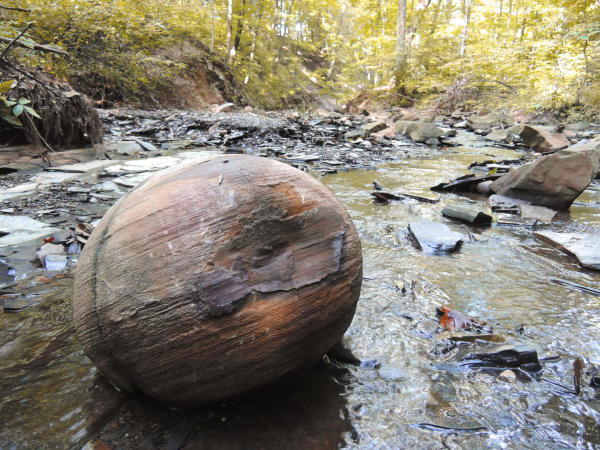 Along the Olentangy River at Highbanks Metro Park
Highbanks Metro Park
Out of more than 20 Metro Parks in Columbus, Highbanks boasts some of the most scenic blooms. Named for its massive 100-foot-high shale bluff, Highbanks is a local favorite for residents and visitors alike.
The Scenic River Trail is an easy hike along the Olentangy river where you'll see a variety of different wildflowers blooming from April to May.
Visit Highbanks Metro Park at 9466 Columbus Pike in Lewis Center.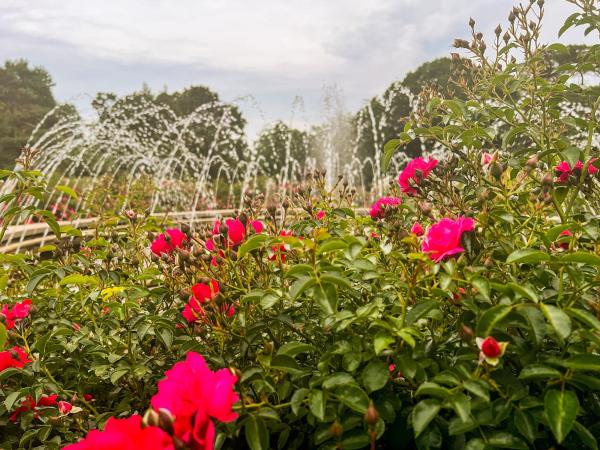 The view from the Fountain inside Whetstone Park of Roses
Whetstone Park of Roses
Located just north of Downtown Columbus in Clintonville, Whetstone Park of Roses is one of the largest rose gardens in the country. This 13-acre garden boasts more than 13,000 rose plants.
The best time to visit Whetstone Park of Roses is between mid-May to mid-September with peak bloom in June. However, there's something blooming pretty much any time! Right now, 28 Witch Hazel shrubs are showing off their ribbon-like blooms.
Visit Whetstone Park of Roses at 3923 N. High St. and learn more here.
Spring is in bloom in Columbus! Plan your visit to the best botanicals around this season and share your memories with us on social using #LiveForwardCbus.
Find more spring travel inspiration here.