Columbus does many things well, and one thing we do very well is ice cream. From much-loved heritage brands to soft serve pop-ups to scoop shops featuring Ohio ingredients, the city has plenty of options to celebrate National Ice Cream Day (on July 16 this year!) and cool off all summer long. Here's your A-Z list of Columbus ice cream shops! 
Belle's Bread
The nationally recognized Belle's combines both French and Japanese traditions to craft delectable treats. Even though it's primarily a bakery, Belle's is also known for sweet treats like matcha soft serve, parfaits, and affogatos. Visit Belle's at 1168 Kenny Centre Mall, Columbus, OH 43220.
Clown Cone & Confections
The friendly and fun Clown Cone is a beloved neighborhood ice cream parlor on Cleveland Avenue serving more than 30 flavors of ice cream as well as a colorful array of candies. Visit Clown Cone & Confections at 3431 Cleveland Ave F, Columbus, OH 43224.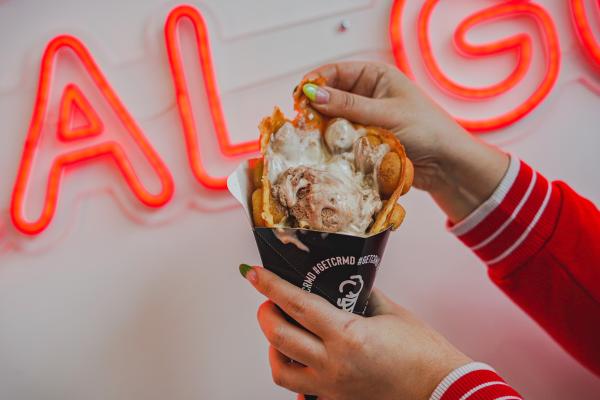 CRMD
CMRD in the Short North and Powell serves tasty and Instagram-worthy flavors of ice cream like Fruity Pebbles, Matcha, Viet Coffee, and Nilla Cookie Dough, wrapped in a puffle, a spherical egg-based waffle. Learn more about this Asian-owned business and plan your visit today.
Coppa Gelato
In Uptown Westerville, Coppa Gelato delights crowds with rich gelatos that range from triple chocolate and bourbon pecan, to chocolate-covered raspberry and Dreamsicle, plus loads of seasonal flavors. Celebrating a special occasion? Order a gelato cake! Visit Coppa Gelato at 925 N State St, Westerville, OH 43082.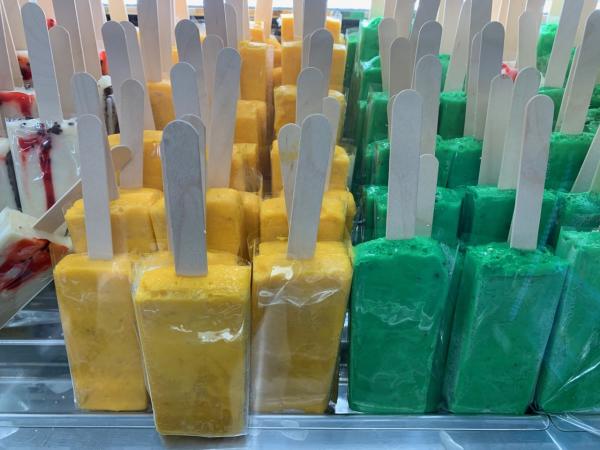 Diamonds Ice Cream
Diamond's is a Mexican ice cream parlor serves a wide range of classic and creative ice cream flavors, but also features paletas, frozen treats made with fresh fruits, cookies, and other colorful ingredients. Find their location at Bethel and Sawmill, 5461 Bethel Sawmill Center, Columbus, OH 43235.

Double Happy
Double Happy in the Hilltop makes their own soft serve, and puts it use on ice cream cones, in blended milkshakes, and even in coffee delicacies like affogatos. Try a caramel apple, cookies & cream, or peanut butter & jelly milkshake, and pair it with a Happy Burger and waffle fries! Visit Double Happy at 1280 Brown Rd, Columbus, OH 43223.
Dulce Vida Ice Cream Factory
Serving up Mexican styles of ice cream and other frozen treats, Dulce Vida has four locations in Columbus. The bright and colorful shops feature case after case of ice cream flavors and paletas. Large hanging picture menus can help guide your decision. Find a store near you.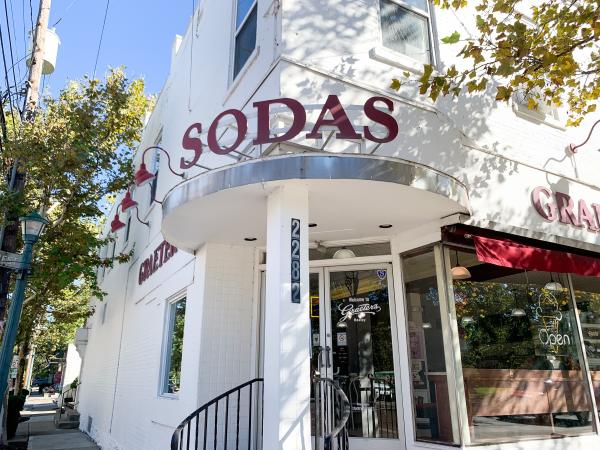 Graeter's Ice Cream
Cincinnati-based Graeter's is another local favorite around Columbus, known for their old school-style ice cream shops and classic flavors like buckeye and black raspberry chip. Graeter's has a total of 12 ice cream parlors around central Ohio, plus a food truck often spotted at community events. Find a Graeter's near you.
Handel's Homemade Ice Cream
Originating in Youngstown, Ohio, Handel's has two locations in central Ohio: one on the west side and one in Powell. They serve a huge range of ice cream flavors, as well as sundaes, smoothies, frozen yogurt, sherbets, and other sweet treats. Find a Handel's near you. 
Hilltop Dairy Twist
Another favorite neighborhood shop in the Hilltop, the Dairy Twist serves coney dogs and cheeseburgers to go with soft serve, hand-dipped ice cream cones, and Z-Zwirls: milkshakes blended with your choice of ice creams, candies, and fruits. Visit Dairy Twist at 2860 Sullivant Ave, Columbus, OH 43204.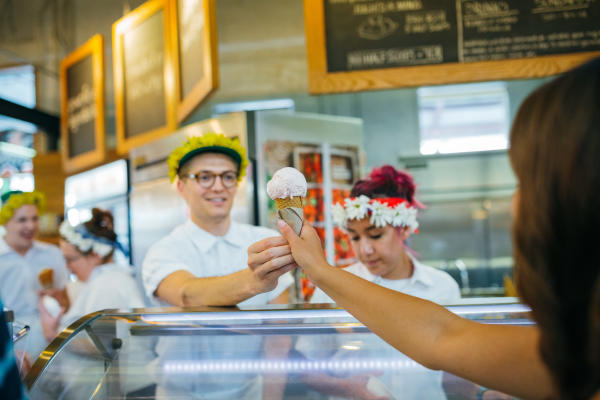 Jeni's Splendid Ice Creams
Jeni's could be considered one of Columbus' chief exports. Now with shops all across the country, Jeni's started as a stall inside the North Market, and has eight scoop shops in Columbus. Residents and visitors alike flock for signatures like salty caramel, Brambleberry Crisp, and Strawberry Buttermilk, not to mention the seasonal creations using Ohio ingredients. Find a Jeni's near you.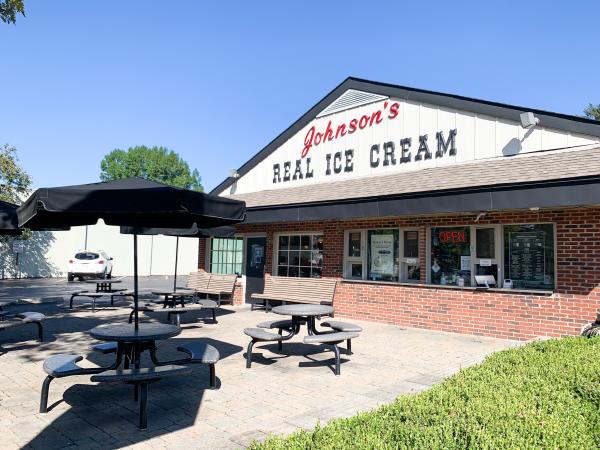 Johnson's Real Ice Cream
Family-run Johnson's has been serving central Ohio since 1950. Their original shop sits in Bexley, with newer outposts in Dublin and New Albany. Generations of families have gathered to savor classic scoops, sundaes, and shakes. Our staff loves the Columbus Crunch and their rotating menu of seasonal flavors like this July's Blueberry Pie. Find your closest Johnson's here.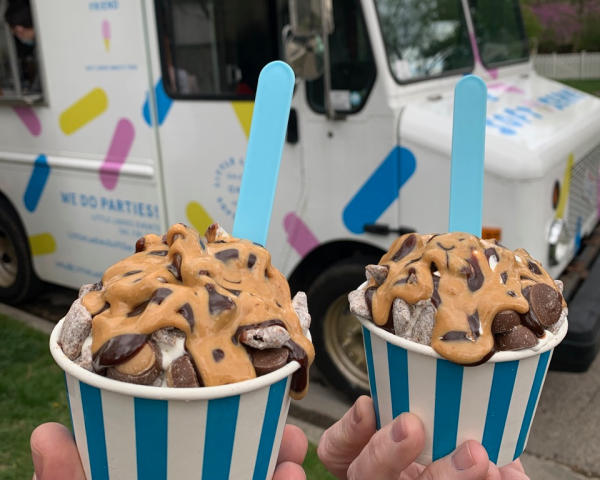 Little Ladies Soft Serve
This family-run truck pops up all over central Ohio, and opened a brick and mortar location at Polaris last year. They're known for wonderfully creamy soft serve with colorful sprinkles and sundaes with creative homemade toppings. Visit Little Ladies at 673 Worthington Rd, Westerville, OH 43082.
Mardi Gras Homemade Ice Cream
Located in northwest Columbus on Hard Road, Mardis Gras is a family-run shop featuring both traditional and international flavors. Their ice creams draw on the cuisines of India, Pakistan, Iran, and other countries, so you'll find delights like sweet rose, mango, lychee, ginger, and many more. Visit Mardi Gras at 1947 Hard Rd, Columbus, OH 43235.
Simply Rolled Ice Cream
Simply Rolled in the Short North picks up on the trend of Thai street-style rolled ice cream, where an ice cream and toppings are mixed and flattened on a chilled plate, then scraped into rolls and served in a cup. The resulting designs are as beautiful as they are delicious. Visit Simply Rolled at 968 N High St, Columbus, OH 43201.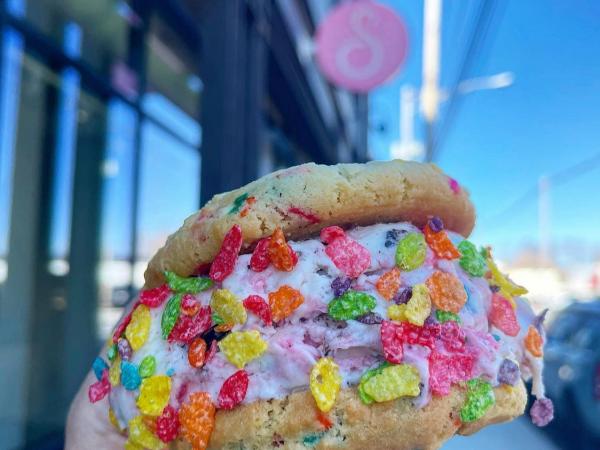 S'wich Social
This Italian Village shop lets you create your own gigantic ice cream cookies! Pick an ice cream flavor like Confetti Sugar, Brownie Bash, or Couch Potato, then choose a pair of soft, fresh-baked cookies and they'll load up your sandwich with the toppings of your choice. Can you eat it before it all melts? Visit S'wich Social at 869 N 4th St, Columbus, OH 43201.
Tony's Coneys
Located on West Broad Street, Tony's Coneys is a long-running favorite known for its hand-dipped ice cream cones, milkshakes, and sundaes. Visit Tony's Coneys at 5266 W. Broad St, Columbus, OH 43228.
Velvet Ice Cream
Founded in Utica, Velvet Ice Cream is an Ohio staple when it comes to sweet treats. Plan your immersive experience into the world of Velvet by visiting the Ye Olde Mill in Utica or try their famous flavors at local scoop shops like Tasty Dawg in downtown Columbus.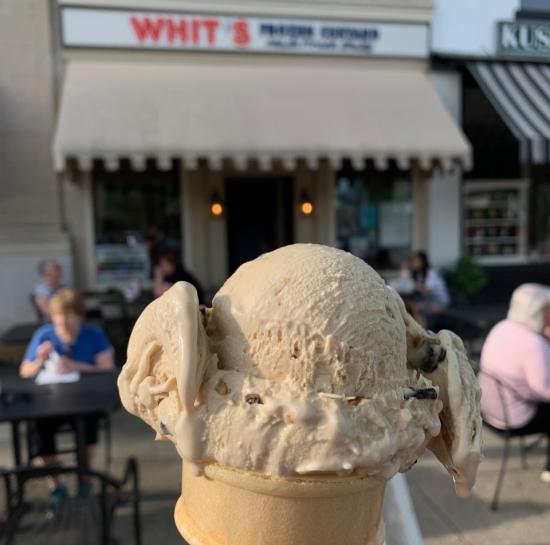 Whit's Frozen Custard
Whit's is a regional favorite originating in nearby Granville, Ohio, and has locations in Clintonville, Westerville, Grove City, Canal Winchester, Gahanna, Hilliard, New Albany, Powell, and many more towns across the region. Their rich custards are a decadent treat in the hot summer months. They feature chocolate, vanilla and a rotating weekly special flavor. Find your closest Whit's here.