During the shutdown due to the coronavirus, Columbus pizza shops are already set up for carryout and delivery, so many of them have continued business as usual. You can feed the family and support local businesses by ordering from some of these Columbus pizza shops. 
Need help picking a style? Get started here! 
Columbus Style 
Yes, Columbus has its own style of pizza! Columbus-style, often called tavern or party cut, is thin crust, cut into squares, with toppings spread to the edges. 
Where to try it?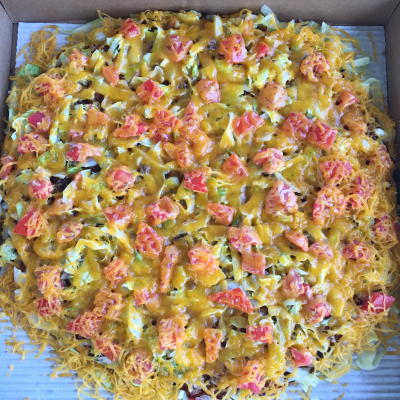 Terita's Pizza: serving the city's north side since 1959, Terita's is a family-run shop known for their thin crust pizzas and house-made sausage. If you're visiting for the first time, try the Terita's Special loaded with pepperoni, sausage, mushrooms, green peppers and onions. 
Pizza House: the family-run Pizza House has been pumping out pizzas, subs, pastas and other favorites since 1961. Their house specialties include the loaded All The Way, the BBQ Chicken, the White Special with homemade white sauce, provolone, chicken and tomato. 
Other Columbus-style spots: Massey's Pizza, Donatos, Sparano's Pizza, Gatto's Pizza 
New York style 
New York style is the one of the country's iconic pizza styles: large triangle cut slices that you fold up to eat.  
Where to try it?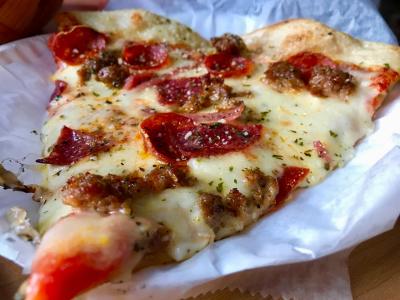 Natalie's Coal Fired Pizza: Natalie's Worthington location remains open, offering carryout of their pizzas crisped up in their coal-fired oven. Try the fragrant Funky Funghi, the Venetian Jail with Italian sausage or the Joy of the Mountains with basil and oregano. 
Paulie Gee's: this Short North shop fires up Neopolitan-style pizzas with crispy crusts and creative toppings. Try The Katzinger with Swiss, pastrami, and sauerkraut, or the Hog Pit Brisket with Ray Ray's brisket and BBQ sauce with fresh mozzarella. You can also order Paulie Gee's pies as thicker crust squares in the vein of Detroit-style pizzas. 
Other New York-style pizza spots: Sarefino's Pizzeria (in North Market), Borgata Pizza Cafe, Mikey's Late Night Slice, Hounddog's Pizza 
Deep Dish 
There are a few deep dish styles across the Midwest, from the casserole-like Chicago deep dish to the thick, square-shaped Detroit style. While Yellow Brick and Adriatico's don't exclusively do deep dish, they feature signature pies fitting to the style. 
Where to try it?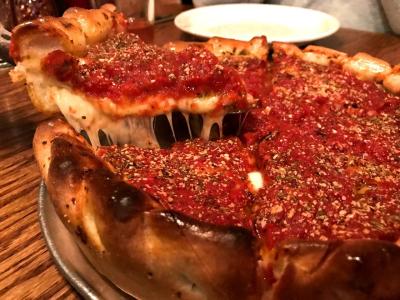 Yellow Brick Pizza: Yellow Brick is known for their New York style pizzas with crazy combinations, like the Spicy Corn Chowder, Rhode Island Red, Green Man, and Dante's Inferno. They keep the tradition alive, however, of the now-shuttered Tristano's from Grove City by cooking up the pizzeria's signature Chicago-style deep dish. 
Adriatico's: Adriatico's is an Ohio State campus institution that moved to a new location in recent years. They continue their carryout business serving old favorites like the Hawaiian, Chicken Bacon Ranch, and Supremo. Their pizza is best known ordered with their Sicilian thick crust. 
Meister's Bar: A stand-alone German cottage tucked on Chambers in Fifth by Northwest, Meister's has an old-school pool hall vibe and is known for their very serious Chicago-style deep dish pizza. Baked in a pie tin with the sauce on top, whether building your own or ordering a house favorite like the meat lovers, it's more than worth the 45 minute wait.
New Haven style 
New Haven style pizza – properly known as "apizza" – is similar to what Natalie's and Paulie Gee's produce: thin, crispy-crusted pies cooked amazingly fast in coal-stoked pizza ovens. 
Taft's Brewporium: The Cincinnati-based Taft's Brewing opened their full service restaurant in Franklinton's Gravity development last year. In addition to their beers, the focus is New Haven style pizzas cooked in their tile-decorated oven. Currently they're offering carryout of their Original Tomato Pie (crushed tomatoes, garlic, mozzarella, pecorino), plus salads, bottled wine, and six-packs of beer. 
Need more ideas about on local pizza shops? Read our post here: experiencecolumbus.com/blog/post/pizza-styles-in-columbus-and-where-to-find-them/