Located just east of downtown Columbus, the city of Bexley is a wonderful spot for a variety of eats: from coffee and deli sandwiches to pizza and ice cream, upscale Italian to fast casual Mediterranean. Here's your insider's guide to dining in Bexley and some of its surrounding neighborhoods.
Breakfast, Bakeries, & Coffee
Start your day in Bexley with a cup of coffee or a fresh bakery item. Block's Bagels has been a neighborhood institution since the 1960s, creating authentic New York-style bagels in-house and topping them with lox, corned beef and everything in-between. Stav's Diner nearby is relatively new, but feels like an old school joint, serving hearty breakfasts and lunch. Zen Cha Cafe & Tea features a large selection of international teas to go with a menu of soups, salads, and sandwiches. Curl up at the Bexley Coffee Shop with a mug of locally roasted coffee and a house-made scone or coffee cake. Kittie's Cafe serves up cappuccinos and other espresso drinks to go with beautiful cupcakes, cinnamon rolls and breakfast sandwiches. Cherbourg Bakery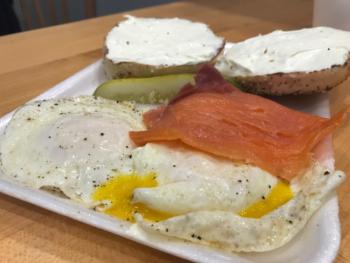 offers all of your favorite pastries – completely gluten- and nut-free!
Fast Casual
There's no shortage of easy lunch options around the neighborhood. The always-popular Brassica features colorful fast casual locavore dishes, while the Bexley Piada shop is a favorite for quick pasta dishes and rolled piadas filled with fresh veggies and meats. If you're in the mood for Mediterranean, stop by Pita House for falafel and gyros. Newfangled Kitchen is a newcomer specializing in meatloaf. They fashion creative meatloaf sandwiches, as well as salads and classic sandwiches like reubens and tuna melts.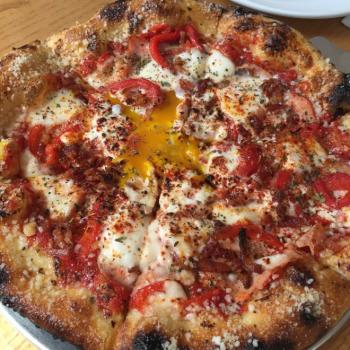 Pizza
You'll find plenty of pizza in Bexley, from the old school to the new. Rubino's is a long-running institution, known for their neon sign out front and their signature thin crust Columbus-style pies. Bexley Pizza Plus has won awards for their menu of signature pizzas. Anthony's Pizzeria is another neighborhood favorite, serving New York-style pizzas since 1940. Finally, Harvest Pizzeria offers creative takes on pizzas, from their Spicy Yuma to the Fennel Sausage. The Bexley location also serves burgers, sandwiches, and small plates.
Dinner
No matter what you're in the mood for, you'll find something for dinner in Bexley! Cozy up for pints and pub fare at the Old Bag of Nails or The Rusty Bucket. Giuseppe's Ritrovo serves delectable scratch-made Italian dishes, and is known for their cocktail program, too. Savor classic Indian dishes at Aab India or everything from kebabs to moussaka to lamb shanks at Cafe Istanbul. Moshi Sushi Bar features house-made sushi, noodle dishes, and other staples. Bexley Premiere Restaurant is the spot for fine dining, with a menu that spans steaks, pastas, lamb, seafood, plus cocktails and dessert. Just beyond the border of Bexley is The Top Steakhouse, a long-running institution that hasn't changed much since it opened in 1955. There, you can enjoy live piano music and attentive service while you feast on steak, seafood and cocktails. If you're in the mood for Chinese food, visit Peking Dynasty or Billy Lee's. There's also Wing's, serving a unique mix of Chinese dishes, wings and a remarkable Scotch whisky selection.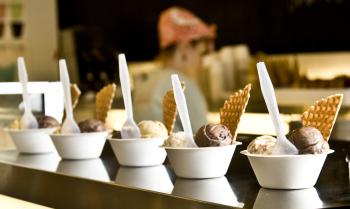 Dessert
Finish your day with a sweet treat from Columbus' favorite ice cream shops: Graeter's Ice Cream, Jeni's Ice Creams, and Johnson's Real Ice Cream.