Become a City Ambassador
Travel and tourism are big business. In Greater Columbus, visitors spend $7 billion each year and supports nearly 78,000 jobs like yours.
A positive visitor experience is critical to increase the number of visitors to our city, how much they spend and, most importantly, their desire to come back. The Greater Columbus Tourism Ambassador program was developed to foster a destination-wide culture of quality service and welcoming citizenry.
The Certified Tourism Ambassador™ (CTA) program is a national certification and a respected professional achievement. Through this program, frontline employees, ambassadors and volunteers will improve their knowledge of Greater Columbus, craft answers to frequently asked visitor questions, interact with peers, share best practices and develop a better understanding of their role in increasing tourism. CTAs will complete required reading and learning assignments, attend a half-day classroom session and pass an open-book examination. When completed, participants will be a CTA and have the tools and knowledge to create a memorable visitor experience.
There is a one-time non-refundable, non-transferable application fee of $34 per person and an annual renewal fee of $20 per person.
You are invited to enroll in the Greater Columbus Tourism Ambassador program and join the area's 2,200+ CTAs and 45,000+ CTAs nationwide and in Bermuda who have earned this designation!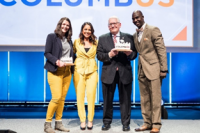 Congratulations to Amanda Davis, executive director of Visit Grove City, for being named the 2018 Greater Columbus CTA of the Year! Also, the Greater Columbus Convention Center was named the 2018 CTA Employer of the Year! Pictured left to right: Amanda Davis, CTA, CMP; Robbie Banks, CTA, director, visitor experience at Experience Columbus; Don Brown, CTA, executive director of Franklin County Convention Facilities Authority; and John Page, CTA, general manager at SMG-Greater Columbus Convention Center.
2017 CTA of the Year

Billy King, CTA, Security Administrative Supervisor at the Columbus Zoo and Aquarium.

2017 Employer of the Year

Visit Gahanna 
2016 CTA of the Year

Violet Mowry, CTA, Concierge at Columbus Hospitality.

Violet is also a CTA program facilitator.                                           
2015 CTA of the Year

Amy Huggins, CTA, CMP, Senior Customer and Guest Experience
Manager for the Greater Columbus Convention Center.

Amy was also named the 2015 International CTA of the Year.
View program details and curriculum (CTA brochure)
Sign-up for a CTA class
To learn more, contact Michelle Wilson, CTA, director, visitor services at 614-222-6149 or mwilson@experiencecolumbus.com.