Fall has officially arrived and with it comes gorgeous foliage in Columbus. Whether you're looking to explore one of our fantastic Metroparks or looking to stay closer to the city, fall color is everywhere for you to see this season. Ready your camera and your senses and don't miss these best places for fall color in Columbus.
Pro Tip: Be sure to follow ODNR's Fall Color Updates to track the best times to get out and explore this season.
Gay Street (Downtown Columbus)
The block of Gay Street in downtown Columbus between 4th street and Cleveland Ave is so dreamy this time of year. Visit this quaint street in the middle of the bustling city to spy stunning yellow color on a fantastic backdrop.
Come for the fall color and photos, and stay for the food! The dining scene on Gay Street would keep you satisfied all day starting with a cup of coffee from Brioso, a cocktail from The Citizen's Trust and your pick of great dinner options from upscale places like Due Amici, Veritas and Speck Italian Eatery.
While you're in the area, don't miss the new public art installation Current by Janet Echelman.
The Harvest Blooms exhibition is a must-see while you're spying fall foliage on the grounds of Franklin Park Conservatory.

 
Franklin Park
Fall festivities come alive this time of year at Franklin Park Conservatory and Botanical Gardens. With can't-miss fall events like Harvest Blooms and Pumpkins Aglow, you can make a whole day out of leaf peeping on the grounds and then heading inside the conservatory for all the fun.
Pro Tip: Be sure to bring your camera to snap family photos in front of the iconic pumpkin house – part of the season Harvest Blooms exhibition.
Visit Franklin Park at 1777 E Broad St, Columbus, OH 43203.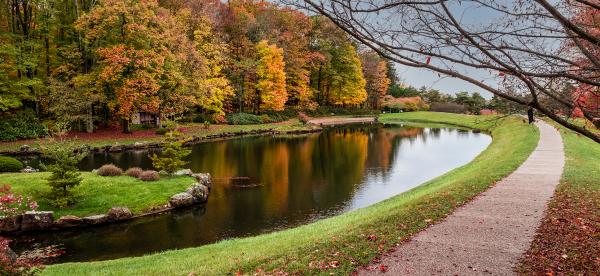 Enjoy 2,000 acres of fall color at Dawes Arboretum.

 
Dawes Arboretum
A remarkable tree sanctuary, Dawes Arboretum boasts 2,000 acres and 15,000 different plants to uncover just 30 miles outside of downtown Columbus. With 12 miles of hiking trails and a 4-mile driving route, they make it easy to spy the changing of the leaves this time of year. Don't miss their Fall Color Hike happening on Oct. 21.
Dawes is located at 7770 Jacksontown Rd, Newark, OH 43056.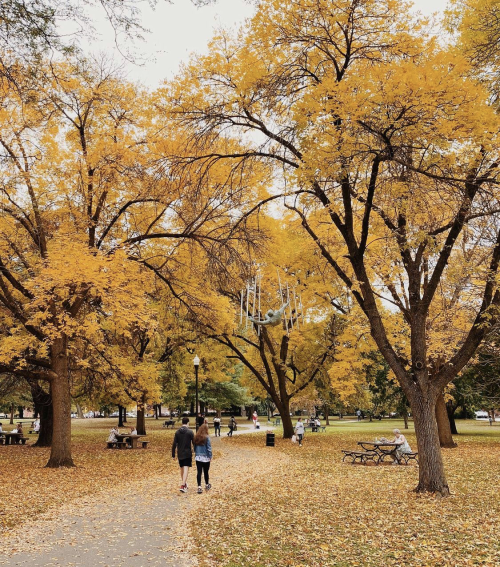 Schiller Park is one of Columbus' oldest city parks boasting stunning fall foliage.

 
Schiller Park
There's nothing more idyllic than German Village in the fall. Not only do the neighborhood residents go all out with their Halloween decorations, but the fall color in Schiller Park is exceptional this time of year. Grab a blanket and pick up some seasonal bites from an area restaurant to get the full experience. Use our German Village Dining Guide to get you started.
Pro Tip: Street parking is free in German Village with plenty of spots available around the park perimeter and the surrounding side streets.
Visit Schiller Park at 1069 Jaeger St, Columbus, OH 43206.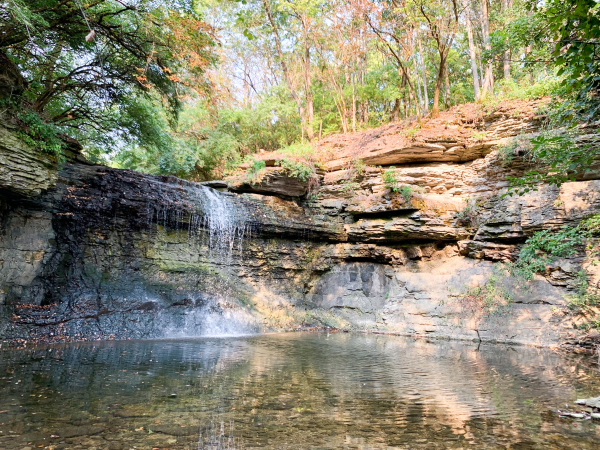 Follow the Milliken Falls Lower Trail to view the 25 ft. waterfall at Quarry Trails Metro Park.

 
Quarry Trails Metro Park
As Columbus' newest metro park, Quarry Trails lives up to the hype, especially in the fall. With weather permitting activities like mountain biking, kayaking, hiking and more, Quarry Trails is sure to keep the entire family entertained for hours while you take in the fall foliage.
Our number one suggestion: head down the short Milliken Falls Lower Trail to view its stunning, 25 ft waterfall.
Pro Tip: For easy parking, check out their park map.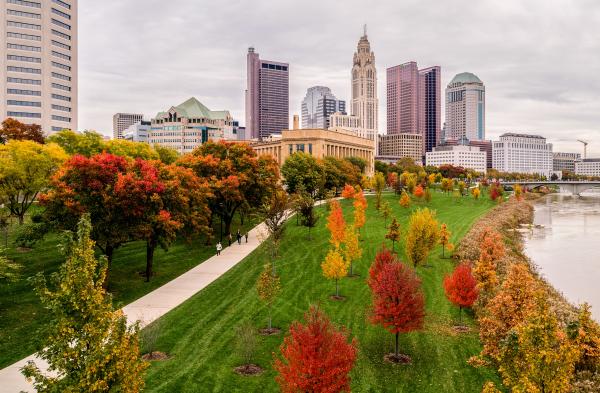 The Scioto Mile makes for a stunning, easy fall hike.

 
The Scioto Mile
There's nothing better than skyline views amidst a backdrop of stunning fall foliage. The Scioto Mile is a 175-acre stretch of greenspace in the heart of downtown Columbus with paved pathways along the Scioto River. The Mile's several varieties of trees make for a colorful showing of foliage including reds, oranges and yellows. Don't forget to snap some photos along the waterfront!
Pro Tip: After you work up an appetite on your hike, stop into Milestone 229, an American-style eatery right on the river for lunch.
Visit The Scioto Mile at 233 S Civic Center Dr, Columbus, OH 43215.
Fall is truly Columbus' most colorful season and a perfect time to visit some of the area's outdoor spaces. Explore Fall in Columbus for more seasonal sights and share your memories with us using #FallinCbus.