Our weekly series, Live to Explore Cbus, features Columbus' thriving neighborhoods through the eyes of influential people who live, work and play in the area. Discover personal stories, favorite locales and best kept secrets about the neighborhoods that make our city so special, from the people who experience them every day! 
This week, we're highlighting Franklinton with Mandi Caskey (aka Miss Birdy), contemporary muralist and co-founder of Catalyst Columbus.
Why is Franklinton so special to you?
Franklinton is the first neighborhood in the city to allow me to paint a mural on a main wall. Until that point, I was painting in abandoned structures and buildings. The community not only had trust in me, but they believed in my work and style as an artist. 
Mandi Caskey looking up at the 90ft mural she painted inside Franklinton's Gravity project.
What is Catalyst Columbus and how did it get started?
Catalyst Columbus is a grassroots effort to create large-scale contemporary murals in Columbus. Our goal is to bring gallery-grade art onto the walls that people walk by every day. We want to bring internationally known artists to work alongside local artists to elevate the artistic prowess of our city. 
Brian Suiter and I became acquainted back in 2017 when we did a panel discussion for local developers. The entire time I spoke, Brian agreed and echoed everything I said. After the panel, we decided we needed to grab coffee and talk about our ideas. Since then, 100 coffees later and probably 1,000 beers, we dreamed up Catalyst. Amazingly enough, all of these conversations, including the panel, took place in Franklinton!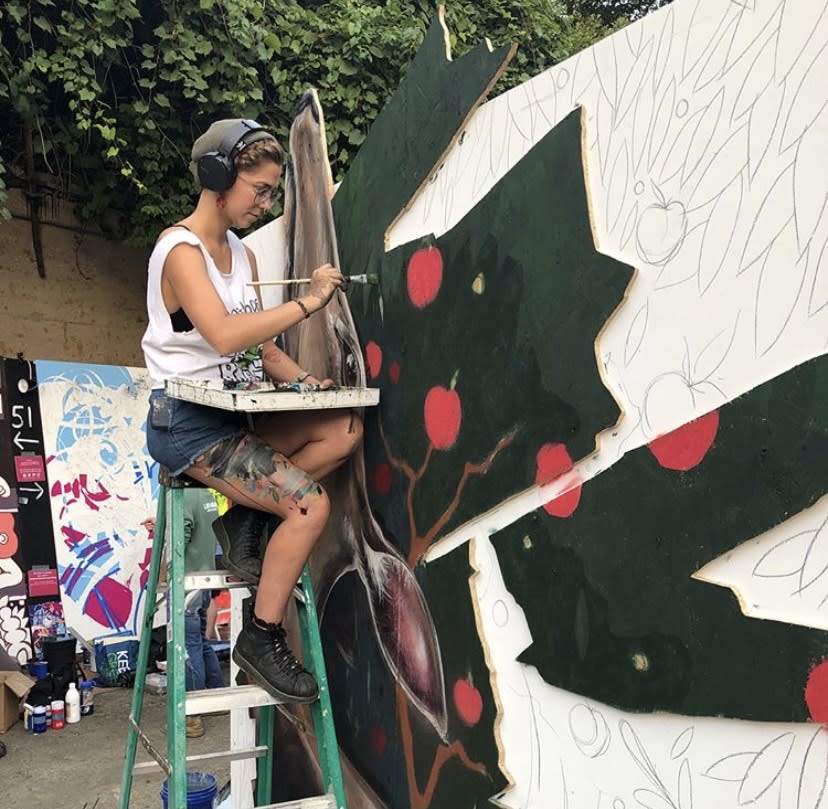 Mandi Caskey painting during Urban Scrawl 2018
How has Franklinton served as a catalyst for Columbus' art scene?
Franklinton is the real deal. This is a community of people who have been through thick and thin. The artists that reside in this neighborhood have been the most welcoming and open to new artists, and that's a major characteristic of Franklinton. If you dream it or want to try it, F-town will house it and manifest that vision. 
Does Franklinton inspire you creatively? If so, how? 
I live in Franklinton and I can honestly say it inspires me every day to think outside of the box, create something bigger and better and keep pursuing the things I want to create.
Giant Rock 'em Sock 'em Mandi Caskey made for ID Fest 2014
What do you think is the future of Columbus' art scene?
The Columbus art scene is vast and ever-changing. The collaborations that have happened, and those that have yet to form, will finally bring the genuine vision of Columbus to life. We have so many different talents, but a lot of the time we are gathering inspiration from Louisville, Cincinnati and other cities. If the art scene was allowed enough room and trust to grow, I believe we have the opportunity to place Columbus on the artistic map in a huge way. The future is bright for artists in Columbus. It's only a matter of time before we get to show off what the artists in this city can really do.
Are there any hidden gems in Franklinton that people should know about?
A hidden gem in Franklinton would have to be the guys at 129 studios. They have been authentic since Franklinton transitioned into the art hub of the city. This graffiti-centric space has allowed so many underground artists through its walls, and allowed them the space to experiment and even cause a little havoc.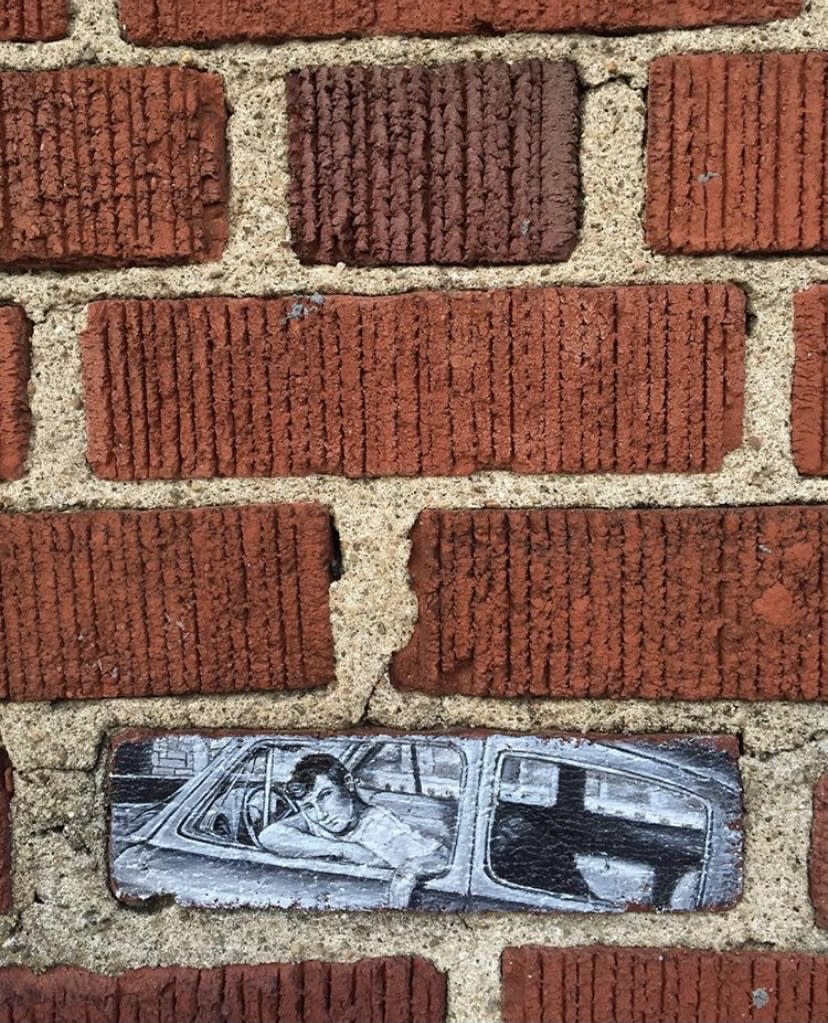 Brick painting done by Mandi Caskey in Franklinton
Why should visitors and residents of Columbus spend time in Franklinton? 
Franklinton is the place where all the cool kids hangout, and they all want to get to know you. This part of the city is genuine and gives you a real experience to take away. You might take photos with the murals or some weird scrap painted car, or have a very intellectual conversation with the person sitting next to you at Land-Grant. Either way, you'll leave with a story and a reason to come back and hangout with us.  
Describe your perfect day in Franklinton.
My perfect day in Franklinton is waking up early and taking a walk to One Line Coffee while observing all the interesting characters stretching their legs and walking their dogs. Then checking out the new art in the area before heading home to paint as well.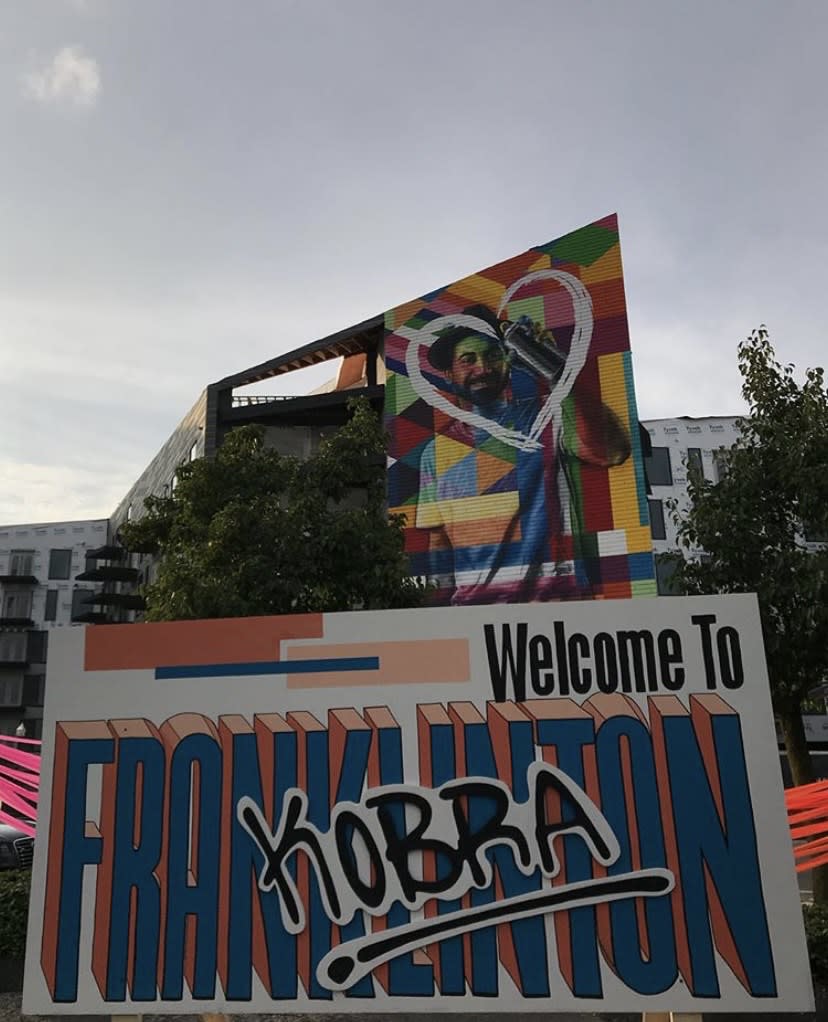 'Welcome to Franklinton, Kobra' sign by Mandi Caskey