Get ready to embark on a captivating journey of sound, art, and culture at the highly anticipated Wonderbus Music and Arts Festival, August 25th to 27th, 2023. Nestled within the heart of this Columbus from The Lawn at CAS, Wonderbus promises a weekend of exhilarating performances, mesmerizing visual spectacles, and an immersive celebration of creativity.
Now celebrating its fourth year, here are four things you need to know about WonderBus Music and Arts Festival.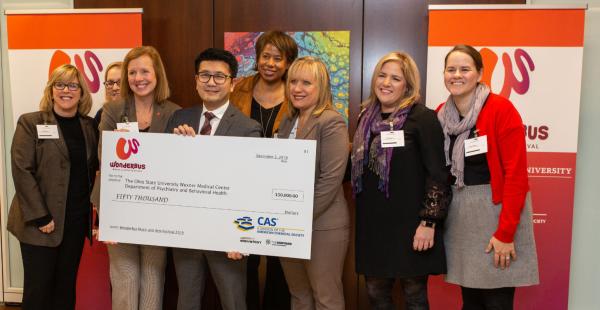 The Mission of Mental Health
The purpose of WonderBus goes beyond just music. The festival has developed a unique partnership with Wexner Medical Center's Department of Psychiatry and Behavioral Health and Nationwide Children's Hospital's On Our Sleeves movement to reduce the stigma surrounding mental health. This partnership brings both attention and funding to these organizations to further awareness and resources to those who need it the most.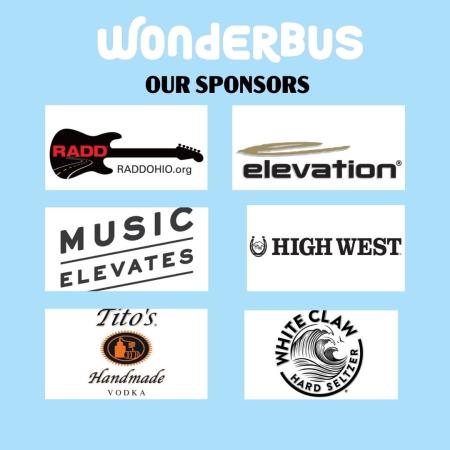 Sponsors With Purpose
WonderBus has also partnered with several special organizations to make this event happen. Among those are Recording Artists Against Drunk Driving (Ohio), a dynamic organization that unites musicians and performers to raise awareness about the dangers of drunk driving through their influential voices and impactful campaigns. They've also connected with Music Elevates, a non-profit entity with a mission to educate, inspire and motivate future generations while embracing, participating in and promoting one of the world's great assets – music.
Other sponsors include White Claw, High West, Tito's Vodka and Elevation Group.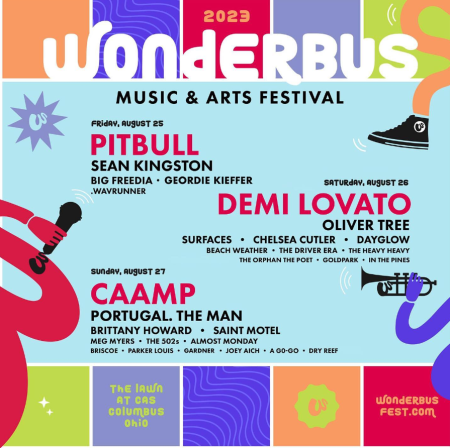 The Best Line Up Yet
Get ready for two nights of unforgettable music. Festival organizers are calling it their "best lineup yet" featuring the likes of Demi Lovato, Pitbull and Columbus' very own, CAAMP. More acts include Portugal. The Man, Sean Kingston, Brittany Howard, Saint Motel and more.
See the full lineup.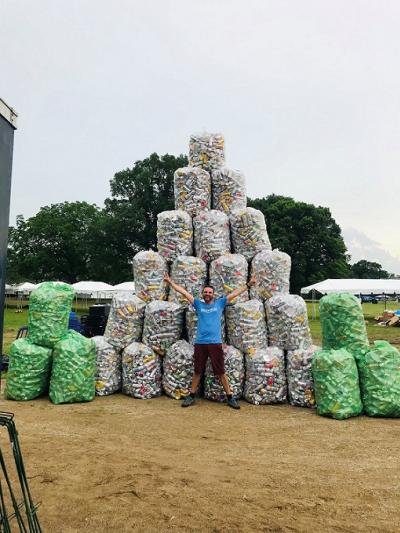 On the Road to a Zero Waste Event
In 2022, festival organizers partnered with Zero Waste Event Productions to ensure that 90 percent of festival waste did not end up in landfills. Zero Waste Event Productions is a pioneering company dedicated to organizing and executing events with a strong commitment to minimizing waste and environmental impact. Through innovative strategies and sustainable practices, they redefine event production by striving for zero waste, fostering eco-conscious experiences that inspire both attendees and the industry. Learn more.
Don't miss out on the opportunity to immerse yourself in a weekend of unparalleled musical experiences at the WonderBus Music and Arts Festival in Columbus from August 25-27, 2023. Secure your spot at this one-of-a-kind event that supports the arts and mental health. Join us at WonderBus for a celebration of creativity, unity, and the magic of live music – get your tickets now and be part of something extraordinary.