Safety and Security
Columbus is a Green, Clean, and Safe City
In 2016, Columbus was named "Highest in Visitor Satisfaction in the Midwest"* by J.D. Power in the organization's Destination Experience Satisfaction Study. According to the results, "Safety is the second top-most important reason listed amongst respondents when choosing a destination – Columbus is rated highest in safety/security in the Midwest region by a substantial margin. In addition to scoring well in safety (7.91), the majority of respondents felt the city had a sufficient police presence and adequate lighting."

Columbus is an Experienced Dedicated® Destination, meaning visitor data is regularly collected to ensure continual improvement of the overall visitor experience. We are excited to consistently receive comments from guests in our city citing how safe they feel during their trips. Examples of actual visitor comments include:
We love the walkability of the city and have felt very safe. Definitely will recommend this city to others.
The area is very clean and traffic is not an issue. We explored the Short North area in the evenings and felt very safe. I did a run along the Scioto Mile and it was absolutely delightful and again, clean and safe feeling. 
Everything has been great. There is so much to do here after the day's work. It was easy and safe to explore in the evening.
In fact, already the 14th-largest city in the country, Columbus' metro area continues steady growth as its population hit 2,078,632 in 2017, up about 1.2 percent from a year earlier, according to estimates by the U.S. Census Bureau. While the City of Columbus has continued to grow in population, violent crime overall has decreased, one of few cities that can make that claim.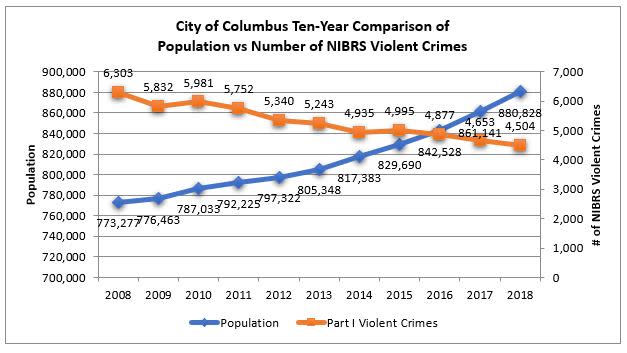 A number of organizations and services are responsible for keeping the city safe for residents and visitors.
 
COLUMBUS DIVISION OF POLICE
The City of Columbus is the third-largest city in the country where both Divisions of Police and Fire are nationally and internationally accredited, and one of a very few cities to have earned both accreditations. Some of the initiatives that have contributed to the downward trend in violent crime include:
Columbus Bike Patrol and Safe Streets
The city's Bike Patrol Unit is one of the largest in the country. The city's Safe Streets Initiative includes uniformed bike officers that serve as a first line of communication for those needing city services and connect with other city departments to resolve non-law enforcement related problems in order to build stronger and safer communities.
Columbus Police Helicopter Unit
The city's Helicopter Unit, among the largest in the country, provides 15 times the surveillance capacity of a ground unit. Columbus' low crime rate is, in part, a testament to the effectiveness of the cooperation between Patrol Ground Units and the city's crime-fighting Helicopter Unit.
Crowd Control
The Franklin County Sheriff's Office Drone program, and the city's Mounted Horse Unit, Bike Patrol Unit and Helicopter Unit work extensively for crowd control and security during large events and festivals hosted throughout central Ohio.
Mass Notification System
The city's Police Event Management Unit works closely with Franklin County Emergency Management and Homeland Security to utilize the Alert Franklin County mass notification system. This system provides the ability to create event-specific keywords in which visitors and event attendees may quickly and easily join a public safety text message alerting group for the duration of an event allowing participants to receive direct and immediate public safety information and alerts.
Event Control and Crisis Training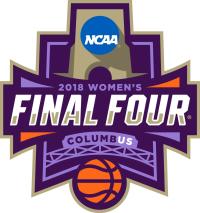 Columbus is deeply engaged with all levels of Federal Homeland Security, law enforcement and public safety incident planning. Columbus Police operates under numerous Unified Command structures for events and supports multiple Memorandums of Understanding or task forces with partnering agencies such as the Franklin County Sheriff's Office, The Ohio State University Police Department and federal agencies such as BATF, FBI and others. From our experience securing past events, our National Guard leaders, Department of Homeland Security officials at the, local, state and federal level, and neighboring agency officials have collaborated extensively and developed comfortable and routine working relationships. The Columbus Police Executive Staff, along with other uniquely strategically positioned personnel, each have received their Department of Homeland Security secret clearance, which improves the flow of vital information in planning events, conducting vulnerability assessments and threat analysis without impeding communications. Columbus Fire Arson and Bomb Squad personnel are also cross-trained as law enforcement officers and work collaboratively with the Franklin County Sheriff Bomb Squad forming a robust FBI certified explosive device response capability.
Columbus Division of Police is experienced in handling large crowds and assuring the safety of conventioneers, and were lauded for their efforts to provide security at the 2016 Republican National Convention in Cleveland. Our track record for safely hosting major events is built on a generation of success, including: NCAA Women's Final Four; National Urban League annual conference; regular meetings of the U.S. Men's Soccer team playing against Mexico (in World Cup Qualifying matches), The Presidents Cup (PGA); the U.S. Senior Open (USGA); NHL All Star Weekend; 150,000 fans gathering around the venerable "Horseshoe" on Saturdays during every season of Ohio State Football; landmark concerts by the world's biggest bands such as Metallica, Bruce Springsteen, Paul McCartney, the Rolling Stones and U2; NCAA Men's Basketball Tournaments; annual events including the Arnold Sports Festival (an event with multi-agency coverage including VIPER/TSA, BCI cameras and multi-agency JHAT teams), the All American Quarter Horse Congress, the Ohio State Fair, the NHL's Columbus Blue Jackets, MLS Columbus Crew SC home games and more. The City of Columbus has more experience managing the visits of elected officials and dignitaries than virtually any other U.S. city outside of New York City and Washington, D.C.
The City of Columbus participates in an average of eight emergency preparedness exercises each year partnering with local, state, federal and private agencies. These agencies include law enforcement, fire, emergency management, public health, hospitals, schools and many others. The exercises follow established Homeland Security Exercise Evaluation Program (HSEEP) guidelines and include discussion-based table-top exercises and operational based functional and full-scale exercises.
| | | | |
| --- | --- | --- | --- |
| | | | |
| Biological/Medical Points of Dispensing (POD) | Emergency Operations Center (EOC) functions | USPS Biohazard Detection System (BDS)  | Hazardous materials and BioWatch response |
| | | | |
| Active shooter and bomb/ IED response | Inoperable communications | Aircraft crash and radiological exercises | Natural disaster and DAM failure |
In case of an emergency, Columbus Division of Fire is a professional, Advanced Life Support (ALS) emergency medical system where at least two paramedics in addition to multiple basic EMTs/firefighters respond to every major medical emergency. Three Level 1 Trauma Centers with helicopter landing zones are in close proximity to the Greater Columbus Convention Center (GCCC):
| | | |
| --- | --- | --- |
| | | |
| 1.5 miles from GCCC | 2.5 miles from GCCC | 2.7 miles from GCCC  |
SPECIAL IMPROVEMENT DISTRICT (SID)
SIDs in the downtown help make it the cleanest, safest and best place to live, work, play and visit. Various Columbus SIDs employ safety ambassadors, special-duty police officers, homeless outreach specialists and safety coordinators. In addition to focusing on a comprehensive approach to crime prevention, SIDs facilitate real-time communication with safety professionals that offer a variety of services, including being available to walk residents and visitors to their car or bus stop in the evening, or even providing and umbrella during an unexpected rainfall.
INTERACTIVE KIOSK EXPERIENCE (IKE)
Static pillars strategically placed throughout the city's commercial and entertainment areas, including the University District, Arena District, Short North Arts District, downtown, Brewery District and German Village, IKEs offer a variety of connectivity and safety features, such as:
Wireless hotspot allows users to connect mobile devices to IKE's free Wi-Fi
System can deliver immediate broadcasts of emergency messages and critical updates
Security cameras create an extra layer of safety within heavily-populated areas
Visible "push to call" emergency button allows two-way communication with authorities and expedites emergency response times