Columbus Brewing Company is one of the city's oldest operating breweries. A brewery first opened under that name in 1830, and it was resurrected in its modern form in 1988. CBC's roster of beers – from the IPA to the Summer Teeth lager to the Citra Noel dark ale to the Insane Wanderer series – have been regular selections on draft and on bottle shop shelves for many years. The brewery has even garnered national awards for many of its beers, including the signature Bodhi and Creeper imperial IPAs.
But the one thing missing from the puzzle was a taproom. Fans of Columbus Brewing Company and of craft beer in general have long been eager for a spot to enjoy CBC beers at the source, a place where owner and brewmaster Eric Bean and his team can showcase a wider variety of styles and experiment with smaller batches.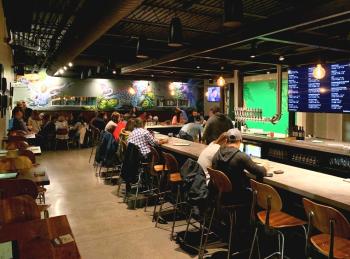 And now that picture is complete! In late September, CBC opened a taproom connected to its West Side brewing facility. The building is situated in the midst of a light industrial area (close to Sideswipe Brewing and Wolf's Ridge Brewing's new production facility) well worth the trek.
In fitting with its location, the taproom features an industrial but comfortable vibe, accented by green patches depicting hop vines, photos of the brewing and hop harvesting processes, and paintings of the fantastic creatures that adorn CBC's branding.
Inside the entrance is small gift shop with CBC merchandise and bottles. Visitors are then greeted by a long concrete bar that extends into the taproom. Beyond that lies plenty of seating, including a rear patio for great weather days. Most evenings local food trucks park out front.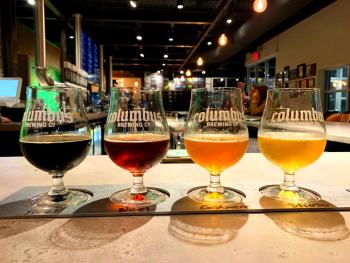 At any given time, you'll find at least 20 CBC beers on tap. You'll discover a wide collection of pale ales and IPAs, pilsners and cream ales, strong ales to stouts and even a selection of sours. Specialties like barrel-aged brews, infused beers or varieties featuring different hop profiles also make appearances. The taproom offers the ideal glassware for each style, to help you best experience every beer.
Given the quality and variety of beer offerings, Columbus Brewing Company's taproom is sure to be a beer-seeker's destination for years to come!
Columbus Brewing Company
2555 Harrison Rd.
Columbus, OH 43204
Open Monday-Thursday, 3-11 p.m.; Friday-Saturday, 11 a.m.-12 a.m.; Sunday, 11 a.m.-10 p.m.