While July 4 commemorates the signing of the Declaration of Independence, we recognize that the occasion doesn't signify independence for every American. Columbus is proud of its vibrant, diverse culture, and each year on Juneteenth, our community seeks to intentionally honor the history of our Black family, friends and colleagues. Celebrate Juneteenth in Columbus with the events below!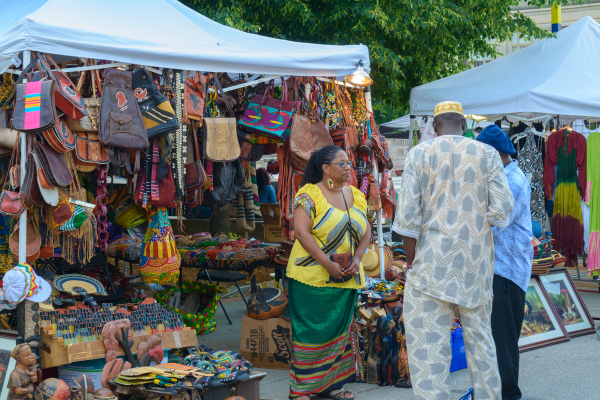 26th Annual Juneteenth Ohio Festival
June 17 – 18 from 12 p.m. – 11 p.m. at Genoa Park
Throughout the 26 years of celebration, the Juneteenth Ohio Festival emerged as an enjoyable family weekend of cultural discovery, filled with a variety of events promoting cultural unity, enrichment, and ethnic diversity. Guests will enjoy activities such as a college and career fair, local food and live reggae, blues and jazz music. See the full lineup of happenings and purchase tickets today. Pro tip - admission is free daily from 12 p.m. to 3 p.m.
Juneteenth On The Ave
June 17 from 12 p.m. – 6 p.m. on Historic Mt. Vernon Avenue
Juneteenth on the Ave is a collaboration between community-based organizations around Columbus' Historic Mt. Vernon Avenue to celebrate Black resilience and creativity. The event showcases performing and visual artists while promoting support to black-owned businesses. The district-wide commemoration features archival community photographs, art exhibits, food trucks, games, health screenings, higher education information sessions, dance, music, spoken word and theatre performances. This family-friendly event is free and open to the public.
Presented in partnership with the Columbus Urban League, Maroon Arts Group, the Central Ohio African American Chamber of Commerce, Black Out and Proud, the Poindexter Village Museum, and the Ohio History Connection.
Reynoldsburg Juneteenth Celebration
June 17 from 9 a.m. – 4 p.m. at Huber Park
The Reynoldsburg Juneteenth Celebration is back with a 5k Unity in the Community Walk/Run, health screenings by the African American Wellness Agency, music, food trucks and more. This event is free and open to the public. 
Ohio Village: Juneteenth Jubilee Day Festival
June 18 from 12 p.m. – 4 p.m. at Ohio Village
See artists from the National Association of Black Storytellers, Ohio Black Dance and Storytellers share the historical narrative of Juneteenth through storytelling, dance and theatrical reenactments. Admission is free but advanced registrations are strongly encouraged.
Bexley Juneteenth Potluck
June 19 from 6 p.m. – 8 p.m. at the Jeffrey Mansion Shelter House
Celebrate freedom and friendships this Juneteenth in Bexley. Guests will experience a "good-old-fashioned cookout with music, games and activities including performances by the East High School Drum Line & DJ RISIO, poetry and author spotlights, and special appearances from Divine 9 Fraternities & Sororities. Bring a side dish to share!