In honor of Women's History Month, we are celebrating some of the most notable women of Columbus. Their contributions range from accomplished artists to table tennis champions and more. 
Read on to discover some of the noteworthy women of Columbus.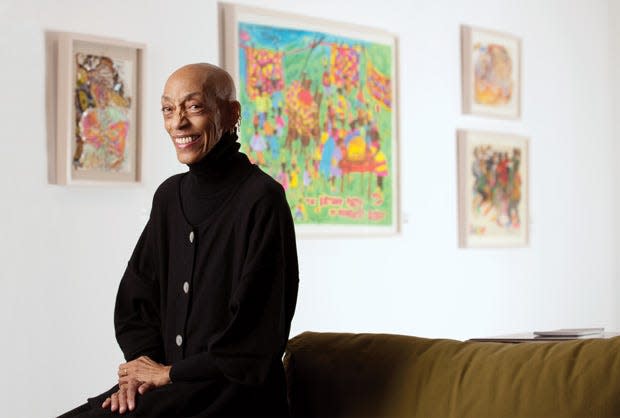 Artist Aminah Robinson - courtesy of Columbus Monthly
Aminah Robinson, Artist 
Aminah Robinson was born and raised in Columbus and she is now regarded as a vital contributor to American art. She created sculptures, RagGonNons, rag paintings, paintings on cloth, drawings and books. Themes of her work center around her family, community and the stories she has been told by her elders. Robinson has received numerous awards and grants from arts organizations, including the MacArthur Foundation Genius Grant, one of the highest honors awarded to the creative professions.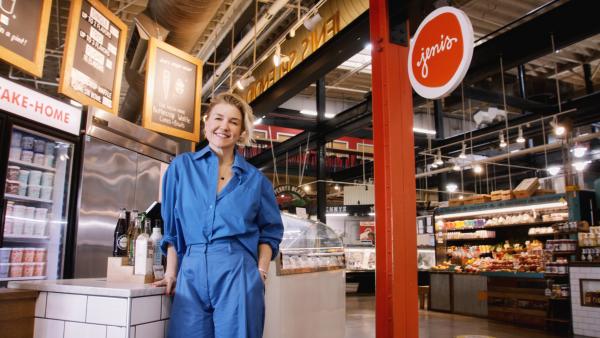 Jeni Britton in front of her first Jeni's Splendid Ice Creams, located inside North Market
Jeni Britton, Entrepreneur 
Jeni Britton is the James Beard Award-winning ice cream maker behind Jeni's Splendid Ice Creams, which first began in 2002 as a booth in Columbus' famed North Market. Jeni's has since grown into one of the most exciting and delicious ice cream brands in America with more than 65 scoop shops nationwide, an online shop that ships to all 50 states and distribution in top grocery stores across the country. 
Maggie Smith, Poet 
Born in Columbus, Ohio, Maggie Smith is the author of Good Bones, named one of the Best Five Poetry Books of 2017 by the Washington Post and winner of the 2018 Independent Publisher Book Awards Gold Medal in Poetry. Smith's other national bestsellers include Goldenrod, Keep Moving: Notes on Loss, Creativity, and Change, The Well Speaks of Its Own Poison and Lamp of the Body.  
Cora Rigby, Journalist  
At a time when women were beginning to find a place in the field of journalism, Cora Rigby made extraordinary contributions to the profession. Born in Lancaster, Ohio, Rigby began writing for a political column in a Columbus newspaper when she was still a girl. She later went on to become the founder of the Women's National Press Club and the first woman at a major newspaper to head a Washington News bureau. 
Nancy Wilson, Singer 
Multi-talented recording star and actress Nancy Wilson is a favorite of millions of Americans. While a student at West High School in Columbus, Wilson developed her singing talent and poise. She hosted her own Columbus television series, then signed with Capitol Records and produced 14 albums in her first six years. She went on to record more than 70 albums in her career and win three Grammy Awards. 
Beverly D'Angelo, Actress 
Before Beverly D'Angelo became famously known as Ellen Griswold in the Vacation series of movies, she was just a girl from Upper Arlington. She has since appeared in over 60 films and was nominated for a Golden Globe Award for her role as Patsy Cline in Coal Miner's Daughter, and for an Emmy Award for her role as Stella Kowalski in the TV film A Streetcar Named Desire. D'Angelo's other film roles include Sheila Franklin in Hair and Doris Vinyard in American History X. Her grandfather, Howard Dwight Smith, was an architect who is credited to have designed Ohio Stadium. 
Natalia Fedner, Designer 
Natalia Fedner is a couture designer based in Los Angeles. She was born in Ukraine and immigrated to Columbus as a child. She moved to New York and later Paris to attend Parsons School of Design and study the techniques of haute couture. Fedner is most well known for inventing Stretch Metal and creating avant-garde designs and jewelry for celebrities including Beyoncé, Jennifer Lopez, Cher, Doja Cat, Janet Jackson, Charlize Theron, Alicia Keys, Lenny Kravitz, Cardi B, Megan Thee Stallion, Shakira, Kim Kardashian, Pamela Anderson, Keke Palmer, Laverne Cox, and others.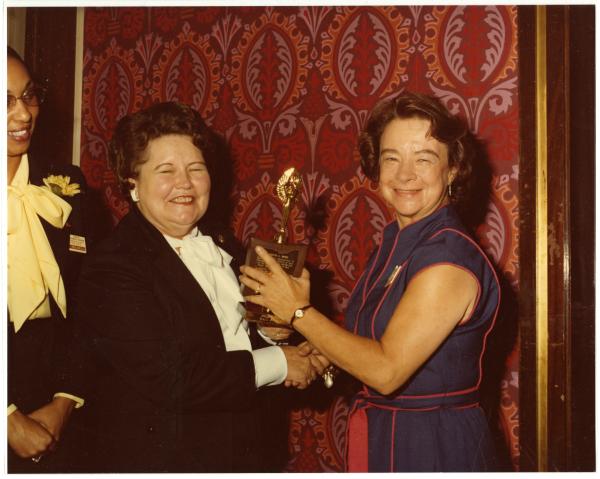 Photo courtesy of Ohio History Connection; pictured is Geraldine "Jerrie" Mock (right)
Geraldine "Jerrie" Mock, Pilot 
In 1964, Geraldine "Jerrie" Mock, the then Bexley resident, became the first woman to fly solo around the world. She safely returned to Port Columbus International Airport after 29 days and more than 23,000 miles. President Lyndon B. Johnson awarded Mock the Federal Aviation Administration's Exceptional Service Decoration at the White House. For her contributions to flight, the Federation Aeronautique Internationale honored Mock with its Louis Bleriot Silver Medal, the organization's highest honor. She was the first woman, and the first American citizen, to receive the medal. 
Kathryn Sullivan, Astronaut and Oceanographer  
Kathryn Sullivan, NASA astronaut and former president of COSI, was the first American woman to walk in space as well as the first woman to dive to the Challenger Deep (the deepest part of Earth's oceans). She has also served as the administrator for the National Oceanic and Atmospheric Administration and on the President's Council of Advisors on Science and Technology.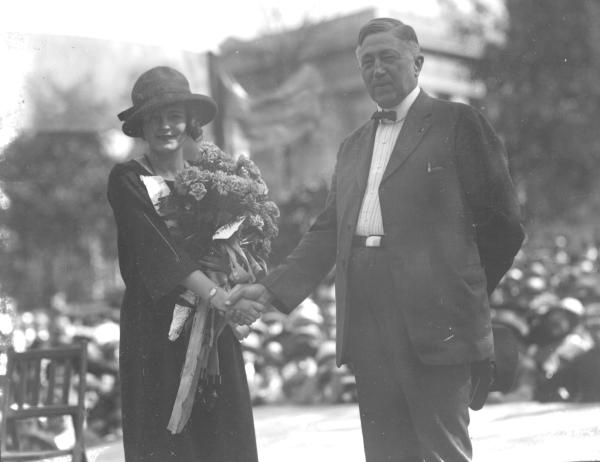 Photo courtesy of Ohio History Connection
Mary Catherine Campbell, Model 
Mary Catherine Campbell of Columbus was crowned Miss America in 1922 and again in 1923, becoming the only two-time winner in the pageant's history. Following her 1923 victory, Campbell entered the Ohio State University as an art major, becoming the first Miss America to attend college. She also attended Ohio Wesleyan. 
Cordelia "Betty" Cook, Nurse 
Lt. Col. Cordelia "Betty" Cook was the first woman to earn both the Purple Heart and the Bronze Star. In an era when women were still protesting to earn the right to vote, Lt. Col. Cook rose through the military ranks to become one of the most highly decorated female service members of WWII. Cook was stationed in Italy and was able to successfully perform her duties as a nurse during a time of mass casualties.  
Simone Biles, Olympic Gymnast  
Simone Biles was born on March 14, 1997, in Columbus, Ohio. Biles's parents adopted her and her younger sister at a young age. Biles was born in Columbus, and she was raised and currently resides in Texas. The 4-foot 8-inch dynamo is the most decorated American gymnast in history, with 32 medals (19 of them gold) from the World Championship and seven medals (four gold) from the Olympics. She is also the first American woman to win seven national all-around titles and the first female gymnast to earn three consecutive World All-Around titles.  
Katie Smith, Athlete 
An inspiration to athletes all over the globe, Katie Smith is an icon in the sport of basketball. She makes her home in Columbus and is the most decorated woman in sports in Ohio. Smith is a three-time Olympic gold medalist and is one of the most decorated professional basketball players of all time.  In 2020, Katie Smith was hired to be the Official Assistant Coach with the Minnesota Lynx.    
Thelma Thall, Table Tennis Champion 
Thelma "Tybie" Thall Sommer made a mark on women's sports long before Title IX even existed. She is the only American woman to have won two world table tennis championships. She was inducted into the United States Table Tennis Association Hall of Fame in 1980. In 2005, Thall received the Table Tennis Lifetime Achievement Award.  
Alexa Bliss (Cabrera), Professional Wrestler  
Dubbed "Five Feet of Fury," Alexa Cabrera is a professional wrestler signed to WWE where she performs on the Raw brand under the ring name Alexa Bliss.  Within her first year in WWE, she became the first Superstar to win both the SmackDown Women's Championship and the Raw Women's Championship.