The Columbus Distillery Trail is a free, digital trail that sends you exploring the city's seven craft distilleries. In this series, we're helping you get to know each stop a little better by interviewing a key player to help show you why The Proof is in the Proof here in Columbus.
Meet Chad Kessler, owner and distiller at 451 Spirits in Clintonville! 451 Spirits offers a small tasting room decorated with musical instruments and art by Kessler and other local artists.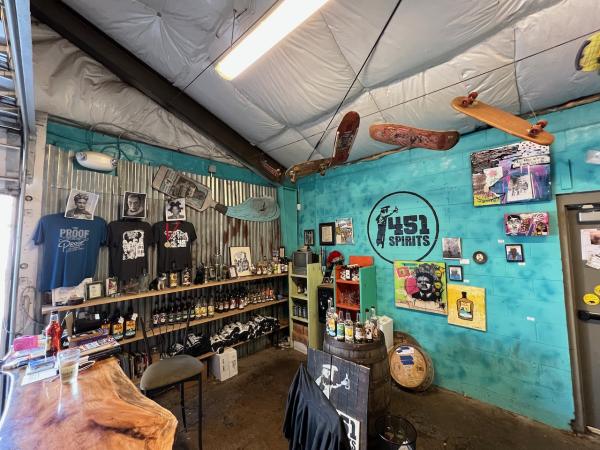 What's your role at 451 Spirits?
I started 451 Spirits back in 2013. I worked at Weiland's for five years in Beer and Liquor. I was into craft beer and whiskey before that, but I learned how things are made, and why they taste the way they do. I played around at home, and decided I wanted to have a go at distilling; I copied the basement setup of a regular at Weiland's.
I felt like there was a void in the craft distillery world. I love bourbon, but there are only so many ways you can make bourbon. I was just a spirits nerd. I was passionate about it.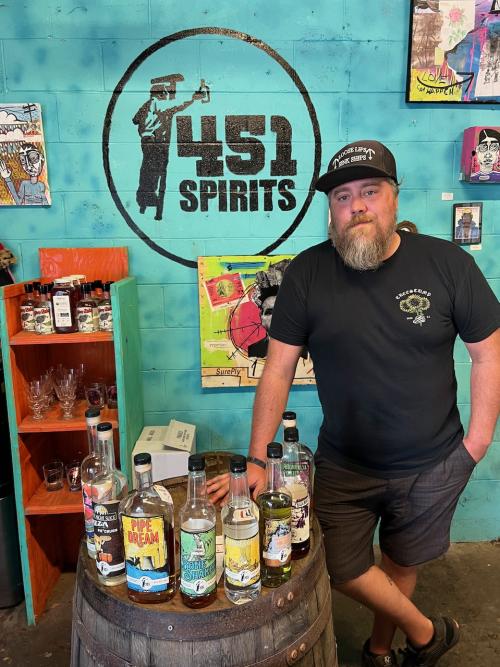 How do you describe 451 Spirits to newcomers?
The main word I use is "esoteric" spirits. I'm a big fan of spirits all over the world, taking them and reimagining them.
Do you have a favorite spirit at your distillery?
They're all my kids. The Mikey's Pizza Pie'Chuga is ridiculous and I pretty much always make people try it. It's so absurd. I'm pretty proud of it. The Bone Shaker whiskey is a regular offering; it's distilled with a stout mash bill of barley, rye, oats, and roasted barley. Our Midsommers Night Absinthe, too. I was the first distillery in Ohio to make absinthe.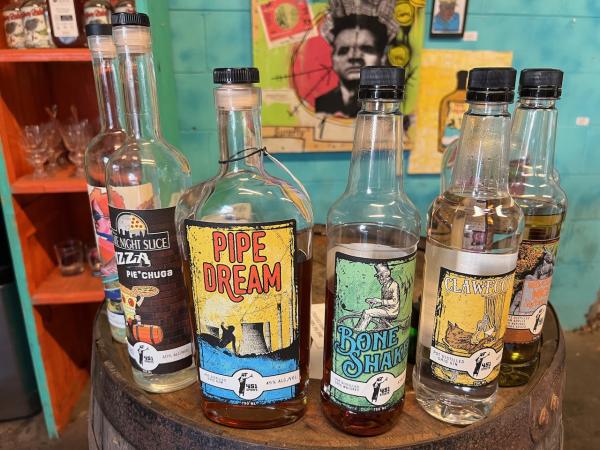 What do you offer to guests who visit on the Distillery Trail?
It's choose-your-own-adventure. We offer samples. Some people come in and want to talk about art. I let people sit at the drum kit. I share my full tour info. I'm very not secretive; my whiskey recipe is taped to the wall.
Where else do you Live for the Scene in Columbus?
Denmark on High has been very supportive. Kabab Time Mediterranean Food at Hudson and High makes the best Philly cheesesteaks in town. I love The Stoop, a punk rock venue on West Broad.
Find 451 Spirits at 590 Suite D, Oakland Park Ave., Columbus, OH 43214 and at 451spirits.com.
Learn more about the Columbus Distillery Trail here and share your sips with us using #CbusDistilleries.