As any queer introvert knows, just because you're out and proud doesn't mean you have to be loud. If you're looking for a quiet time out at LGBTQ+ spots around Columbus, look no further than these queer-owned and affirming businesses.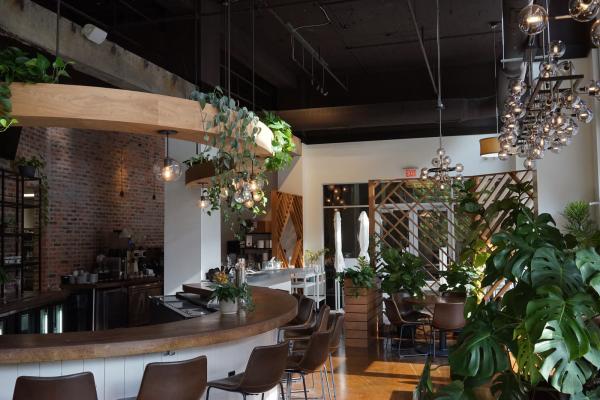 The cafe interior at Parable Coffee in downtown Columbus.
Parable Coffee
149 S. High St. Columbus, Ohio 43215

This Black and queer-owned coffee shop is a treat on multiple levels. From delicious coffee and tea, including an espresso bar, that even the staunchest coffee snob can appreciate to the artisanal pastries that are as tasty as they are Instagrammable, Parable is the perfect hangout spot for a couple of hours to yourself. Read a book, journal, knit, or just daydream in peace in this cozy space. Even if you're not a "coffee person" Parable just might change your mind—their creations are like the craft cocktails of the coffee world. 

Pro tip: If you're driving, be sure to park in the above-ground garage at Columbus Commons. Parable validates parking, so you can settle in a while and enjoy other nearby spots downtown for just $3 for the day. (Otherwise, it's $4 for an hour.) The garage is on the east side of High Street between Main and Rich Streets, just south of Parable. Just ask the barista for a parking validation ticket.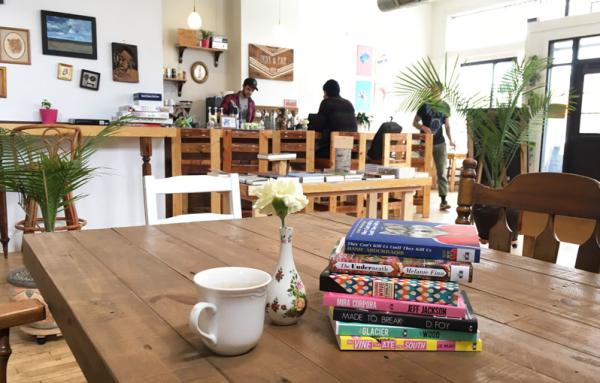 The quaint interior of Two Dollar Radio Headquarters.

 
Two Dollar Radio Headquarters
1124 Parsons Ave., Columbus, OH 43206

Books and introversion go hand in hand, so you'll feel right at home at Two Dollar Radio Headquarters. This bookstore specializes in books published by small presses elevating voices from marginalized communities, including the LGBTQ+ community. The selection is lovingly curated and if you're not sure what you're in the mood for, the staff is happy to help you find your next favorite read. Because Two Dollar Radio started out as a multi-award-winning indie publishing house before opening the brick-and-mortar Two Dollar Radio Headquarters, the staff is really well-versed in the current literary landscape. You'll find Two Dollar Radio's own books there in the shop in addition to a variety of other small presses amplifying voices we all want to champion.

Two Dollar Radio HQ is also a fully vegan cafe, bar, and coffee shop. I highly recommend the Tacos Hermanos—the soy beef and buffalo queso are both made in-house and you can taste the love that goes into making them. They have a brunch menu on the weekends and the Huevos Rancheros is my go-to. Pro tip: Their hibiscus tea is made from scratch and is super flavorful. I recommend asking for some agave syrup so you can sweeten till your heart's content. 

 
Photo credit, FUZZ Facebook page. Artistry by @wickedgoddessdesign.
FUZZ
3309 N. High St. Columbus, OH 43202

If your idea of out-of-the-house introverting looks like self-care, FUZZ is your go-to spot for nails. This queer-owned nail salon is a chill, down-to-earth establishment that's just as comfortable doing long, artistic nails with glitter and jewels as they are short and subtle. They're trans and nonbinary-friendly, so you don't have to worry about being the only non-femme-presenting human in the place. Several of their technicians are adept at highly creative nails, so if you've got a particular vision in mind, they can help you bring it to life. 

Pro tip: One part of the salon has boho boudoir decor and another has a modern-meets-MCM vibe. Whichever best fits your style, come prepared to snap some selfies. Your Insta grid and the recipients of your thirst traps will thank you.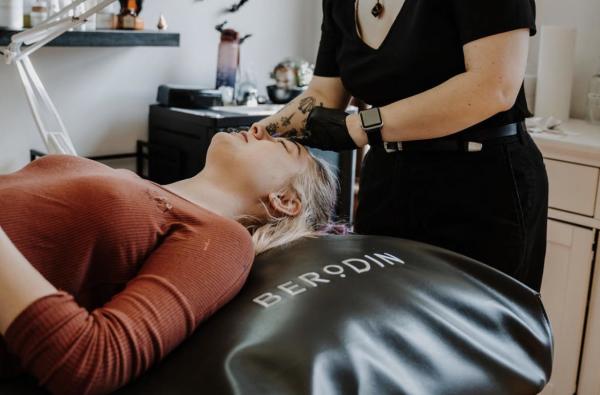 Ronnie's Relax and Wax, credit Emily Marie Photography.

 
Ronnie's Relax and Wax
871 S High St Suite 3, Columbus, OH 43206

Another self-care option is Ronnie's Relax and Wax. Specializing in waxes and lash lifts with additional services like facials, and brow lamination, this queer-owned spot is a safe space for relaxing and achieving gender euphoria. Plus, Ronnie's is Halloween-themed, so LGBTQ+ folks inclined toward a spooky aesthetic will feel right at home! 

Pro tip: Ronnie's is located on the second floor of the building and there are stairs but not an elevator. Keep that in mind if you're disabled or have other mobility issues. 

 

Haute Massage

3600 Olentangy River Rd., Building C - Suite C3, Columbus, OH 43214

If a massage is more your self-care speed, Columbus has you covered there too. Queer-owned Haute Massage is an ideal place to unwind with a relaxation massage, deep tissue massage, hot stone massage, and more. You can even take it up a notch with add-ons like aromatherapy and paraffin wax or honey scrub for your hands and feet. 

Pro tip: While you're in the neighborhood, treat yourself to some additional luxury by eating at Akai Hana. It's an authentic Japanese eatery with the best sushi in the city. Sit at the sushi bar for ultimate introverting. 

 
Out of the Closet Thrift Store
1230 N High St., Columbus, OH 43201

Sometimes there's nothing more relaxing than treating yourself to a little retail therapy… Unless it's retail therapy for waaaay less than retail price and your purchase is good for the planet and supports HIV/AIDS wellness. That's a win-win-win! At Out of the Closet Thrift Store, you'll find treasures galore and every purchase helps benefit the AIDS Healthcare Foundation, a nonprofit that helps people with HIV/AIDS access medication regardless of ability to pay. There's an AHF pharmacy inside the thrift store, so you can see your dollars at work. 

Pro tip: Don't sleep on the clothes section. Sure, you have to do some digging, but I've found some incredible vintage pieces there. Honestly, I'll probably regret saying that on the internet because the bargains I've found there are legendary and now I'll have more competition! 

 
Honorable Mentions:
If you're looking for a night out with another introvert, check out Tabletop Game Cafe (4316 N High St. Columbus, OH 43214). They have thousands of games and if you're focused on strategy, you don't have to talk. They're an intentionally inclusive environment and host queer game nights. Plus, the pizza bagels and coffees are legit. 
For a surefire introvert experience, head to the woods. With two dozen Metro Parks in the Columbus/Franklin County area, you have your pick of adventure—whether that includes long hikes, short hikes, prairies with bison, rivers and lakes, climbing, or ADA-accessible trails, there's something for everyone. I've seldom been out on Metro Park trails when I haven't spotted several other queer folks enjoying nature. The woods love us all. My favorite parks are Scioto Audubon (also the closest to downtown) and Blendon Woods (where wild turkeys and turtles roam).