Storybook trails, or story walks, are sprouting up across the city and are the perfect safe, socially distanced activity for families and kids of all ages! These delightful routes found in community parks are an innovative way to explore nature and enjoy reading and related activities along the way. Even better, they're completely free.
We've gathered a list of all the story trails to explore around Columbus, and stories change regularly so the fun never ends!
​Upper Arlington StoryWalk at Fancyburg Park
3375 Kioka Ave
The Fancyburg Park StoryWalk from Upper Arlington Public Library features stories that change seasonally along a loop trail that is wheelchair and stroller accessible.
Follow Upper Arlington Public Library on Facebook and Instagram for the latest updates:
Grandview StoryWalk at C Ray Buck Park and Wyman Woods Park
1280 Goodale Blvd. and 1515 Goodale Blvd.
Follow along with a story, changed monthly by Grandview Heights Public Library, on an approximately quarter-mile long loop trail that is stroller and wheelchair accessible. Stories are often accompanied by additional activities like artwork, poetry and trivia from community partners. Both sites have a parking lot, playground and restrooms.
Follow Grandview Heights Public Library on Instagram for the latest stories.

Storybook Trail at Alum Creek State Park
3400 Lewis Center Rd. (beach)
This half-mile, easy trail from the Ohio Department of Natural Resources features nature-related stories from the Ohio Governor's Imagination Library and Dolly Parton's Imagination Library, chosen by students from Alum Creek Elementary. Located near the north end of the park beach, the pages come alive across 16 story boards that also feature facts, questions and other interactive ideas to inspire discussion. This loop trail is not wheelchair or stroller accessible. A little free library is also located on site. Find the latest updates here.
Westerville Library Story Trail at Johnston-McVay Park
480 S. Hempstead Rd.
At Johnston-McVay Park, stories are changed quarterly and each storyboard has an accompanying activity designed to help build early literacy skills. Check out the latest story here.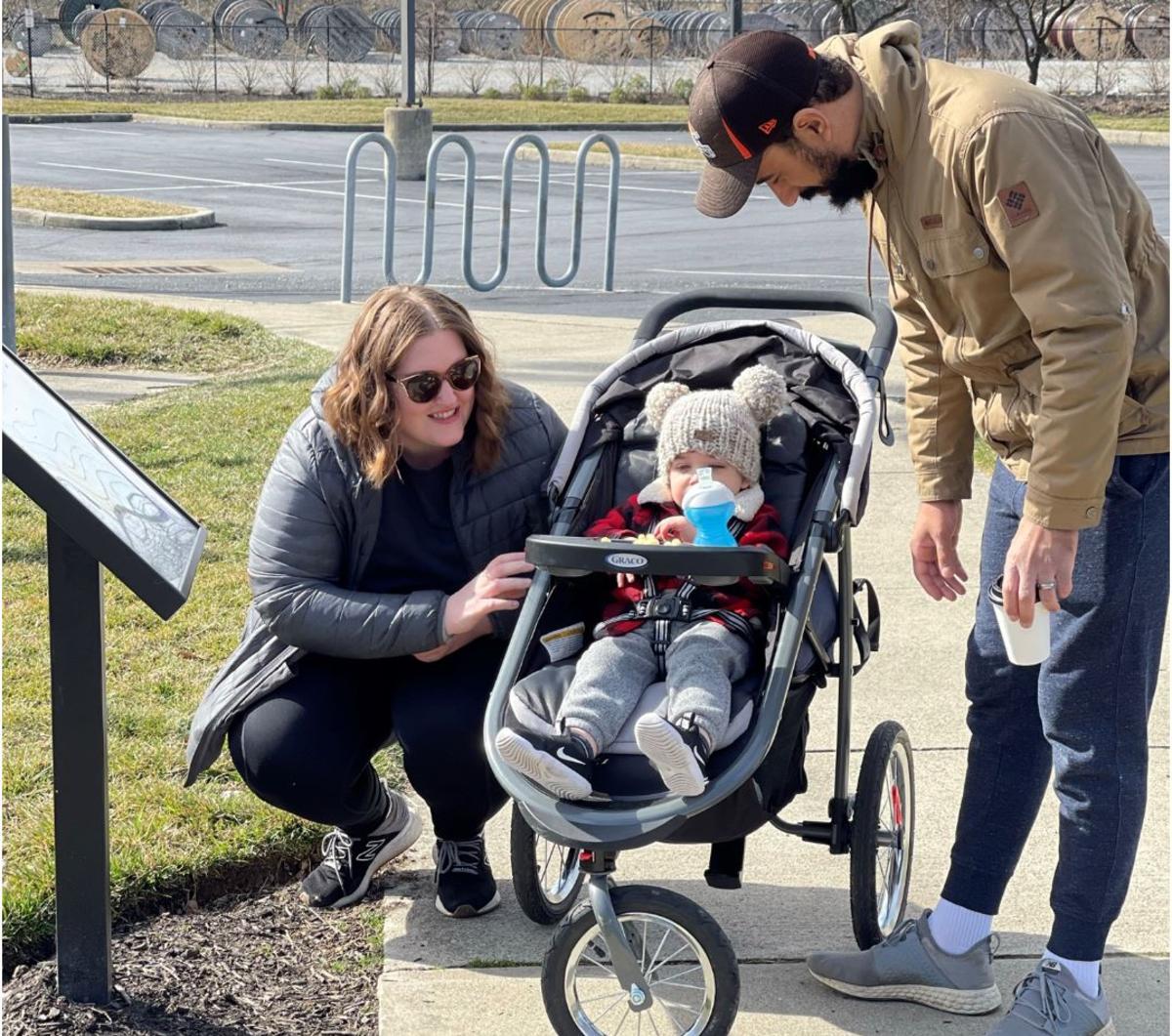 Blendon Woods Metro Park
4265 E. Dublin Granville Rd.
Families are invited to enjoy literacy in nature along the Blendon Woods Story Trail. The trail is open whenever the park is open and stories change monthly.
Gahanna Story Trail at Friendship Park
150 Oklahoma Ave
The story trail at Friendship park is one of the oldest in the city, originally opened to the public in 2013 through a partnership with Gahanna Parks and Rec, the Columbus Metropolitan Library Gahanna Branch and Gahanna-Jefferson Schools. Story changes annually and each is illustrated on colorful panels to draw visitors into the woods toward the creek. The illustrations are accompanied by questions and challenges to encourage engagement by visitors as they wander down the scenic park trail.
Plain City StoryWalk at Pastime Park
370 N. Chillicothe St.
Near the main entrance of Pastime Park, next to the playground pages from a children's book are displayed in cases, which are installed along the walking path. As visitors stroll along the trail they're directed to the next page in the story. Follow along with the latest updates here.