Ah, fall in the Midwest. Crisp mornings and crunchy leaves. There's no excuse not to get outside and stay active into the cooler months. Columbus has a variety of outdoor excursions that are heightened by fall's splendor. Take advantage of mild autumn days with this assortment of Central Ohio outdoor activities.
Cycling
Columbus makes up the middle third of a statewide paved multi-purpose trail called the Ohio to Erie Trail. This 330-mile trail traverses Ohio northeast from the Ohio River in Cincinnati to Lake Erie in Cleveland, most of which is converted rail-to-trail pathways, therefore mostly flat! Columbus is an ideal homebase on the OTET. Bike rental is easy through CoGo Bike Share, as bikes are rentable by the hour or by the day. Also starting from downtown Columbus, the Olentangy Trail heads north along the Olentangy River, through the Victorian Village and Harrison West neighborhoods, Ohio State's campus and into the suburb of Worthington. There are plenty of places to get off and explore along the way. Grab a bite to eat on campus, hop off and explore the banks of Antrim Lake, or just enjoy the meandering ride next to the river.
Hiking
Highbanks Metro Park is perhaps the most popular park for its proximity to downtown, extensive trail system and stunning fiery woodlands in the fall. Try the 2.5 mile Dripping Rock loop trail or add the 2 mile Overlook Trail for a scenic view of the Olentangy River and sea of reds, oranges and yellows below. Conkles Hollow Rim Trail at Conkles Hollow State Nature Preserve offers similar panoramic views of the season's prime colors. The 4-mile West to East Rim loop takes visitors 200 feet above one of the deepest gorges in the state. The west rim offers unobstructed views of the valley and waterfall below. North of Columbus is the Rocks and Roots Trail at Alum Creek State Park. This trail was developed and is maintained by trail runners so it features mainly single track dirt paths that weave throughout the peninsulas along the lake. One might think the trail will veer straight into the water before turning sharply back inland. This trail system is set up like a figure eight. The top and bottom loops each totaling six miles. The upper loop takes runners in and out of the peninsulas while the bottom loop stays mostly inland.
Climbing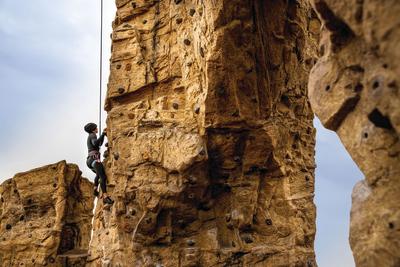 The Scioto Audubon Metro Park is home to a 35-foot public climbing wall and several smaller climbing boulders. With four auto belays, climbers who bring their own equipment can hang out for hours. In addition to the climbing wall, this park features an obstacle course, dog park, boardwalk and kayaking. Mad River Gorge and Nature Preserve is the largest climbing area in Central Ohio, offering dozens of routes for a variety of experience levels. Mad River Gorge is a success story, a group of volunteers turned this neglected piece of park land into a first-in-the-state climber's mecca. The 78-acre park offers climbers cliffs of up to 50 feet as well as a selection of hiking trails. Hocking Hills State Park has 100 acres of prime climbing set aside near Conkles Hollow featuring 100-foot cliffs, overhangs, and rocky outcroppings. Pair this climb with a hike at Conkle's Hollow for optimal views of fall colors.
Natural Play Areas
When a hike just simply isn't enough of an adventure, check out one of the Columbus Metro Parks natural play areas. These areas are set aside as a place for visitors of all ages to get even closer to nature, venture off the trails and probably get a little dirty, too! Blendon Woods Metro Park offers a zip line, teeter totter, stepped logs to play on, basket swing, and cargo climbing net. Glacier Ridge Metro Park has cedar structures with ropes, ladders, and a zipline. Slate Run and Sharon Woods both offer creekside play: rock hopping, frog catching, splish-splashy fun.
Water Sports
Skyline views abound from many angles in Columbus, but perhaps the best view of downtown comes from atop a kayak or paddleboard on the Scioto River. Hero USA and Olentangy Paddle both operate on the river, and provide individual or group paddle sessions. All experience levels are welcome, as a slow current make travel both up and down the river manageable. Venture down to Scioto Audubon Metro Park for optimal views of fall foliage along the banks of the river. For more room to row, head north of the city to Hoover Reservoir or Delaware State Park.