Long ranked as a top-tier fashion and retail city, Columbus has the nation's fourth largest concentration of retail and fashion headquarters, as well as multiple highly respected degreed college programs in fashion and store design and related means visitors and locals alike will enjoy a shopping mecca with endless access to fabulous finds.
With such a rich design-centric culture, when locals switch up their fashions and home interiors, cast-off designer duds and decor end up in Columbus thrift shops, resulting in a second-hand shop scene that's second to none. Not only do you, dear shopper, find incredible deals on items worth as much as 10 to 40 times what you paid, but you're also keeping someone else's "junk" out of the landfill. For retail aficionados, there's nothing like the thrill of the hunt. Plus, many thrift stores benefit charities, such as Columbus Cancer Clinic or the Tri-Village Food Pantry. So, strap on your comfy shoes and your visionary glasses, and head out to bag some big bargains.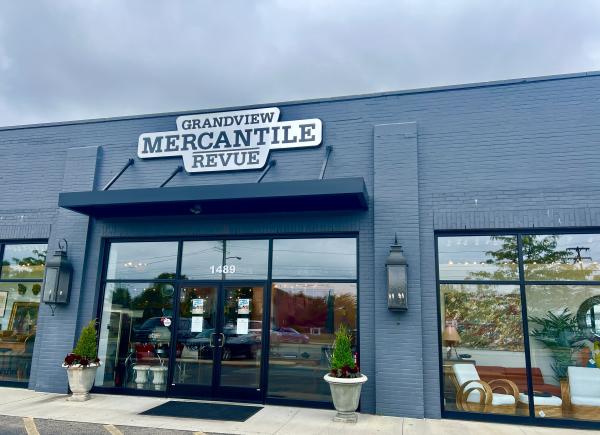 The 22,000-square-foot showroom at Grandview Mercantile Revue

 
Grandview Mercantile Revue
One of our all-time favorites, Grandview Mercantile is a mind-numbing 22,000-foot showroom jampacked with stunning estate furniture, gleaming chandeliers, artwork, glassware and vintage fine jewels, as well as the occasional fancy fur or uber high-end bag. The Merc's team of pros scour estate sales and have a laser-focused eye for the good stuff, consigning goods that once filled some of the city's most elite homes. The real secret here is not to be overwhelmed and to pay close attention to the countdown tags. Love that antique fainting couch, but can't pay full price? The tags let you in on the plan to keep merch fresh by reducing the price every two weeks. If you're a gambler with patience, you could get that piece you covet for half off -- or more.
One More Time
For more fashion-centric shopping, pop around the corner to One More Time, where deals on big-name shoes are often the best bargain. Though a good mix of men's and women's fashions, costume jewelry and accessories at great prices are worth a look and a small collection of housewares fills one wall.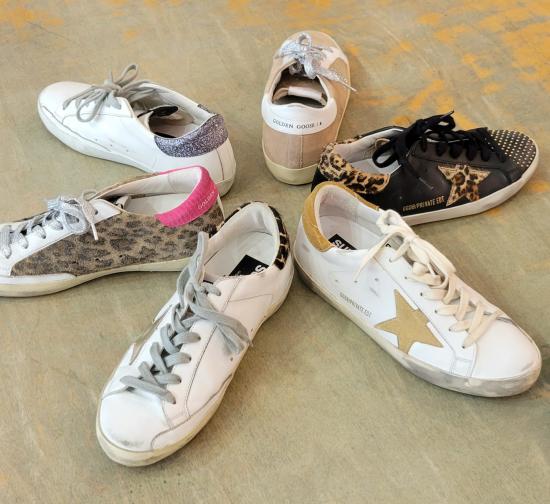 Second Chance is known for its top-quality, second-hand designer pieces. Credit Second Chance Facebook Page.

 
Second Chance Consignment
Next, head a block west to Second Chance. After 20 years in the local thrifting game, owner Mary Weldon knows her stuff. Consigned items are beautifully curated over multiple rooms and a full city block, with the finest names in fashion well represented. But there are plenty of lesser-known but top-quality pieces as well. On the last visit, this writer snagged a stunning one-of-a-kind leather handbag from a small French designer for $45 and a pair of never-worn Donald Pliner heels for $23. (Hey … it was research!) Stop in often, as stock rotates fast. And give yourself at least two hours to see everything. Finally, save some cash and stamina for the back room (or head there first). It's where the pinnacle of designer treasure is hidden. Hermes scarves, Chanel bags and other coveted couture goods grace these hallowed shelves.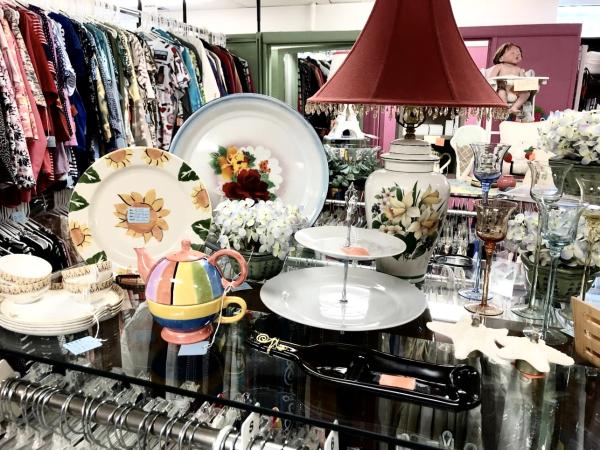 Home goods at Tri-Village Trading Post

 
Tri-Village Trading Post
If you have energy and a bit of budget left, pop around the corner to Tri-Village Trading Post. Only open 10 a.m. – 4 p.m. Monday, Wednesday, Friday and the first Saturday of every month, the Trading Post has great prices on quality finds and periodic bag sales that are legendary. You can feel good shopping here with 100 percent of your spend filling the First Community food pantry, as it has for 60 years.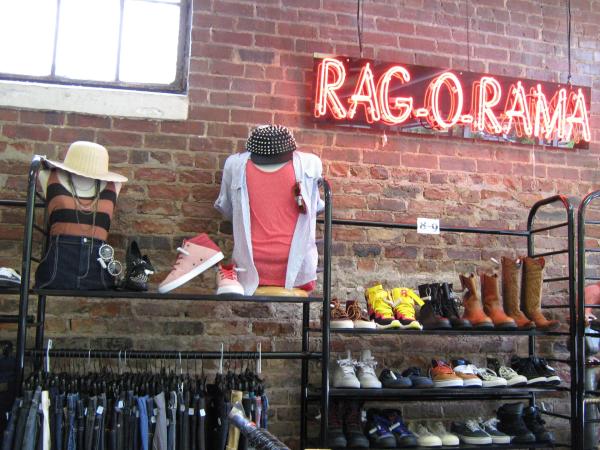 Interior of Rag-O-Rama in North Campus/Clintonville. Credit Rag-O-Rama Facebook Page.

 
Rag-O-Rama
Clintonville's Rag-O-Rama puts the fun in funky with an eclectic mix of men's and women's clothing and accessories. You'll find a massive mix of current, classic and vintage styles, as well as some one-of-a-kind and designer discoveries and a particularly deep bench in handbags, jewelry and sunglasses.
Goodwill/Volunteers of America
While not as cutely curated or smartly styled, any thrifting authority would be remiss not to mention the city's 22 (11 of each) Goodwill and Volunteers of America stores. Visit a couple if you have time, as any given day or store may leave you empty-handed or carting away the motherlode. A recent visit netted this bargain hunter a 1940s solid mahogany rocker for a single Abe Lincoln. A fresh coat of bold green paint, magnolia upholstery and grey velvet trim transformed this tragic upholstered piece into a fresh-faced rocker for a new baby nursery.
Thrifting here calls for an open-minded vision. Before you whisk by that jacket or end table, ask yourself if a coat of paint, new buttons or updated knobs, shearing off sleeves or just a good cleaning will remake that reject. And here's an insider tip: The massive Goodwill on Ohio State's campus is a goldmine at the close of each semester when students make their exodus, leaving treasure behind. Also, they're great for discount Halloween costumes and holiday decorations.
Happy Planet Apparel
A seasoned Goodwill hunter, Cbus artist Linda Leviton has mad skills in metal and fiber sculpture. But her newest foray, Linda Leviton Textiles, is a marriage of her artistic talent and love of thrifting and recycling. She hunts down same-old-thing denim jackets and jeans, then hand paints and embellishes fabric turning the lot into wearable works that'll have strangers stopping you to ask, "Where'd you get that?" In Caroline Schlies' online shop Happy Planet Apparel, she curates a colorful, hippie vibe, reselling some of her thrift store finds, while upcycling others. Favorites include classic rock n' roll t-shirts stitched together with soft flannel for uniquely soft vintage wearables.
Whether you dream of day-long hunts for vintage treasures or prefer to let a pro do your thrifting for you, the diversity of options and wealth of amazing deals make Columbus a spot where you can live for style-forward looks at bargain-basement prices.