During this time of closures and cancellations, we might find ourselves longing for the stimulation typically provided by the city's many attractions and public events. Luckily, the people of Columbus continue to rally and create innovative, fun ways to keep the community engaged during this time. Below you'll find a plethora of virtual and web-based local experiences that will keep you educated, in-shape and entertained while spending your time at home.
Attractions
Although we're currently unable to visit Columbus' many cultural institutions and major attractions in person for the time being, we can still interact with many of them virtually.
Local writer and arts scene enthusiast Scott Woods recently teamed up with Streetlight Guild and The Columbus Foundation for a Social Distance Tour video series on Facebook. Visit Scott's page to view live and past streams of his visits to locations including the Columbus Museum of Art, Thurber House and more to come.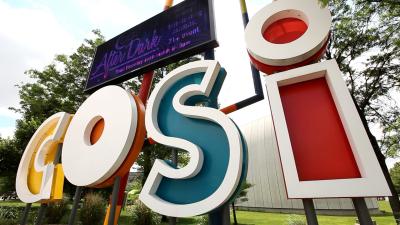 COSI has also made an effort to engage during its public closure with its COSI Connects Digital Doorway program. Tune into their website for videos, educational content and at-home activities added daily.
The Ohio History Center has made their online Learn at Home educational resources available in light of school closures. Keep your K-12 kiddo's mind sharp and entertained with engaging video content, at-home activities, virtual tours of national institutions and more.
Another great resource for keeping your mind sharp while at home is the Columbus Metropolitan Libraries. Their free digital database includes eBooks, eAudiobooks, magazines, movies and music, plus scholarly research and learning tools.
Arts
Many of the city's public art pieces reside outdoors and offer enough social distancing space to still be enjoyed during this time. Check out ColumbusMakesArt's public art database and map for inspiration, or take a guided mobile public art tour with the Dublin Arts Council.
CCAD is also making virtual art experiences available for the public. The 2020 editions of their annual spring Art Fair and MFA Exhibition will both be hosted online in April.
Local galleries like Roy G Biv, Lindsay Gallery, 934, Riffe Gallery, Wexner Center for the Arts, Brandt Roberts Galleries and more offer online image libraries of current and/or past exhibits' works for viewing pleasure. The Ohio Craft Museum even has a 3D Virtual Tour inside their space.
Get your theatre fix with MadLab's latest production, "A Part of Me," now available for viewing online. Local improv club The Nest Theatre is also making an effort to stream various theater and comedy shows virtually.
Music
Live streaming concerts are another a great way to experience the arts during this time, and to explore a variety of local acts you may have otherwise missed out on. Check for upcoming online shows and event listings on resources like the @CBusMusicians Facebook page, or in Columbus Alive, which just debuted a new weekly roundup series covering the topic.
We also encourage you to use social media to follow and receive updates from local acts including, but not limited to, Mistar Anderson, Snarls, Angela Perley and Sarob, as well as venues like Woodlands Tavern and The Rambling House. All of whom have embraced the virtual concert medium since the recent restrictions.
Sports & Fitness
If your plans to visit this year's Arnold Sports Festival and Fitness EXPO were affected by schedule cancellations, now's your chance to experience the event online. Visit the Arnold Virtual Expo to browse dozens of vendors specializing in the latest in sports and fitness.
Stay in shape from the comfort of your living room with an online workout from a local fitness center. Check out Columbus Underground's compiled list of locally-based virtual yoga classes, or get moving with an online dance class from Flux + Flow or the Columbus DanceCentre.
For more ways to experience the city during this time, visit these resources:
-Virtual Art Makes Cbus
-Support Columbus Eats
-Support Short North
-Worthington Business Updates