Take me out to the ballgame in Columbus' Arena District!
Professional baseball has been played in Columbus, Ohio since 1877 and Central Ohio has been the proud home of the Triple-A baseball team Columbus Clippers since the 1970s.
In 2009, Huntington Park opened in the Arena District and has been named Ballpark of the Year on numerous occasions since. The venue has welcomed thousands of visitors to the Arena District over the last 14 seasons and is as picturesque as ever in 2023.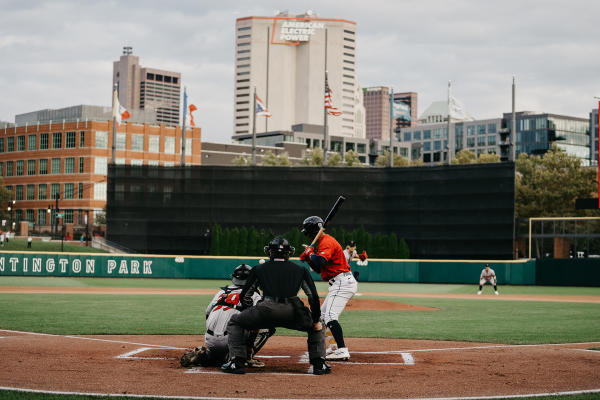 We can't wait to get to a game this season! Here's what to know before attending: 
Getting to the game
There's 18,000 parking spaces in and around the Arena District, but there's also a wide variety of ways to get to Huntington Park besides driving.
The Central Ohio Transit Authority (COTA) is the regional public transit provider for greater Columbus and Central Ohio and helps people in Columbus take more than 1.2 million trips per year. You can download their Transit app to help plan your ride to the Arena District.
CoGo Bike Share is also a great option that allows you to pay by ride or via a membership, and there's a station conveniently at the corner of Nationwide Blvd. and Neil Avenue right across the street from the ballpark.
If you're looking to turn the game into a weekend trip here in Columbus, there's plenty of places to stay near Huntington Park that are all within walking distance of Huntington Park in the Arena District.
Food and Drinks
From gameday promos and traditions like Dime-A-Dog Night to stadium staples like Donatos Pizza, there's plenty of good food and beverages to find at Huntington Park.
Dime-A-Dog Night is certainly a Columbus fan favorite, and you can experience it 11 times in 2023.
Another great food and beverage promo from the Clippers is Dollar Days, which gives you the option of buying hot dogs, popcorn, or junior soft drinks for just $1 each.
In addition to what's inside Huntington Park, there's lots of great dining options in the Arena District to try, including all the amazing merchants at North Market. Go treat yourself to some Hot Chicken Takeover or Dos Hermanos before walking down to Huntington Park for the game.
Variety of ways to watch the game
As one of the best ballparks in the nation, there's no shortage of great vantage points at Huntington Park. Take in a game from the Loge seating behind home plate, one of the suites down the first or third base line or from the tower seating in left field. One of the best parts about Huntington Park: there's a seat for everyone, including picnic and playground areas when your kids need a pre-Seventh-Inning stretch. 
No matter where you're at in one of the ballpark's 10,100 seats, you're sure to have a great view.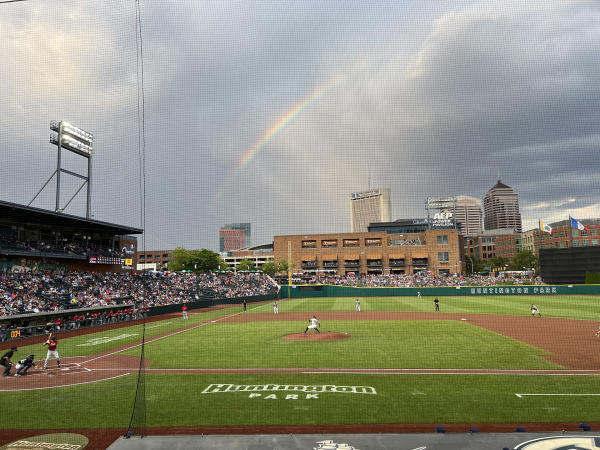 Grab some gear and rep Columbus
The Clippers Cargo Store is located on the first floor of the Left Field building and is accessible from Neil Avenue or once you're inside the ballpark.
Stop by during a game or during its regular hours: Tuesday-Thursday from 11 a.m. – 2 p.m. You'll find a wide variety of Clippers hats, jerseys, t-shirts and more. From lifestyle clothing to Clippers gear, it's a great place to outfit your home locker room.
Fun Promotions Throughout 2023
From giveaways, to business specials, to college nights and so much more, the Clippers make sure there's plenty of fun to be had throughout the year at Huntington Park.
Six nights of post-game fireworks headline some awesome promotions this season. You can also look forward to two Puppypaloozas, themes like Space Day and Sitcom Night and more. See here for a full list of 2023 Clippers Promotions.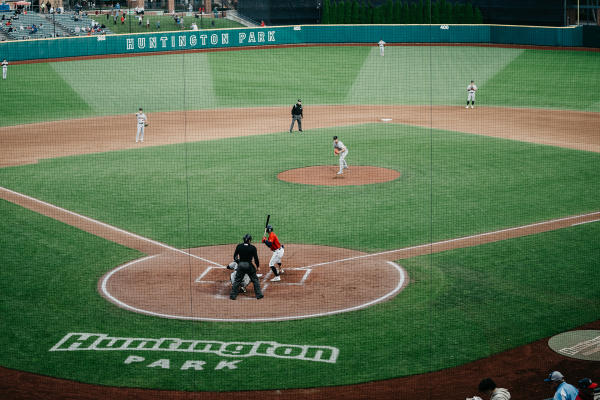 12 chances to watch in April
April 4's home opener kicks off the 2023 regular season, which includes 12 home games in the Arena District this April. You'll be able to catch baseball in Columbus through at least the regular season finale on September 24, which means lots of beautiful nights and memories to make with your entire family at Huntington Park this year. 
Secure tickets and tell us about your experiences on social media using #LiveForwardCbus.