Hanukkah is almost here! For those who aren't familiar, the story of Hanukkah tells us that after defeating the Greeks and reclaiming the Holy Temple in Jerusalem, Judah the Maccabee and the Jewish People wanted to light the temple's Menorah. When they went to light it, they found only enough oil to last for one night. Miraculously, that small portion of oil lasted for eight nights. 
Every year during Hanukkah, we celebrate and remember this miracle. To commemorate this, we light the Menorah for eight nights and eat foods that are fried in oil like latkes (potato pancakes) and sufganiyot (fried jelly donuts).
As you're prepping for your Hanukkah celebrations, here are some local spots that have Hanukkah foods and treats to make this Hanukkah the best one yet!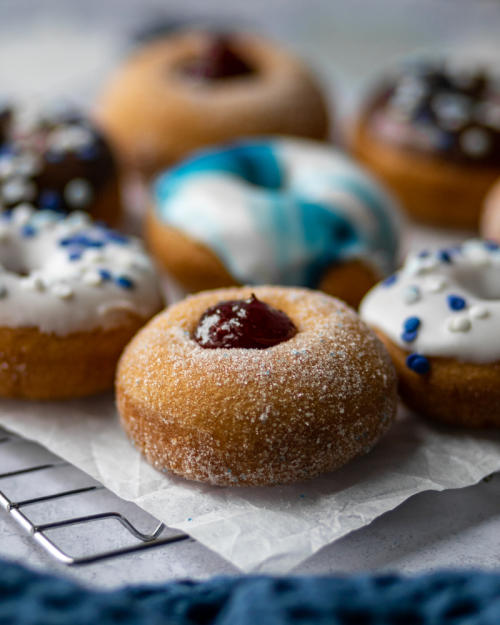 Donna's Delicious Dozen
Donna's Delicious Dozen is a donut shop in Gahanna with tasty sufganiyot (jelly donuts) for Hanukkah this year! The Hanukkah pack of donuts comes with 4 sufganiyot, four blue and white tie dye donuts, two vanilla sprinkle donuts and two chocolate sprinkle donuts. All of the donuts at Donna's are made to order so you should expect fresh, warm, and delicious donuts when you stop by. The Hanukkah donuts will be available through 12 p.m. on December 24 and can be ordered online or in-store.
You can find Donna's Delicious Dozen at 5322 N Hamilton Rd, Columbus, OH 43230.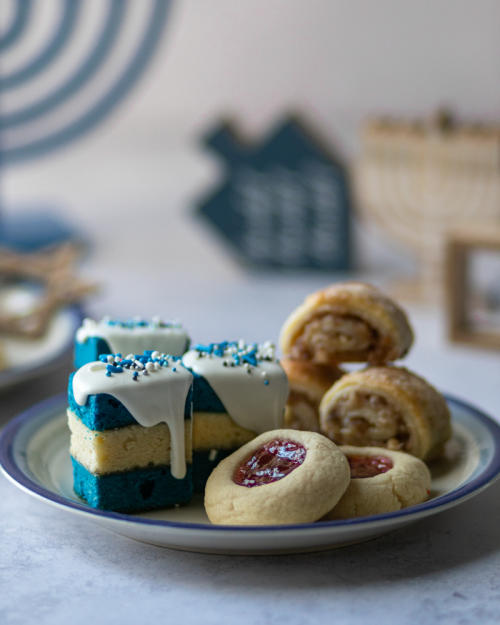 Angie's Rainbow Cookies
Angie's Rainbow Cookies is ready to help you have the best Hanukkah ever with a delicious Hanukkah Cookie Platter! The platter includes her classic rainbow cookies, Hanukkah rainbow cookies, walnut raisin rugelach, and raspberry thumbprint cookies. Named after owner Betsy's Grandma Ange, Angie's Rainbow Cookies consist of spongy layers of almond cake and sweet raspberry jam, dipped in a delicious chocolate coating. The Hanukkah version switches the raspberry jam for apricot jam and the chocolate coating for white chocolate. They are both festive and tasty! There are two sizes available and you can order from her website to pick up cookies from Lewis Center or for nationwide shipping.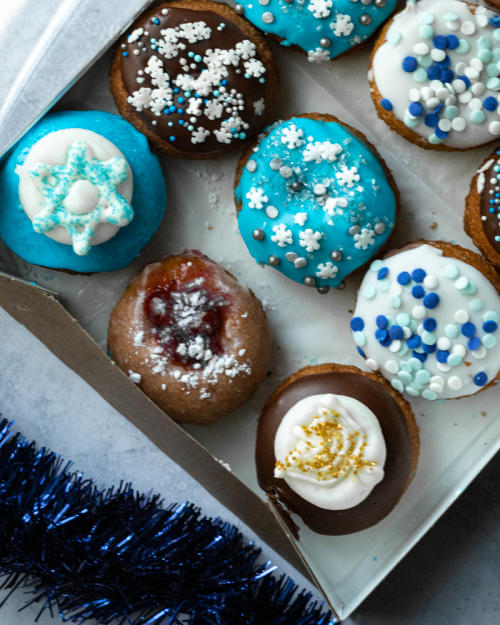 Peace, Love, and Little Donuts - Worthington
If you're looking for a bite-sized treat, Peace, Love & Little Donuts has the perfect option for you! Their pack of Hanukkah donuts includes mini sufganiyot, chocolate sprinkle donuts, vanilla sprinkle donuts, and donuts topped with candy Jewish Stars and Menorahs. Peace, Love & Little Donuts makes all of their old-fashioned cake donuts to order so they are warm and the toppings are perfectly melty.
Peace, Love & Little Donuts is located in Old Worthington at 656 High St, Worthington, OH 43085.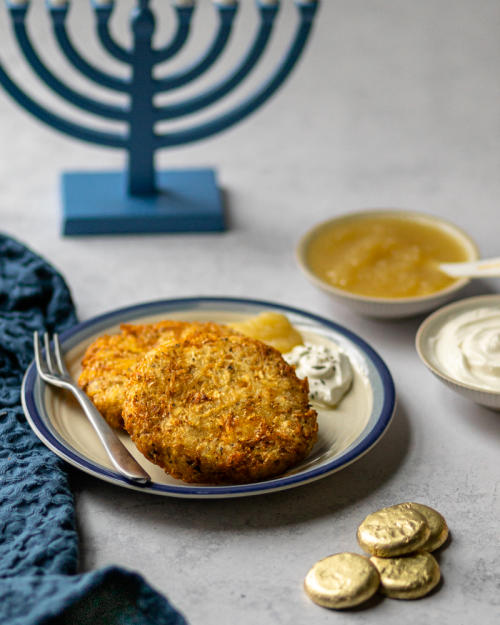 Katzinger's Delicatessen
Katzinger's Delicatessen is a staple in German Village and has some delicious savory options to help you celebrate Hanukkah this year. The most popular offering they will be serving up are their potato latkes (potato pancakes). They are deep-fried and served with both applesauce and sour cream. Latkes are a quintessential Hanukkah food, but they can be a lot of work to make at home, which is why it's so nice that Katzinger's has them! They will also have matzo ball soup, brisket sandwiches, and challah to round out your Hanukkah celebration.
Katzinger's is located at 475 S 3rd St, Columbus, OH 43215.
Brownie Points
Brownie Points is known for its gourmet gift boxes that can be shipped nationwide, but did you know that they are a local business? All of their brownies are baked from scratch and you can definitely tell. This Hanukkah season, they created the "Oy to the World" Gift Box that has a Menorah and Jewish Star "emoji" brownie, 10 baby brownies, three bags of chocolate-covered "Edgies", and two brownie "Besties". This gift box would be perfect to send to family out of town or to bring to a Hanukkah party! Everything in the box is individually wrapped and perfect for sharing.
You can order the "Oy to the World" Box and have it shipped or pick it up from Brownie Points at 5712 Westbourne Ave, Columbus, OH 43213.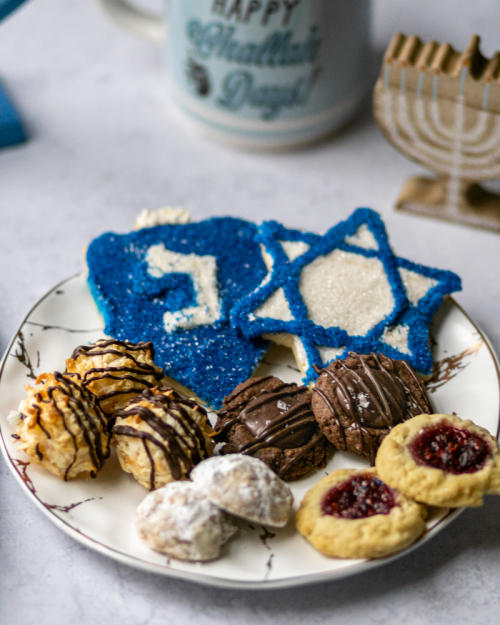 Kitties Cakes
Kittie's Cakes is helping us to get in the Hanukkah spirit with some delicious Hanukkah cut-out cookies! They have an adorable holiday cookie box that includes dreidel and Jewish Star sugar cookies, chocolate ganache drop cookies, coconut macaroons, jam thumbprint cookies, Russian tea cookies, and peppermint bark. This cookie box would be perfect for a gift or to enjoy with your friends and family as you light the Hanukkah Menorah. You can order in advance online or in the shop at either Kittie's location.
You can find Kittie's in Bexley at 2424 E. Main Street, Bexley, Ohio 43209 and in German Village at 495 S. 3rd Street, German Village, Ohio 43215. 
There you have it! Share your treats with us using #HolidaysInCbus and find more holiday inspiration here.