Amongst the wealth of international eats in Columbus, we've seen a growing number of Nepali eateries. Get to known Nepali cuisine by visiting these six spots!
Located in a strip mall next to Saraga Market, Namaste features the cuisines of India and Nepal, with a special focus on thali, a round platter of small dishes. Their menu includes Nepali tandoor chicken wings, curries with Nepali spices, thupka soups, plus vegetable, chicken and pork momos.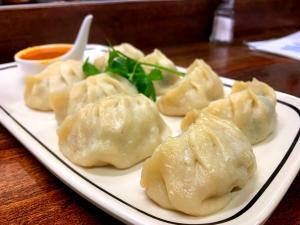 Momo Ghar
When it first opened a couple years ago, the family-run Momo Ghar – a Nepali and Tibetan stall inside Saraga Market – quickly earned a name for itself locally. That success translated nationally as well, with nods from Food & Wine and an appearance on Diners, Drive-Ins, & Dives. Phuntso and Pramod Lama have won over legions of fans with their steamed and fried Nepali and Tibetan dumplings; their signature is the jhol momo: hand-made dumplings with pork, vegetables and spices, steamed and served in a bowl of fiery orange sauce. Last year, they opened a second location inside the North Market, too!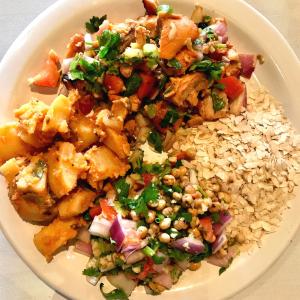 Sargam Restaurant & Bar
Sargam is located in Reynoldsburg, and serves up favorites from India and Nepal. The Nepali specialties include big thali platters with chicken, lamb, goat, pork, fish or vegetables, plus chicken and vegetable momos and a collection of noodle soups and dishes.
Himalayan Grille in Gahanna focuses on Indian, Tibetan and Nepali flavors, offering a daily buffet lunch and regular dinner service. Nepali staples include bhatamas sadheko (beaten rice and roasted soybeans marinated in spices), sadheko aloo (diced boiled potatoes in spices), chicken choila. To try them all, order the Nepali platter! You can taste a variety of dishes with the chatpate, a collection of popular Nepali snacks or the giant Himalayan thali plate.
Everest Cuisine
Tucked into Old Worthington, the spacious and comfortable Everest features the cuisine of India, Nepal and Tibet. Nepali specialties include chicken choila (boneless chicken marinated in spices), chana sadheko (fried chickpeas with vegetables) and their Kathmandu platter with beaten rice, marinated potatoes, marinated soybeans and chicken choila. Don't miss the chicken and vegetable momos and the noodle soups.
Indreni Mart Restaurant
On the northwest side of Columbus, Indreni serves as both a small grocery store and a full-service restaurant, known for its buffet and its Nepali thali plates.