Culinary experiences can be a unique way for groups to explore and discover a new city together. They're a way for visitors to immerse themselves into the culture of the destination, while sampling and cooking fresh, local food. If you missed part one of this series, read it here. Columbus offers an extensive list of hands-on, team-building cooking classes for groups to participate in.
The Kitchen is a participatory dining experience in which the entire group works together to prepare a meal that they then sit down to enjoy together. A night at The Kitchen immerses guests in a commercial cooking environment with professional tools and the finest seasonal ingredients. The Kitchen staff will guide guests through every step of creating their meal, and their experience is guaranteed to be a fun and beneficial one.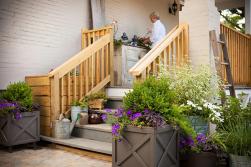 The kitchen area at The Commissary offers space for a number of food experiences, including participatory dinners, classes on certain techniques or cuisines, demonstrations by local chefs and many other experiences that can bring groups together over the table.
Cooking classes at The Seasoned Farmhouse are curated around the flavors of the season, grown in its own backyard, and set for the experience level of the group of the day. Team-building exercises can be found in both the garden and the kitchen.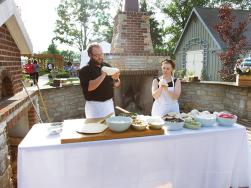 For a truly unique experience, groups can watch a chef demonstration or prepare a meal together at Franklin Park Conservatory and Botanical Gardens, using ingredients sourced on location.