The only thing better than enjoying world-class live music is pairing it with a bit of local eats! Here are the best bites you can find at Columbus music venues.
Ace of Cups | Ray Ray's Hog Pit
The original Ray Ray's Hog Pit food truck is parked behind this popular Old North music venue. The truck is open Thursdays through Sundays, making it the perfect pre-concert dinner. Order a half slab of ribs or a beef brisket sandwich, plus beans and collards, then head inside for a pint of craft beer to go with the show.
Newport Music Hall, Express Live!, & A&R Music Bar | Mikey's Late Night Slice
All three of these venues host the best in local, regional and national touring acts. And at all three venues you'll find Columbus-favorite Mikey's Late Night Slice, serving large slices of their signature pies. Order up a cheese pizza, pepperoni or a mushroom!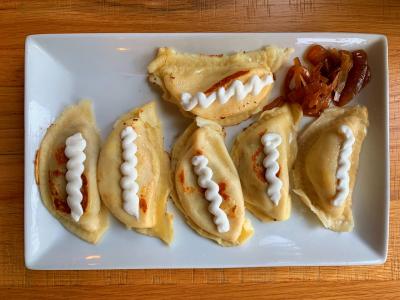 Cafe Bourbon Street | Pierogi Mountain
Located in North Campus, Cafe Bourbon Street is a dive known for great live music. Tucked inside the venue is Pierogi Mountain, where owner Matt Majesky and his crew hand-make delicious pierogi in a variety of flavors. Majesky and his pierogi earned national attention recently when they were featured on Diners, Drive-Ins, & Dives! Look for around 10 different options at any given time; and Tuesdays are $1 pierogi night!
Although the Rambling House doesn't have a significant food presence, the casual and homey live music venue should be noted for their selection of house-made sodas. Kick back with bluegrass or an old time country jam while you sip on ginger beer, cola, sarsaparilla and other sodas.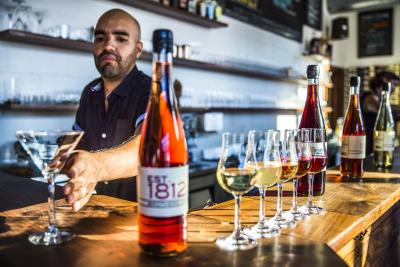 Brothers Drake Meadery
Brothers Drake in the Short North is known for their stellar line-up of live music, as well as its bar serving house-made meads crafted from raw Ohio honey. Nothing beats live music, locally made snacks and cocktails or flights of their dynamic honey wines.
Natalie's Coal Fired Pizza & Live Music
In addition to a stellar line-up of live music, Natalie's serves crisp and delicious pizzas from their coal-fired pizza oven. They're a perfect pairing with a glass of wine or pint of local beer. Bonus: pre-game the show with cocktails and small plates at The Light of Seven Matchsticks hidden in the basement.
Skully's is a long-running venue known for great bands, DJs and dance nights. The food menu is available daily, and features creative versions of all your favorites: burgers and cheesesteaks, nachos and corn fritters, breakfast all day.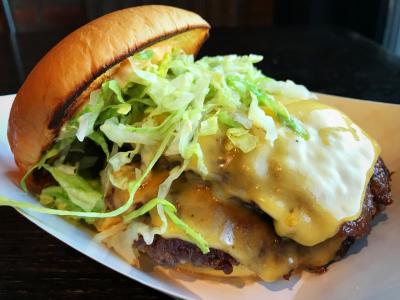 Woodland's Tavern | Preston's Burgers
Woodland's Tavern in Grandview features a solid craft beer selection, plenty of live music and is home to a Preston's Burgers window. While you enjoy the best in local and regional acts, sip on a pint and order burgers, fried chicken sandwiches, coney dogs, fries and cheese curds. (Read a little more about Preston's here!)
One of the country's largest and longest-running resident theater companies, Shadowbox Live is known for delivering the complete entertainment experience: original sketch comedy, musicals and rock and roll, all paired with full-service food and drinks.
The Shrunken Head | Moody Trudy
The Shrunken Head in Victorian Village recently welcomed Moody Trudy Food Truck to take over the kitchen. Now you can enjoy craft beer, a solid whiskey selection, live music and hot-pressed sandwiches.