Did watching Pelotonia's recent  Legends LIVE! inspire you? Are you considering joining the annual ride next year when it re-convenes in person? Or, perhaps you're just looking for a new activity that gets you out of the house as the weather begins to cool.
Either way, Columbus has hundreds of miles of mixed-use trails of which bikers can take advantage. We've rounded up a few of our favorite routes, which are good for beginners and intermediate experienced riders alike, and offer opportunities for both sight-seeing and training along the way. 
Heritage Trail
7 miles
Located in the northwest quadrant of the city, the Heritage Trail takes riders past Homestead Metro Park to downtown Hilliard. This is a very flat and easy trail that is highly recommended for beginners. Plus, there are plenty of opportunities to make stops along the way and check out Hilliard's numerous outdoor dining options.
Darby Creek Trail
9 miles
Bikes traversing the Darby Creek Trail must be able to handle gravel, but the trail is managed by the Central Ohio Metro Parks so you can feel confident in the upkeep. Offering the unique opportunity to see the bison at Battelle Darby Metro Park, this trail is mostly flat through the fields with a few steep climbs along the way.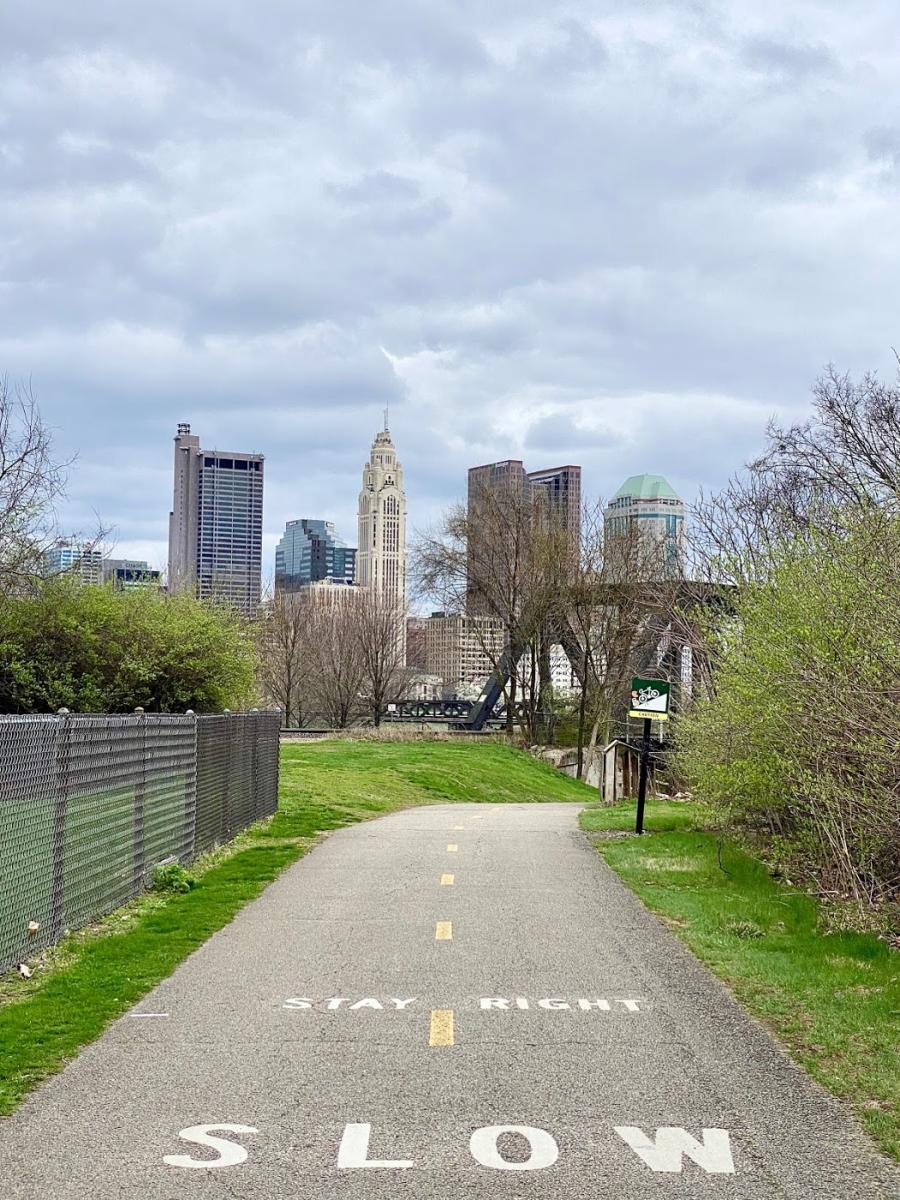 Olentangy and Scioto Trails
25 miles
This is a quintessential Columbus ride. Mostly flat, it runs along Olentangy and Scioto rivers, taking riders from Scioto Audubon Metro Park, through downtown, campus and Clintonville offering great skyline views along the way. There are plenty of places to hop off trail for exploring Columbus restaurants and breweries as well. Route includes multiple road crossings and can be crowded, but is mostly shaded and great for commuting downtown.
Alum Creek Trail
25 miles
This trail starts in Three Creeks Metro Park in Groveport – named for the confluence of where the Alum, Big Walnut and Blacklick creeks confluence – and runs through Bexley, around Franklin Park Conservatory, past Easton and through Uptown Westerville with views of Alum Creek along the way. It's mostly shaded and includes minimal hills. For those who want to extend their rides, this is part of the cross-state long distance Ohio to Erie Trail. 
Looking for more? Central Ohio Greenways and Columbus Metro Parks are both great resources for curious riders.
Don't Forget! Important Biking Tips
Communicate! Signal when passing other bikes/pedestrians on the trail. Maintain a safe distance to avoid collisions upon sudden stops. 
Buckle up! Always wear a helmet, no matter your level of cycling experience. Many of these trails, while mostly on paved bike-only paths, cross a few busy roads. 
Stay engaged! Avoid using headphones, taking phone calls or having conversations. Listen for those signaling to pass. Do not block bike traffic heading the opposite direction. Keep right.
Check out these other summer fun activities: