Columbus is known for its incredible shopping and wealth of locally owned businesses that offer independently designed clothing, handcrafted accessories and artfully created home goods.
While large shopping hubs like Easton and Polaris certainly have local shops peppered in their offerings alongside big-name brands, many of the city's boutiques are clustered in neighborhoods throughout the city.
Hit the shops in this selection of standout districts we've put together for you.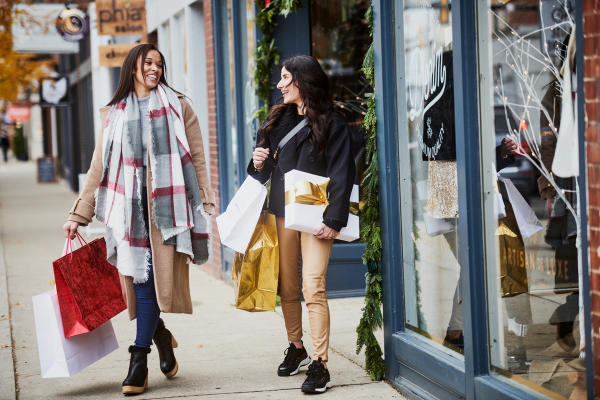 Short North Arts District
USA Today named High Street in the Short North Arts District among "10 great American shopping streets," stating, "There's nothing else like it in the United States." Filled with one-of-a-kind shops, from homegrown stores that have gained national recognition – like Homage – to specialty outlets like Tenspace, there's something surprising around every corner in the Short North. This is truly one of the most trendy and fashionable neighborhoods in the city. If you like some extra holiday cheer with your shopping, stores will stay open late and offer special deals during the Holiday Hop on the first Saturday in December.

German Village
Known as one of the most atmospheric neighborhoods in the country, the already-idyllic German Village is even more charming during the holidays. Paper lanterns and strings of lights line the streets and lead the way to a variety of shops, including one of the nation's largest independent bookstores – The Book Loft – with 32 rooms of books for every reader on your list. For some truly unique gifts, don't miss shops like Helen Winnemore's (the oldest American craft gallery in the U.S.) or The Red Stable. 

Grandview
Grandview Heights is a trendy, walkable community just west of downtown brimming with unique shops. The area is largely known for its bounty of secondhand stores, featuring consignment and thrift merchandise, both vintage and modern, from fine antiques to everyday wear and everything in between. In a less than one-mile stretch along 5th Avenue between Grandview Mercantile and the Alternative Resale Shop, you'll hit more than enough stops to outfit both you and your home. Grandview Avenue is lined with more modern boutiques, like Vernacular, Greendigs, and Cub Shrub, for clothing, accessories and home goods.

Clintonville
If you're in need of something out of the ordinary, head up High Street from downtown to Clintonville, known for its collection of unique shops, many of which are women-owned! A few of our favorites include The Little Light Collective, Quincy General Store, Sewing Hive, Marigold, Small Talk and Boomerang Room Vintage. Wild Cat Gift & Party is known for its quirky gift options, and Tigertree has you covered for everything you need for holiday gifting. 

Image courtesy of Visit Dublin Ohio, shot by Robb McCormick Photography
Downtown Dublin
The northeastern Columbus suburb of Dublin has a brand-new bustling shopping district in its downtown area. Be sure to stop by Bend Active for some stylish Ohio State fitness gear and Coast Wine House to pick up a bottle for the host at your next holiday gathering. 

Olde Towne East
On the east side of downtown, Olde Towne East has been steadily growing its retail offerings. Grab some caffeine from Upper Cup Coffee Co-op then hit the shops. Be sure Hosful Collective, Yelo Aple and Eden Birkin on are on your list to help shop for your most fashionable friends. 
Find more inspiration here, and share your memories with us using #LiveForwardCbus.