There's truly something unique about festival season in Central Ohio, and with so many events returning to in-person attendance this year, it's the perfect time to explore Ohio's capital city.
Columbus is just a day's drive from 50% of the U.S. population, making it the perfect place for a getaway on a warm summer weekend!
Here's our list of some of the ca-n't-miss events this summer in the 614: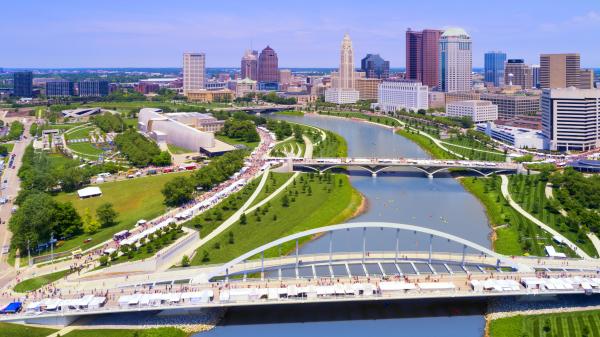 Columbus Arts Fest
When: June 9-11 | starting at 11 a.m. on Friday, 10 a.m. on Saturday & Sunday
Where: Downtown Riverfront
What: More than 260 visual artists join art enthusiasts from all over the country along the Scioto Mile for one of the nation's most highly acclaimed art festivals. The festival is free to attend and features dozens of food vendors, plus three stages of performances.
Tips: Park in an Arena District garage, at a street meter or utilize CoGo or COTA as alternative means of transportation. Also, get ready to indulge in some tasty barbecue, lobster tacos or jumbo cream puffs – all options that are ready and available.
Learn more here.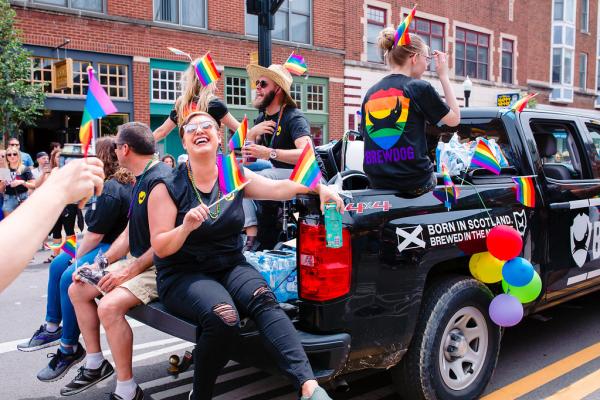 Stonewall Columbus Pride
When: June 16-17 | from 4 p.m. – 10 p.m. Friday, march step-off at 10:30 a.m. Saturday
Where: Goodale Park & Short North Arts District
What: Central Ohio's annual celebration of LGBTQIA+ rights, culture and progress. The event returns to Goodale Park and the Short North and features a community resource festival & fair on Friday, June 16, and a march on Saturday, June 17.
Tips: Welcoming more than 700,00 visitors to Columbus and the Central Ohio region, the return of this festival and march will mark a major weekend for Columbus and the Short North – stay in a nearby hotel and enjoy everything the Short North has to offer.
Learn more here.
Juneteenth Ohio Festival
When: June 17-18 | 12 p.m. – 11 p.m. daily
Where: Genoa Park
What: Celebrating its 26th year, this festival benefits Juneteenth Ohio literacy initiatives and features concerts, a classic car show and more. This event provides an enjoyable family weekend of cultural discovery and events promoting cultural unity, enrichment and ethnic diversity.
Tips: Admission is free each day until 3 p.m. – arrive early and enjoy music, food and more in the heart of Columbus at Genoa Park.
Learn more here.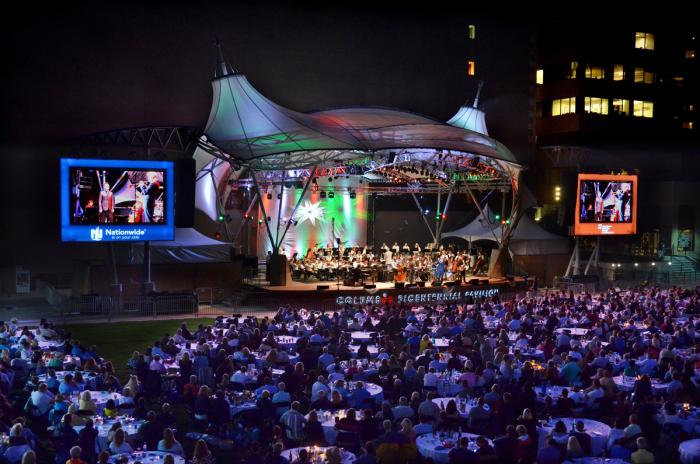 Columbus Symphony's Picnic with the Pops
When: Throughout June & July
Where: Columbus Commons - Bicentennial Pavilion
What: Seven weekends of spectacular concerts that include the Patriotic Pops, the Ohio State University Marching Band and more.
Tips: You can pre-purchase lawn and table seating tickets, and you're welcome to bring your own food and non-alcoholic beverages.
Accessibility: All gates are handicap accessible. Handicap-accessible parking is available in the parking garages and space for wheelchair seating is available in the southeast corner of the table seating area. Wheelchair-accessible restroom facilities are also available on the East side of the park at the Town Street entrance.
Learn more here.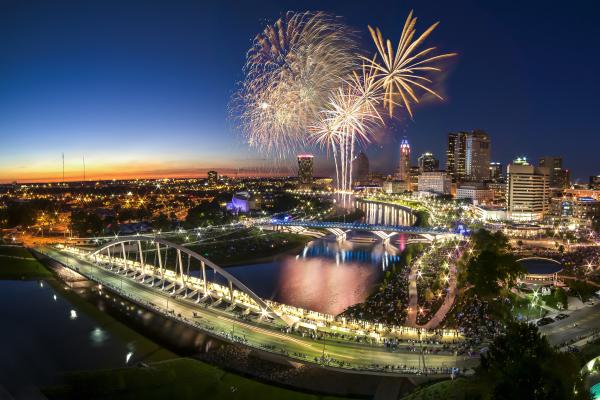 Red, White & Boom
When: July 3
Where: Downtown Columbus
What: The return of the largest Independence Day celebration in the Midwest will welcome over 400,000 visitors to Columbus.
Tips: Stay in a downtown hotel to avoid any traffic, and while you're at it – enjoy one of the most lively weekends of the year in Downtown Columbus. The Columbus Crew are also in town that weekend right down the street at Lower.com Field, so you can make a weekend out of it and enjoy the Fourth in Columbus.
Learn more here. 
40th Annual Doo Dah Parade + Music Fest
When: July 4, 1 pm
Where: Short North Arts District
What: Celebrate liberty and lunacy with the 40th Annual Doo Dah Parade and Music Fest. Feast your eyes on satirical parade floats featuring some of your favorite Columbus businesses this July 4. 
Tip: Head to Goodale Park for live music and an "after-glow" party from 11 am - 8 pm. 
Learn more here.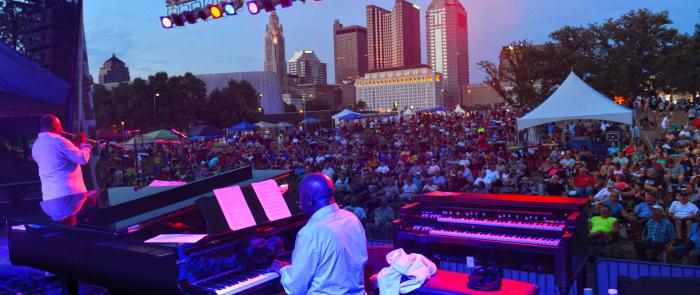 Jazz & Rib Fest
When: July 21-23
Where: The Scioto Mile
What: One of the most anticipated events of the summer returns to Bicentennial Park this July. Jazz & Rib Fest offers both jazz and rib connoisseurs the finest in music and barbecue. Admission is free, with all food vendors opening each day at 11 a.m.
Tips: Napkins. Lots and lots of napkins. But it's SO worth it, trust us.
Accessible parking is available in area surface lots and parking garages. To use accessible parking, you will need to have a disability license plate, placard or other state-issued identification. Jazz & Rib Fest is wheelchair accessible. Wheelchair-accessible restrooms are located at all portable restroom sites located throughout the festival and in Bicentennial Park. Please note: Jazz & Rib Fest does not offer wheelchair or stroller rentals.
Learn more here. 
Festival Latino
When: August 12-13
Where: Genoa Park just outside of COSI
What: This free event started in 1996 and offers Ohio-based Latino music, dancing, cultural arts workshops, cuisine and more. The festival has flourished and grown over the years and returns to Genoa Park in 2022.
Tips: Festival Latino features fantastic cultural and art workshops for children and adults alike, so it truly is for the entire family.
Learn more here. 
Columbus Food Truck Festival
When: August 19-20
Where: Franklin County Fairgrounds
What: Delicious eats, great music and unique vendors can all be found at the Columbus Food Truck Festival. Expect all genres of music that will keep you entertained and comfortable while you enjoy great food.
Accessible Parking is available on a first come first serve basis, must have a legal handicap plate or placard.
Learn more here. 
CBUS Soul Fest
When: August 19
Where: Genoa Park
What: The second annual CBUS Soul Festival will celebrate the rich, historic, innovative, and forward-moving Black culture in Columbus.
Tips: We're super excited to see you at GenoaPark for this one in August! Be sure to check out our CBUS Soul website for Black-Owned Businesses in Columbus, merchandise, custom itineraries and more. 
More details to come!

Columbus Greek Festival
When: September 1-4
Where: Annunciation Greek Orthodox Cathedral – Downtown Columbus
What: Find Greek food, dancing and more on Labor Day Weekend here in Downtown Columbus. This festival has been held at the Annunciation Greek Orthodox Cathedral since the early 1970s.
Tips: A great late-summer weekend to enjoy Columbus – learn more about Greek culture, enjoy tasty cuisine and spend the long weekend Downtown.
Learn more here. 
Columbus Oktoberfest
When: September 8-10
Where: Ohio Expo Center / Ohio State Fairgrounds
What: Columbus' rich German heritage is on full display at this event. Enjoy tasty food, lively music, games and plenty of brews.
Tips: Held at the Ohio Expo Center & Ohio State Fairgrounds, this event is "weatherproof" with 10,000 square feet of closed event space. Admission is free and parking is available at the fairgrounds for $10.
Learn more here. 
For a full list of events happening this summer in Columbus, check out our festivals and annual events page and be sure to follow Experience Columbus on Twitter, Facebook, Instagram, TikTok and YouTube for exciting scenes from these events this #SummerInCbus.