From curling to candle-pouring, we've put together some mini itineraries for a morning or evening on the town this winter. From breakfast to cozy nights in, from DIY drinks classes to distillery tours, read on to find dinner date suggestions throughout the city, or click here to jump to our brunch ideas. 
Dinner Dates
Enjoy this short selection of date night ideas for you and your loved one! If you make one of these ideas your own, tag @experiencecolumbus and share your adventure with us.
History, Curling and Igloos in Franklinton
First, head to COSI's Dinosaur Gallery in Franklinton. COSI partnered with the American Museum of Natural History to bring these prehistoric creatures to life like you've never seen before (Tickets are timed and must be reserved beforehand at cosi.org.) Then, take a short drive over to Land-Grant Brewing Co., where you can enjoy outdoor beer keg curling; a reservation of a curling time slot even includes a heated igloo! You'll also be able to enjoy dinner from one of the food trucks Land-Grant hosts on a rotating basis.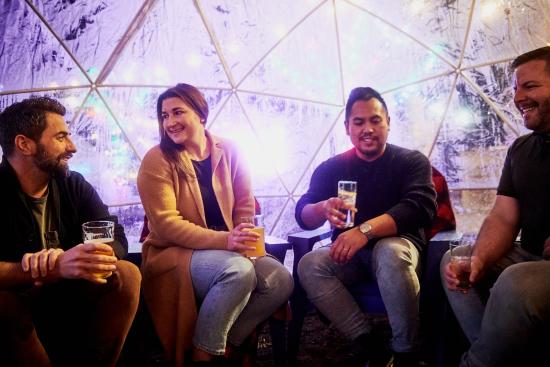 Igloo at Land-Grant Brewing Co.
Arena District Date for the Sports Enthusiast
If you're a sports fan, you can't go wrong in Columbus' Arena District; with three arenas within walking distance from each other, just pick your team! Before the game, enjoy any food you can dream of at the historic North Market. After you've cheered yourself hoarse at the game, we suggest heading slightly south to Downtown to settle in for a relaxed night at Pins Mechanical Co. or enjoy the chic, French-inspired vibe at The Keep in Hotel LeVeque.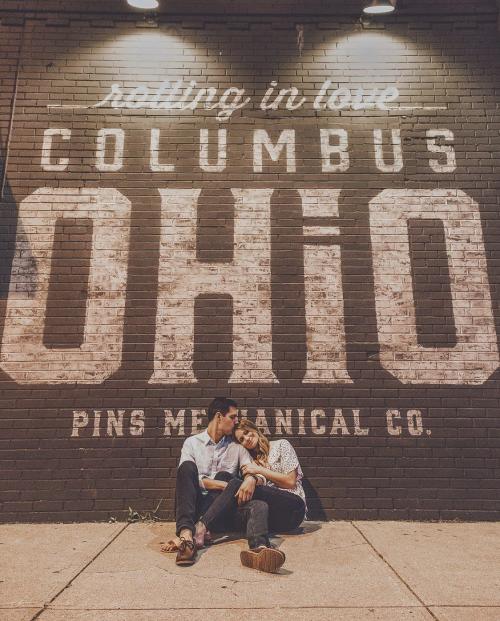 Pins Mechanical Co.
Short North Tacos, Candle Pours and Drinks on the Skyline
Enjoy an afternoon out no matter how cold it might be in central Ohio – start things off at El Segundo, Cameron Mitchell's fun take on the Mexican kitchen, and then spend some time at Penn & Beech pouring your own candles! To round off the evening, head up to Lumin Sky Bar for breathtaking views of the city, Spanish tapas, and creative drinks. If you're spending the evening with a group of friends, Lumin is even offering heated igloo reservations for groups of eight – it doesn't get better than that.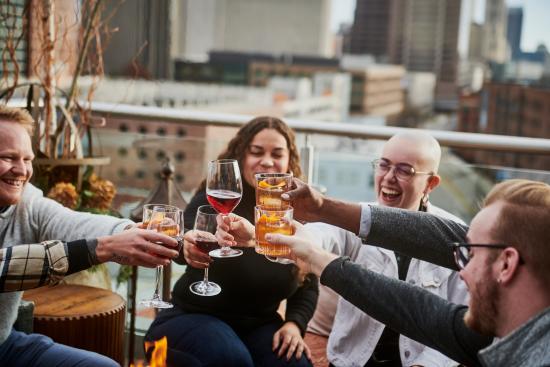 Lumin Sky Bar
Diner Dinner in Dublin
Cap City Fine Diner & Bar is a Columbus staple! If you're in Dublin, head to the restaurant's Riverside Drive location for an artsy but comfortingly classic array of menu choices. After dinner, stroll around the rest of the Bridge Park area for drinks at Vaso Dublin (they're another Columbus restaurant offering igloo reservations!), or drive over to Historic Dublin to enjoy drinks at The Pearl.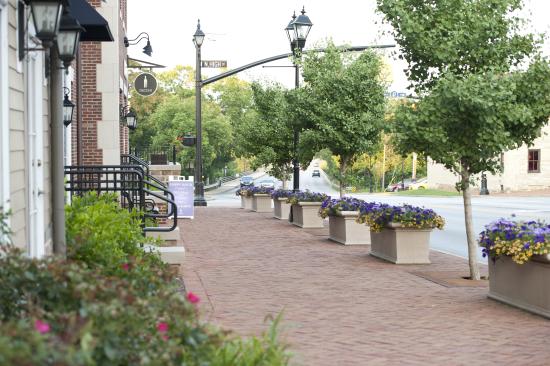 Historic Dublin
Cook, Bake or DIY Your Drinks Together
From the Macaron Bar to Quinci Emporium, from The Kitchen to Makers Social, Columbus has plenty of choices for culinary, dessert, and drinks experiences alongside a loved one. Schedule a class and spend some quality time learning a new skill!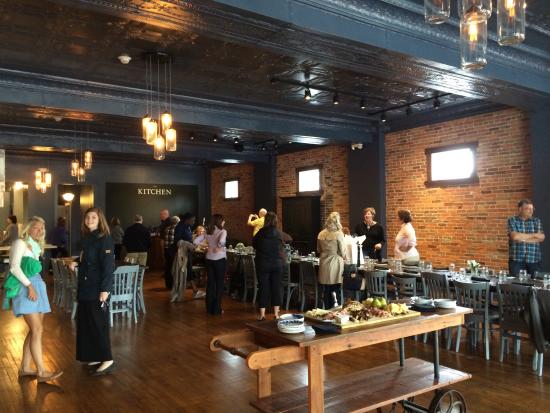 The Kitchen, a participatory dining experience
Egloos at Easton
Easton has again established egloos for reservation this year! Spend an evening at Beeline or Ivan Kane's Forty Deuce tucked underneath a heated egloo with a loved one or a group (up to eight people). Check out all the details here (purchase minimums vary by day).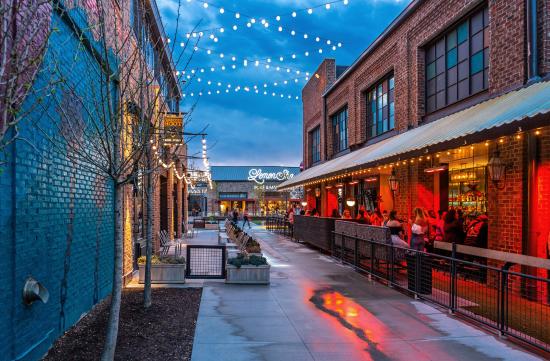 Beeline's Patio
Columbus Distillery Trail
Date night doesn't get better than participating in Columbus' newest curated experience guide, the Distillery Trail! With locations across the city creating award-winning brews, anyone 21 and over can use the newest trail to explore Columbus' world-class spirits maker scene. Pick a stop on the trail for you and your date to enjoy, and consider asking for a tour of your chosen stop's facility as part of your night out.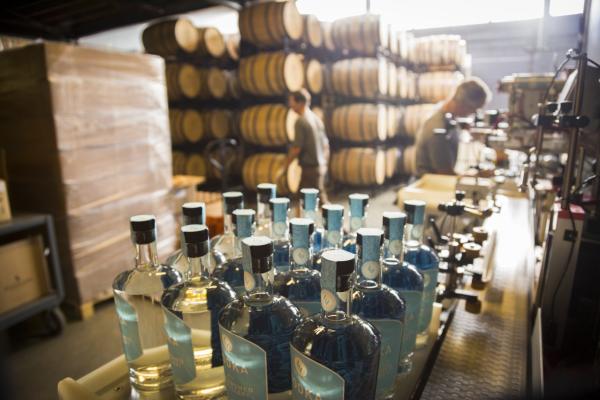 Watershed Distillery
---
Brunch Dates
Up for a brunch date? There are countless delicious brunch menus in Columbus, but we've highlighted just a few below and combined them with some post-meal shopping and coffee options.
A Morning Date in Hilliard
First, stop in at Coffee Connections in Old Hilliard, a family-owned community favorite for your morning roast. Then, go just steps to the Starliner Diner, an old-timey restaurant decked out with kitschy – but fantastic – décor and a Cuban-inspired menu. Hungry for more adventure afterward? Don't go far! Stroll through the rest of the Old Hilliard area, enjoying the parks and local businesses. If you're up for something really unique, spend some time at the Early Television Museum, a hidden gem of the city.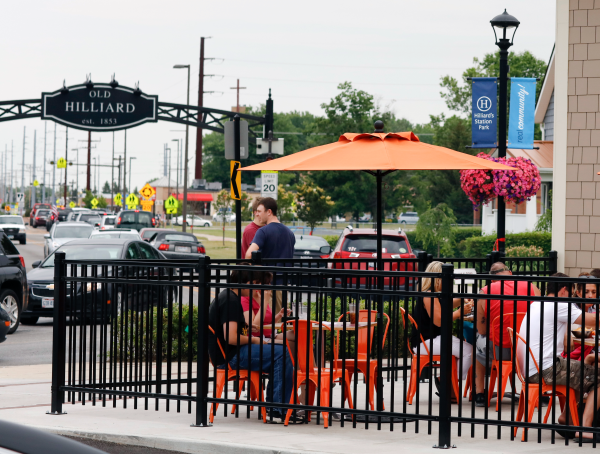 Old Hilliard
Plants + Art in the Short North
Enjoy some out-of-the-box breakfast in Harrison West for some Katalina's Original Pancake Balls™! Then, hit up the Columbus favorite Fox in the Snow in Italian Village for post-brunch coffee or pastries. If you're enjoying your date on a Sunday, head to the Columbus Museum of Art (located south in the Discovery District) for a leisurely stroll through a wide range of fascinating pieces – the museum offers free general admission on Sundays! Or, enjoy the very short walk from Fox in the Snow to STUMP, a beautiful plants shop. Whether you have a green thumb or not so much, taking in STUMP's array of beautiful greenery is sure to be a relaxing and enjoyable end to your morning.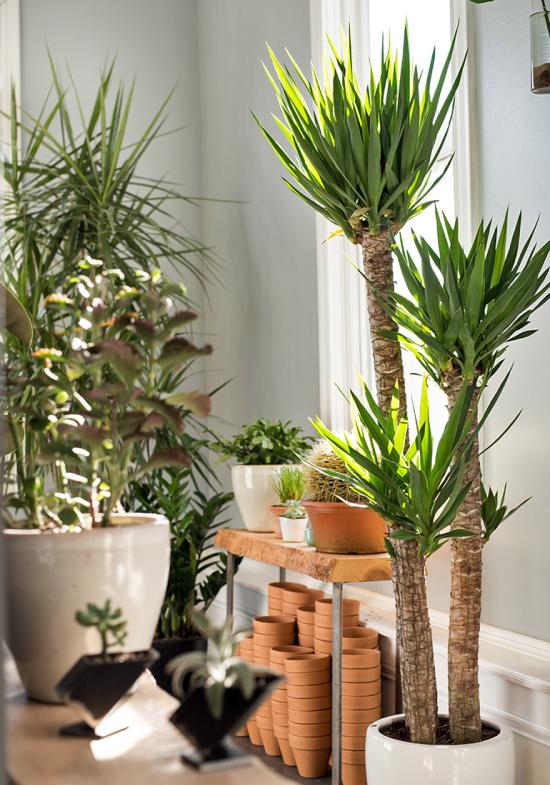 STUMP
Brunch + Books in German Village
You can't go wrong with a brunch date planned in German Village! Start with Lindey's classy and delicious surf 'n' turf brunch selections. Next, walk over to the famous Book Loft – even if you don't consider yourself a book nerd, the Book Loft's 32 rooms literally have something for everyone. Once you spend some time exploring, warm up with coffee from Stauf's Coffee Roasters next door, or run right down the street for a unique European treat from Pistacia Vera.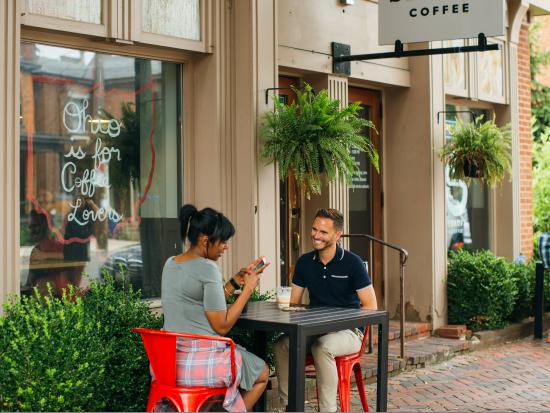 Stauf's German Village
Columbus Coffee Trail
Columbus is well known for its extensive Coffee Trail. Not only does the trail tracks the diverse, nationally-known places we have to get delicious roasts in our city, it also makes planning a coffee date in Columbus simpler than ever. Pick your shop, find some nearby stores, parks or trails - easy to do in Columbus! - and head off for a great morning together.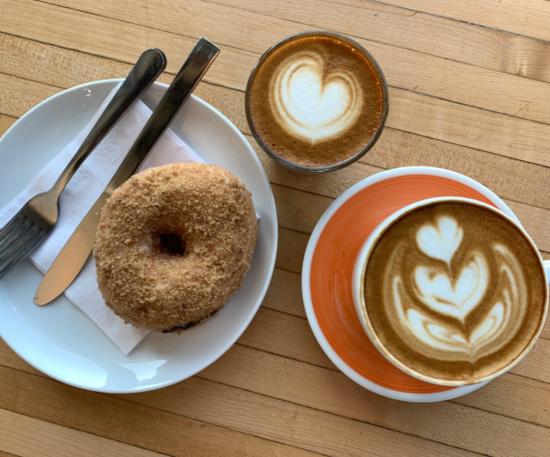 Breakfast + Shopping in Grandview
From Grandview Café to Brekkie Shack to Third & Hollywood, brunch options in Grandview are anything but lacking, and you really can't go wrong with a single one. Once you've enjoyed your meal, if you're up for exploring, take in the local businesses centered around Grandview Ave. Pick up coffee for the day at Grandview Grind or Stauf's Coffee Roasters, and then grab some delicious desserts for the drive home from Lion Cub's Cookies.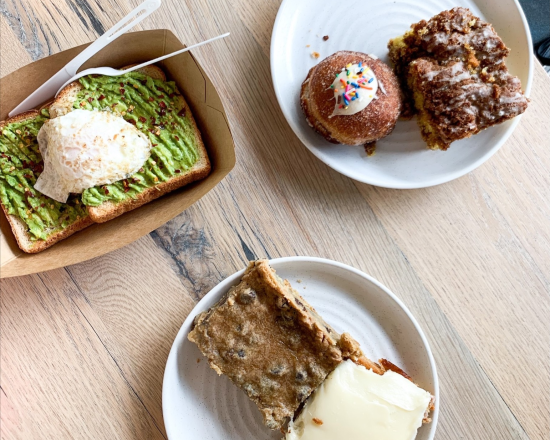 Brekkie Shack
---
Looking for more local suggestions? Check out interviews and recommendations from people who live and work in Columbus' unique neighborhoods on our Live to Explore page, or peruse our Restaurants listings for ideas!