Seeing some live entertainment in the form of a concert or dance performance? Catching a comedian or a Broadway show? You'll discover a diverse mix of dining options in and around downtown Columbus, so if you have tickets to a show at the Ohio, Palace, Southern, or Lincoln Theatres, or the Riffe Center, pair the night's entertainment with a meal or an after-show drink at one of these stops!
Upscale
Veritas – one of the city's most innovative restaurants, Veritas features a tasting menu that rotates daily. For a special treat, make reservations for the chef's tasting menu.
Ambrose & Eve – a new endeavor from local chefs Matt Heaggans and Catie Randazzo, Ambrose & Eve offers creative versions of your favorite foods growing up.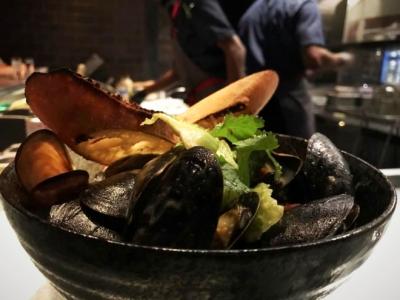 The Keep Liquor Bar – a French brasserie and cocktail bar on the second floor of the Art Deco LeVeque Tower. Ideal if you're seeing a show at the Palace, because the buildings are next door to one another!
Elevator Brewery & Draught Haus – pairing beers from local Elevator Brewing with brewpub classics in a century-old building that once served as a billiards hall.
Wolf's Ridge Brewing – a much-decorated brewery and restaurant, Wolf's Ridge features a stellar culinary team matched by a skilled brewing staff. Hit them up for dinner, then return later in the evening to the taproom for a pint.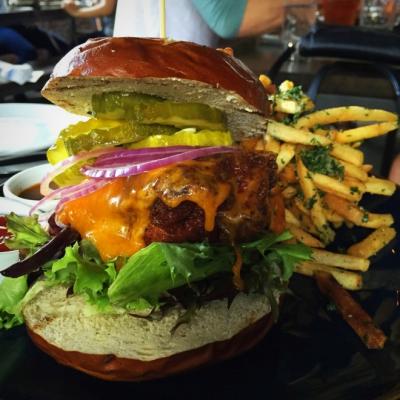 Burger Central
Burgerim – an international casual chain that lets you build your own burgers.
Ringside Cafe – a long-running Columbus institution, Ringside can be found down Lynn Alley serving burgers named after famous boxers, fries and cold beer.
Oliver's – located along the same alley as Ringside, Oliver's is a hole-in-the-wall that offers towering burgers and other pub favorites, and hosts live blues most weekends.
Tacos, Wraps, & Breakfast, Oh My
Condado Tacos – dive into queso, build your own tacos, discover mezcal and sip on margaritas at the downtown location of this popular spot.
Market 65 – creating wraps and salads from local ingredients, Market 65 stays open until just before showtime and offers beer and wine for hungry theatre-goers.
Jack & Benny's – open 24 hours a day, Jack & Benny's serves all your diner favorites: pancakes, omelets, BLTs, sandwiches and breakfast plates generously topped with gravy.
Due Amici – the perfect place to hole up with a glass of wine or cocktail and enjoy all your favorite Italian dishes.
Tiger + Lily – serving modern takes on classic Asian dishes, from spring rolls to noodle bowls and beyond.
Tip Top Kitchen & Cocktails – with a solid craft beer and whiskey selection, Tip Top is a favorite for comfort fare like nachos, pot roast sandwiches, meatloaf and mac and cheese.
Dirty Frank's Hot Dog Palace – a favorite place for hot dogs with creative toppings, mac and cheese, tater tots, boozy slushies and craft beer.
Mikey's Late Night Slice – open until the early hours, Mikey's is a favorite for giant slices of pizza and fun sauces.
El Camino Inn – the go-to for tacos, gorditas and margaritas.
Little Palace – a quiet and comfortable spot for sliders, crispy chicken sandwiches, poutine, pizza and subs.
Pecan Penny's – a newer spot for house-made barbecue with a giant patio.
The Walrus – offering creative pub favorites like short ribs, lobster mac and cheese, sweet potato tacos, flatbreads, sandwiches and burgers.
Sidebar – featuring terrific happy hour specials, small plates and entrees.
The Citizens Trust – the upstairs bar of Veritas, The Citizens Trust, is situated in an old bank lobby. Visit the bar to order your drinks, trust in the skill of the bartenders, then find a seat in a quiet corner.
Buckeye Bourbon House – kick back in the lobby of the Residence Inn, a converted bank building, with the Buckeye Bourbon House at street level. Lounge in a leather chair, sample cocktails and order from their full menu if you're still hungry.
Antiques on High – Seventh Son Brewing's new sour-dedicated brewery, AoH features a mid-century-feeling first-floor lounge and an upstairs patio that's enclosed during the colder months.
The Daily Growler – in the mood for beer but can't choose just one? The Daily Growler features a rotating selection of 60 beers on draft at all times.
Looking for more? Explore dining and drink options in the Brewery District, German Village, Olde Towne East, and the Short North Arts District nearby!