It's that time of year again! Start your holiday season off right with one of the many Santa experiences in Columbus listed below. Many of these festive opportunities require pre-reserved time slots to make your family's Santa experience painless and fun - be sure to check out each experience's website for the most updated requirements before you go. 
Fridays and Saturdays in December 2021
20 E William Street, Delaware, Ohio
Get your kids in the holiday spirit by meeting Santa in downtown Delaware! $10 includes one print and a digital copy of your photograph. Be sure to check out the dates and times for walk-ins and for time-slot reservations here. To reserve your spot, click here.
Opening November 19, 2021
3190 South Old State Rd. Delaware, OH 43015 (near Butch Bando's Fantasy of Lights)
For $10, you can choose to have the on-site photographer take photos (they'll email you the two best shots), or you can take 3-5 pictures using your phone. For $20, a printed photo taken by the on-site photographer will be mailed your way. Proceeds from photos are donated to Recreation Unlimited.
Other perks are free hot chocolate and cookies. To view times and details, please check out Cross Creek's Facebook page.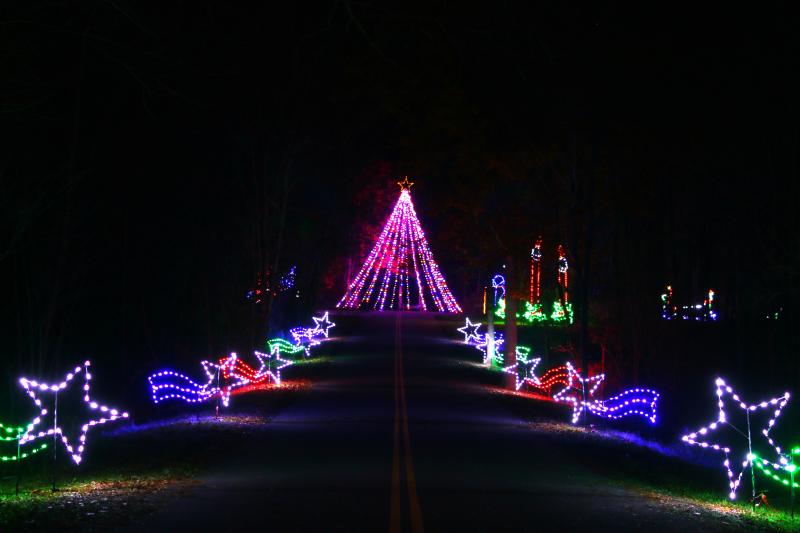 Pictured: Butch Bando's Fantasy of Lights
November 19 - December 23, 2021
The Wildlights Santa Experience will take place this year at the Battelle Ice Bear Outpost (near the Polar Frontier region). Please note that you'll need to go in the main Zoo entrance and walk back to this part of the Zoo.
For no cost, guests can see Santa at his location, but to purchase official photos taken, a fee will be charged at the end. Time reservations are required for this experience (when choosing a reservation time, the Zoo encourages Santa-goers to consider the time required to walk from the Zoo entrance back to Santa's location, so as not to miss your time slot) and face masks are encouraged.
Check out available times and reserve your slot here. Other things to note: admission to the Zoo and parking are separate fees; groups must be 10 people or fewer; your time slot reservation should be made for your entire group.
Cabela's Santa's Wonderland
November 7 – December 24, 2021
1650 Gemini Place, Columbus, OH 43240
Get a free 4x6 photo with Santa, as well as a free digital video greeting card to share with friends and family on your social media! Time slots must be made in advance but are free and easy to make here. While you visit the store, kids can also mail their letters to Santa and receive free giveaways (while supplies last).
November 25 - December 24, 2021
4140 The Strand, Columbus, OH 43219
Santa can be found at Easton this year next to Tiffany & Co. It's just $5 for your first 5x7, or you're welcome to capture the moment using your own device. Santa's availability varies depending on the day, so check out the schedule here, and make your time slot reservations (which are recommended but not required) here. The opportunity for pictures will begin after Easton's Grand Illumination.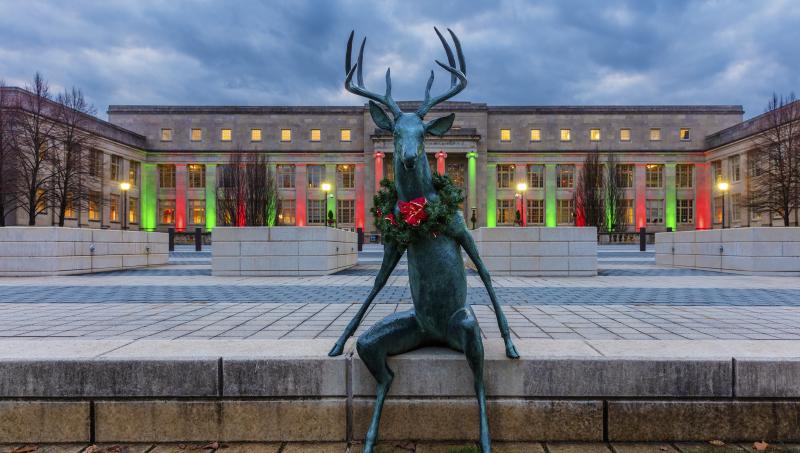 November 12 - December 24, 2021
1500 Polaris Parkway, Columbus, OH 43240
Doing your Christmas shopping at Polaris? Stop by the Santa Experience! Available for walk-ins or with reserved time slots, photo options are available from $34.99-$49.99. Time slots vary; to get more info and reserve your family's slot, click here.
December 7, 2021
Grandview Ave between 1st Ave and 3rd Ave
Grandview Heights' Christmas tree lighting combines the most festive parts of Christmas into one exciting event! It's free to visit Santa (available 5:30 - 8 p.m.) at this event, and your kids can also write and drop off letters to Santa in the mailbox that will be on-site. Check out this and other holiday fun scheduled for this event at the link above.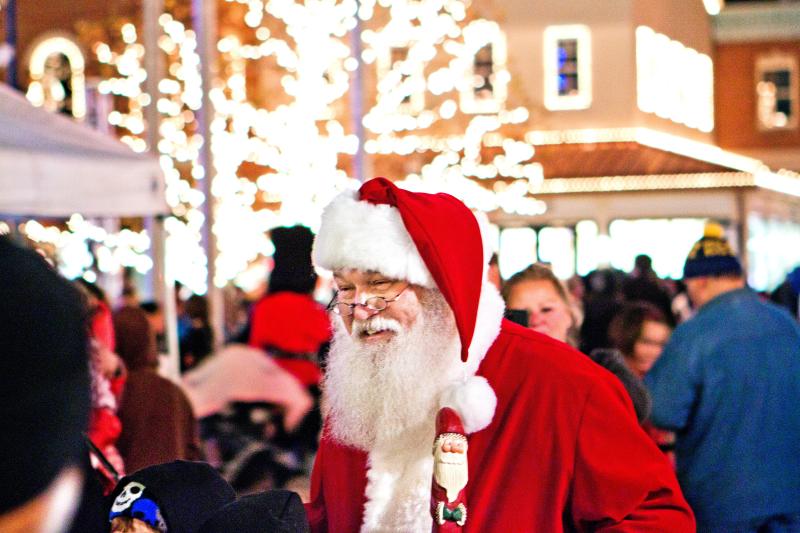 Gahanna Holiday Lights Celebration
November 21, 2021
117 Mill Street, Gahanna, OH 43230
From 4 - 6:30 p.m., enjoy Gahanna's holiday celebration in the Creekside District! Santa will arrive by firetruck at this annual event, and you may also get a peek at ice sculpture crafting and live reindeer!
November 18 - December 24, 2021
5043 Tuttle Crossing Blvd, Dublin, OH 43016
Visit Santa while you check off your shopping list! Santa can be found in the mall's lower-level food court. Hours vary by day and proximity to Christmas Day. Check out full hours and information here, and be sure to pre-book your time slot here.
November 28
640 High Street, Worthington, OH 43085
From noon - 5 p.m., swing by Old Worthington's annual Holiday Open House to get yourself and your kids in the Christmas spirit after Thanksgiving! Santa will be available for photo opportunities, and you can also enjoy horse-drawn carriage rides, live music and other festivities.
Saturdays and Sundays, November 27 - December 12, 2021
At each of the Oakland Nursery locations specified below, you can shop your fill of greenery while fitting in a visit with Santa! Opportunities to see the man with the big red bag will be socially distanced and available Saturdays and Sundays from noon to 3:30 p.m. Reindeer will visit December 11 from noon - 3:00 p.m.
Columbus Garden Center | 1156 Oakland Park Avenue Columbus, OH 43224
Delaware Garden Center | 25 Kilbourne Road Delaware, OH 43015
Dublin Garden Center | 4261 West Dublin-Granville Road Dublin, OH 43017
New Albany Garden Center | 5211 Johnstown Road New Albany, OH 43054
Learn about more festive activities to do in Columbus this season, here, and share your holiday memories with us using #HolidaysInCbus.