Get loud, be proud, and come out for Pride in Columbus. 
As the largest Pride celebration in the Midwest, Columbus Pride draws more than 700,000 visitors locally and from outside of Central Ohio, so if you're traveling into town to celebrate, you'll be in good company. If you're planning to come for the official march, it's June 16-17. But don't let that be the only time you spend in town - whether you want to come early or stay late, there's a lot happening throughout the rest of the month. This guide will help you plan your trip so you can enjoy all of the festivities.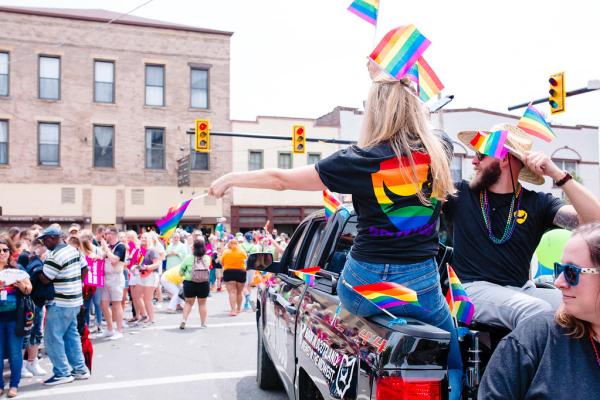 Columbus Pride Festival Weekend: Tips, Stays and the Details
Dates, Location and Accessibility
Columbus Pride Festival weekend kicks off at Goodale Park on Friday, June 16 from 4 pm to 10 pm with the Pride March beginning at 10:30 am on  Saturday, June 17.
The march begins at the corner of Broad and High St. Listen for the Columbus Pride Marching Band and high step in that direction! Participating nonprofit and corporate vendors will be aplenty so you can safely assume you'll be able to pick up some free water bottles and string backpacks if you forget your own.
Goodale Park is big enough for a serious Pride celebration but still small enough to feel cozy, so you'll be able to enjoy the festivities without having to walk too far in the heat. The park has paved paths, so wheelchair users can navigate the party without having to do much off-roading.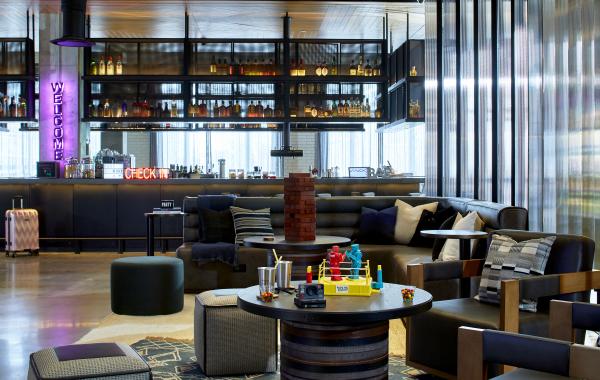 The Moxy lobby in Columbus' Short North Arts District
Where to Stay for Columbus Pride: Hotels, Packages and Discounts
Columbus' Short North Arts District is where all the action is happening if you're looking to party from dusk till dawn, that's where you'll want to stay.
Hotels like The Moxy and The Graduate have unique decor and amenities that are perfect for the weekend. At The Moxy, you check in at the bar so you can kick off your stay with a sense of adventure, and they have a pool table with other games in the lobby, which is perfect for downtime between activities. For the OSU alums returning to town, go for The Graduate. With a vintage collegiate vibe, you'll be reminded of the good ol' days from the moment you arrive. 
Meanwhile, the AC Columbus Downtown has a Pride cocktail menu and beauty bar to help you get dolled up for the parade with glitter and braids galore up on their rooftop at Lumin Skybar. Buy tickets. 
While they may not have Pride packages (or just haven't announced them yet), there are several other hotels in the area like the Hampton Inn & Suites and Le Meridien - The Joseph. 
Pro Tip: Book your hotel through Experience Columbus and get free attraction tickets or Lyft credit. 
Getting Around Columbus Pride: Transportation
Pro tip: For those driving into town, don't count on parking near the park. Instead, take a COTA bus or ride a CO-GO bike down to the festivities.
If you haven't been to Columbus, our bus system is easily navigable. Find your way to N. High St., which runs right through the Short North Arts District, one of Columbus' "gayborhoods", where many Pride festivities are happening, and take the #2 bus south until you hit the stop at W. Russel St. From there it's a block west until you're in the middle of Goodale Park. There is a Central Ohio Transit Authority (COTA) app so you can pay digitally for the bus, but it wouldn't hurt to stack up on ones: That way you can pay the bus fare and still have plenty of dollar bills to tip the drag queens and kings.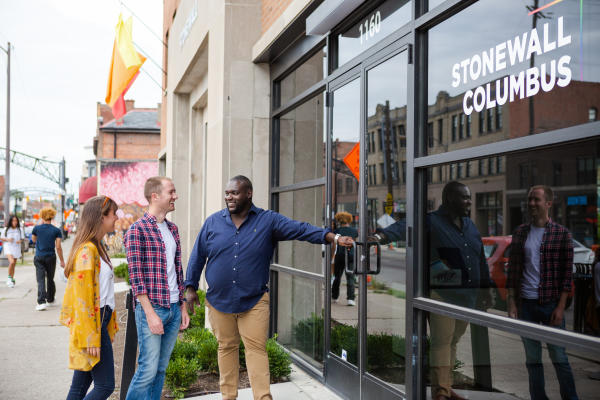 Columbus Pride Festival Events & Happenings
Here are some things to do during Columbus Pride weekend outside of the festival activities.
Pride on High
Prefer to watch the parade with a stunning rooftop view? Relax in the air conditioning with good food and drinks, performances, parade commentary, cover in case of the rain and a private bathroom while raising money for local LGBTQIA+ charities when you opt for Pride on High. Last year, more than $60,000 was raised for Columbus' queer youth center, LGBTQIA+ health, Columbus College of Art and Design's LGBTQ+ scholarship fund, and the local chapter of the Human Rights Campaign. Go for the bathrooms and stay for the good cause - a win-win!
Pride Bar Crawl
Want more drinks and another good cause? Check out the Pride Bar Crawl. Kicking off a Howl at the Moon Columbus right by Goodale Park, buying a bar crawl ticket get you a couple of free drinks, waived covers at host bars, food and drink specials, and an exclusive after-party. And your dollar will be well spent with a portion going to The Trevor Project and local LGBTQ+ organizations. 
BrewDog's Short North Pride Market & LGBTQ+-Owned Shopping
While dogs, unfortunately, can't attend the march or enter Goodale Park during the celebration, they are welcome at BrewDog Short North, a local brewery hosting the Short North Pride Market with vintage and local vendors following the march. Shop and ship from noon to 6 pm and enjoy drinks and food trucks at BrewDog all weekend long. Find more LGBTQ+-owned businesses to shop at while you're in town. Pro tip: See something you love but don't want to carry it around? Pop into FedEx, UPS or the Post Office and mail it to yourself!
Want even more bargains? Buy a Pride tag to save at local businesses all weekend long.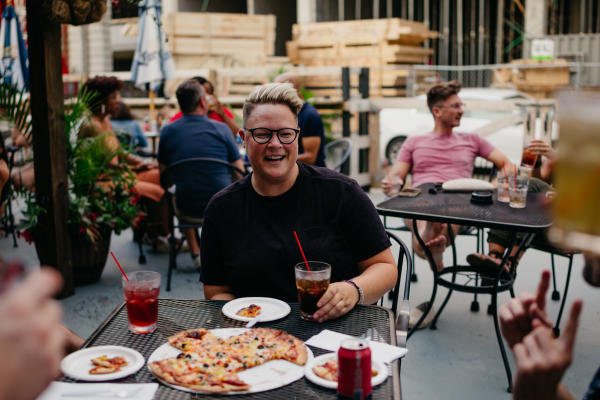 Pizza on the patio at Slammers
Columbus Pride Festival Nightlife: Gay Bars, Lesbian Bars & Drag Performances
You can't have Pride without a good gay bar and Columbus has a spot for everyone under the rainbow.
Slammers
Slammers is one of less than two dozen lesbian bars left in the country. Honor this iconic watering hole by stopping in for a visit and enjoying their pizza kitchen. I recommend the pickle pie (pickles on pizza is delicious; I dare you to try it), turkey sub, and buffalo cauliflower bites. Slammers has a dive bar feel, complete with darts and cornhole on the patio located just a short bus or bike ride from the Pride party. The eatin' is good, the drinkin' is great and the vibes are even better.
Visit Slammers at 202 E Long St, Columbus, OH 43215.
District West
Right around the corner is District West, a venue opened by famed drag queen Virginia West with a focus on performance. Drag shows don't just happen here - District West was built especially for their purpose. With a runway, high-quality projectors and ample lighting, shows are an immersive theater experience with thoughtful production. Queens aren't the only ones who get in on the fun, there are drag king shows, too. While the shows are fabulous year-round, Virginia and the District West team go all out for Pride, so you don't want to miss it.
Visit District West at 145 N 5th St, Columbus, OH 43215.
A.W.O.L
A.W.O.L. is a gay club that knows how to have a good time. Known for having massive parties during Pride weekend with drag shows and karaoke, there's never a dull moment. There's usually a food cart out front on event nights in case you need to carb up for more dancing. The bar and dance floor are fun, but it's the patio that really shines, especially on summer nights. A.W.O.L. is also just a quick drive or ride share from Goodale Park.
Visit A.W.O.L. at 49 Parsons Ave, Columbus, OH 43215.
Axis
In the heart of the Short North Arts District and just a quick walk from the party at Goodale Park is Columbus' largest gay club, Axis. Spanning two levels, every seat is the best seat in the house for their drag shows. Wear your neon, white and glow accessories to shine under their dozens of blacklights. The outside of the building might look nondescript, but don't be fooled; it is what's on the inside that counts.
Visit Axis at 775 N High St, Columbus, OH 43215.
FOMO Columbus
FOMO is a Black-owned gay club with a focus on live entertainment featuring everything from drag shows to karaoke and of course, dancing, dancing and more dancing. Be sure to order the jello shots or you'll quickly find out why "FOMO" is an apt name. You'd definitely be missing out if you don't add FOMO to your list while you're in Columbus. 
Visit FOMO Columbus at 165 N 5th St, Columbus, OH 43215.
Tremont Lounge
Tremont Lounge has been a Columbus staple since 1987. If you're looking for a chill place, this is it. No fancy cocktails, just simple mixed drinks made well. There's a reason Tremont has been around for so long - friendly bartenders, generous pours, a good vibe and an environment causal enough to spend a whole day there if you wanted to.
Visit Tremont Lounge at 708 S High St, Columbus, OH 43206.
Other great queer-friendly spots in Columbus include Club Diversity, Boscoe's, Caven, O'Connor's Club 20 and Bossy Grrl's Pin Up Joint. 
Steel Mill Tavern
Further south is Steel Mill Tavern, which is one of my gay nerd spots because they've got old-school Galaga and PacMan. And when you get tired of chomping through mazes with little ghosts chasing you, there's always pool, darts and pinball in addition to the great dancing. I highly recommend this down-to-earth, easy-going hangout. 
Visit Steel Mill Tavern at 1816 Parsons Ave, Columbus, OH 43207.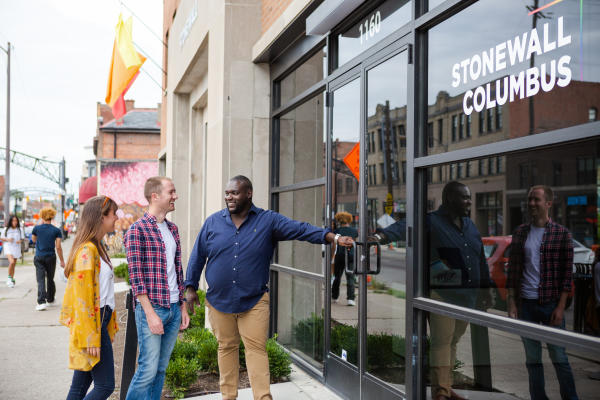 Stonewall Columbus' headquarters at 1160 N High St, Columbus, OH 43201
More Columbus Pride Events and Things to Do
Stonewall Columbus
Columbus Pride is organized by Stonewall Columbus, a local nonprofit and queer art gallery, which in addition to the official parade and march, is hosting a number of other events throughout the month of June. When you're in town, you'll definitely want to pop into Stonewall's headquarters and see their current gallery exhibition for yourself.
Land-Grant Family Pride with Stonewall Columbus
If you're specifically looking for family Pride events in Columbus, come back the weekend after Columbus Pride on Saturday, June 24 to Land-Grant Brewing. Details on this event are forthcoming, but in past years attendees have enjoyed face painting, a bounce house, live entertainment, food and more.
Community Pride (October)
If you want to hit up all the gay establishments in town with less of a crowd, come back in October for Community Pride. This event is led by queer, trans people of color every fall. Check back for more details!
Pride happens 365 in Columbus. Learn more about the LGBTQIA+ community in Columbus and come be a part of the magic this year and share your memories with us using #LiveForwardCbus.