What is it about fall that makes us want to get back to our roots as a farming society and pick your own produce? In Columbus, we're lucky to have so many places with ample harvest nearby, so pull on your booties, oversized sweaters and scarves to enjoy plenty of fun at the selection of pumpkin patches and farms in the Greater Columbus area.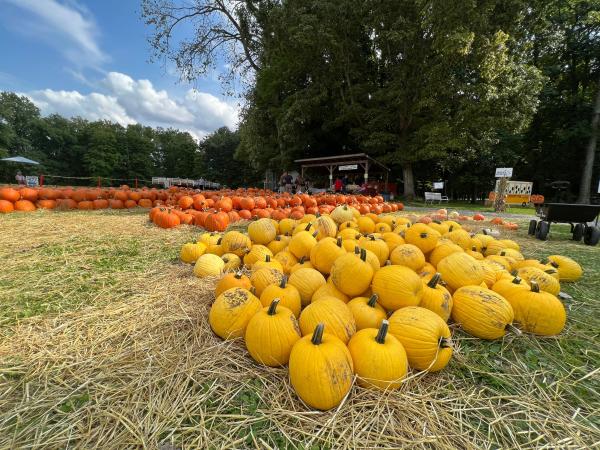 Pumpkins at Freeman's Farm in Galena

Circle S Farms (Grove City): Beginning in October, hop on a wheelchair-accessible hayride between the parking lot and pumpkin patch to find the perfect pumpkin at Circle S. Additional opportunities for family fun include corn and sunflower mazes, a petting zoo and fun barn. Be on the lookout for 2021 hours and pricing here. 

Dupler's Pumpkin Land (Newark): In addition to a selection of traditional pumpkins, Dupler's prides itself on their specialty offerings in a variety of colors like pink, blue, white and more that are a result of 20+ years of cross-breeding. Make your pumpkin selections then spend time enjoying wagon rides, a corn maze, a haunted room, a giant slide, a web climbing net, and more. Check out all the options available here.

Freeman's Farm (Galena): Freeman's Farm is fun for the entire family! Open weekends between September 17 - October 23, Freeman's is home to hayrides, campfire treats, a fall festival market and more. Learn more here. 

Hann Farms (Obetz): Hann Farms offers u-pick tomatoes, green beans and peppers to round out your produce options this fall. Patrons are invited to bring their own bags for easier picking and are asked to note that the farm accepts only cash or check. Stay up-to-date on the latest offerings here.

Harvest Adventures (Lancaster): Harvest Adventures offers a wide array of pumpkins and gourds of all shapes and sizes, as well as straw, ornamental corn, corn stalks and mums to enhance your decor this fall.  Learn more here.

Hidden Creek Farms (Sunbury): This working farm is all about fall fun! They grow a variety of pumpkins, from tiny to extra-large in a range of colors including green, blue, white and all shades of orange. Plus, they have unique gourds, corn and straw bales for decorating. Enhanced fall fun activities are offered Wednesday through Sunday, including hayrides, pumpkin slide, pumpkin tunnel, straw maze, farm animals and more. Check out the hours here.

Leeds Farm (Delaware): Admittedly this is not a u-pick option, but its still an opportunity to get gorgeous pumpkins and gourds straight from the fields, harvested by the professional hands that raised them. Turn a trip to Leeds into a full day of family fun with their full slate of activities like hay rides, zip lines, slides and more. Activities are available on weekends from Sept. 17 - Oct. 30 and pre-purchased tickets, available here, are required. 

Lehner Pumpkin Farms (Delaware): Lehner offers a 15-acre u-pick patch, featuring all sizes of pumpkins, from pumpkin pie pumpkins to large carving options, as well as gourds and large squash. Those who don't want to pick can also choose from a selection that have been pre-picked and washed. The property also offers additional activities like corn mazes, farm animals, barrel rides and more, even on weeknights. Plus, pets are permitted on the premises and most activities (as well as restrooms) are easily accessible for both strollers and wheelchairs. Check out a full slate of activities and a calendar of special events here.

Lohstroh Family Farms (Mt. Sterling): Weekends, beginning Sept. 24 through October, at Lohstroh feature u-pick pumpkins, a corn maze, tractor train, food and more family fun. Find additional details here.

Lynd's Fruit Farm (Columbus): Of course, Lynd's is a household name for apple picking, but they also have a location on Morse Rd. that offers u-pick pumpkins. The season begins Sept. 24 and most years the fields are empty by mid-October, so make your trip early. Check the homepage here for updates on inventory. 

Miller's Country Gardens (Delaware): On Saturdays and Sundays in October, Miller's invites you to ride in their hay wagon out to their pumpkin field to pick your own pumpkin. Whether you need them for making pies, decorating or carving Jack-O-Lanterns, Miller's has you covered. Learn more here.

Ochs Fruit Farm (Lancaster): Ochs has a wide variety of pears available to pick this fall if you're looking for a different sort of crunch. While you're there, be sure to grab a few gallons of their delicious pear cider as well! Inventory is updated regularly on their Facebook page.

Pigeon Roost Farm (Hebron): Pigeon Roost is the ultimate hub of fall fun, with its Great Pumpkin Fun Center offering a wide range of activities like a corn maze, tractor-pulled wagon rides, paintball, face painting and more. All activities and pumpkin purchases are credit cards only. Check out the full slate of offerings to help plan your trip here.

Van Buren Acres (Hebron): This family-owned and operated farm has activities for kids and kids-at-heart with a pumpkin patch, corn maze, sunflower trail, cow train and more. Admission is $9 with hours Wednesday - Sunday 10 a.m.-7 p.m. and by appointment, through Oct. 31. Learn more here.