Thanksgiving is traditionally a time for large family gatherings, and often requires intense planning and preparation by the host. However, as the COVID-19 crisis continues, it's bound to look different this year. Most of us have cooked more this year than ever before and might be unable to see some of our family despite the holiday.
If that sounds like you, we've rounded up a list of options to make Thanksgiving easy this year. Leave the planning, shopping and cooking to the experts this Thanksgiving and spend time with your loved ones reflecting on what you're thankful for in these unprecedented times. Choose the type of experience you're looking for to get started!
Pre-Made Thanksgiving Meals | Gifts | Restaurants Open on Thanksgiving in Columbus
Boxed Meals
Barrel & Boar
Barrel & Boar BBQ Gastropub's Westerville location is offering a build-your-own, ready-made holiday meal. With choice of "beast" including turkey, ham, brisket or prime rib that can be paired with a selection of sides and desserts, these items are ready whenever you and your family are celebrating the holidays this year, just requiring 72-hour advance notice. Learn more here.
The Blackwell Inn carry-out Thanksgiving Dinner is a fully prepared, ready-to-heat dinner for 6-8 people. For $200, the feast includes a fully cooked and sliced butter-based turkey with six sides and choice or pie. Additional sides and a selection of wines can help round out the experience. Reheating instructions put together by the chef team make day-of preparations stress-free. To place your order, call 614-247-4000 and learn more here.
Cameron Mitchell Premier Events
This mouthwatering Thanksgiving "in a box" is a fully cooked, complete holiday meal for 10 with instructions on how to heat and serve at home. The standard meal cost $299, with options to add a centerpiece or a-la-carte appetizers, sides, desserts and drinks. All orders are due by 5 p.m., Monday, Nov. 16, with pick-ups taking place on Tuesday, Nov. 25. Learn more here.
Columbus Museum of Art's Schokko Cafe
The Festivus Feast from Schokko Cafe includes a whole roasted turkey and other fixings for up to 8 people, and for smaller parties they're offering a Lil Gobbler or veggie option.  Orders are due by Nov. 18 for pick-up on Nov. 25. Learn more here.
Cooper's Hawk is offering a heat-and-serve Thanksgiving meal package that feeds 6 for $169.99 (plus 10% off for wine club members). A slow-roasted turkey comes with appetizers - of course including their famous pretzel bread - sides and dessert. Orders are due by Nov. 19 with pick-up taking place on Nov. 25. Learn more here.
Dough Mama
Though many would traditionally consider Dough Mama for their Thanksgiving dessert needs (and this is certainly a great option!), this year they're teaming up with Ambrose & Eve and Antiques on High to offer Turkey dinners for 1-2 or 4-6. Between the three, they've got you covered for dinner, drinks and dessert! Learn more here.
Take-and-bake meal options from The Kitchen feed 2-4 or 6-8 and come with a variety of sides and dessert. They also have plenty of options for anyone just looking to supplement their main dish, including "just the sides and dessert" or cheese and charcuterie, along with the option to order a centerpiece for pick-up at the same time as your meal. Orders are due by Nov. 23 at noon, with pick-ups taking place Nov. 23-25. Check out all the options and place orders here.
The Market Italian Village
Thanksgiving dinner from The Market Italian Village includes both turkey and ham, though the turkey comes ready to roast and just needs to be prepared from home, as well as a plethora of sides. Orders must be placed by Nov. 17, with pick-up taking place on Nov. 25. Learn more here.  
Ray Ray's Hog Pit
Let a James Beard Award nominee handle your Thanksgiving meal this year by ordering from Ray Ray's Hog Pit. With options to pick up hot meals from the Westerville or Clintonville locations on Thanksgiving Day, options include ham, turkey or ribs, all smoked of course, alongside mashed potatoes, gravy and green beans with pork. Orders for groups of all sizes are accepted through Nov. 22 and can be placed here.
The Refectory's famed Chef Richard is offering four-course Thanksgiving Dinner for two or more to be enjoyed at home! This refrigerated meal costs includes two appetizers, a main dish, ample sides and dessert for just $49 per person, and comes with reheating instructions to make preparation easy. Orders must be placed by 5:30 p.m. on Tuesday, Nov. 17 and reserve pick-up times on the afternoons of Nov. 24 or 25. Learn more and place orders here.
Service Bar at Middle West Spirits is offering a Low Country Thanksgiving Feast for Two or Six, featuring items like a Turducken Roulade, Andouille Sausage and Leek Bread Pudding, Bacon Braised Brussel Sprouts and more. With gluten free options available as well, these items all come fully cooked with reheating instructions included. Starting at $150 for two or $300 for six, additional add-ons and to-go cocktails are also available. Learn more and order here.
Smokehouse Brewing
Smokehouse's holiday feast to go feeds 10-12 people, with meat options including turkey, pork should or Texas brisket. If you don't want the whole meal, they're also offering the main dishes a la carte. Thanksgiving orders must be placed by Friday, Nov. 16, with hot meals available for pick up on Thanksgiving morning. Keep in mind, if you're set for Thanksgiving, these feasts are also available for Christmas and New Year's. Learn more here.
Build your own Thanksgiving Dinner with delicious treats from the family of brands that includes Together & Company, Sweet Carrot and Kittie's Cakes. Whether you're looking for a whole meal that serves up to 6, or just a few sides and desserts to round out what you're working on, they've got you covered. Orders are due by Nov. 18 at noon, with pick-ups at High Line Car House on the afternoon of Nov. 25 or morning of Nov. 26. Learn more here.
Veritas
Veritas' traditional Thanksgiving dinner kit will feed 4-6 people. Uniquely, they are also offering an "ultimate thanksgiving survival" beverage pack that, alongside traditional wine, spirits and beer offerings also includes pedialyte and cold brew coffee. Learn more and place your order here.
Host[ess] Gifts
Celebrate with a delicious gift box filled with the best seasonal tastes from local and regional artisan producers. From lovingly crafted maple syrup to one-of-a-kind apple butter to C. Krueger's famous pumpkin spiced cookies, share the bounty of Central Ohio's fall with loved ones far and wide. Packages cost $90, with shipping included. Orders must be placed by Nov. 12 and will ship on Nov. 19. Learn more here.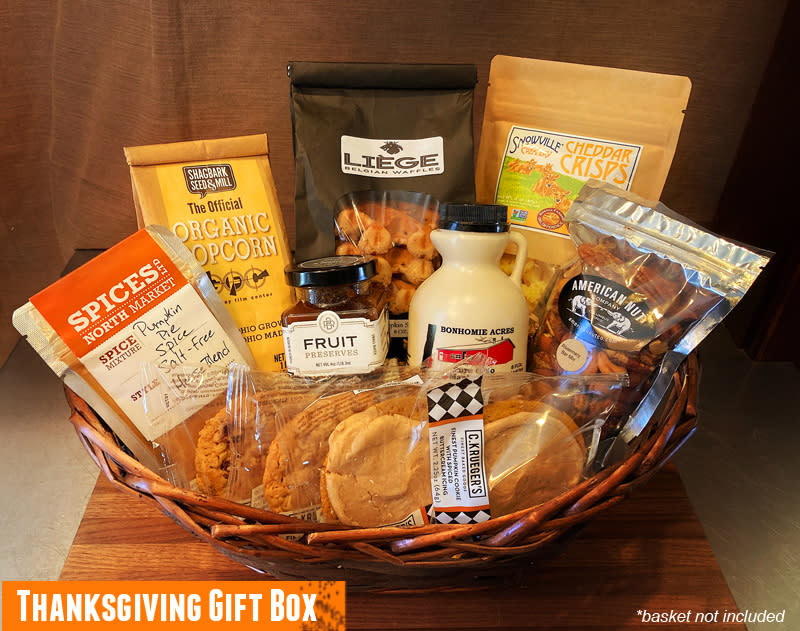 Open Restaurants
Cooper's Hawk Winery & Restaurant is offering a very affordable prix fixe menu in their restaurant on Thanksgiving, for just $28.99 for adults or $12.99 for kids 12 and under. Each meal comes with two courses, and adults receive a glass of wine while kids receive a truffle dessert. View the menu and make reservations here.
Cameron Mitchell's The Guild House, located in the heart of the Short North, will be open on Thanksgiving. A prix fixe, four-course menu will be offered for $49 per person, or $79 with associated wine pairings. Check out the menu and make reservations here.
If not everyone in your family is into traditional Thanksgiving food, consider the incredibly diverse dine in menu at Lindey's. While Turkey is still an option, so are sea bass, duck, filet mignon and more. Peruse the menu and make reservations here.