Columbus has style.
We all know that, but did you know Columbus has a signature style… pizza?
Yes, Columbus-style pizza is a thing. It's also known simply as "square," "party" or "tavern" cut pizza, and it refers to pies with three things:
thin crust
edge-to-edge toppings
cut into squares
 
This obviously leaves the toppings open to interpretation. A pizza can be Columbus-style no matter what meats, cheeses, or veggies are heaped on to it, so long as they're spread to the edges of the thin crust and cut into squares.
Many of the city's signature pizzerias – all serving Columbus-style pizzas – opened in the 1950s or early 1960s. They're still going strong, so follow the neon signs and the enticing smell of fresh baked pizzas to these stops: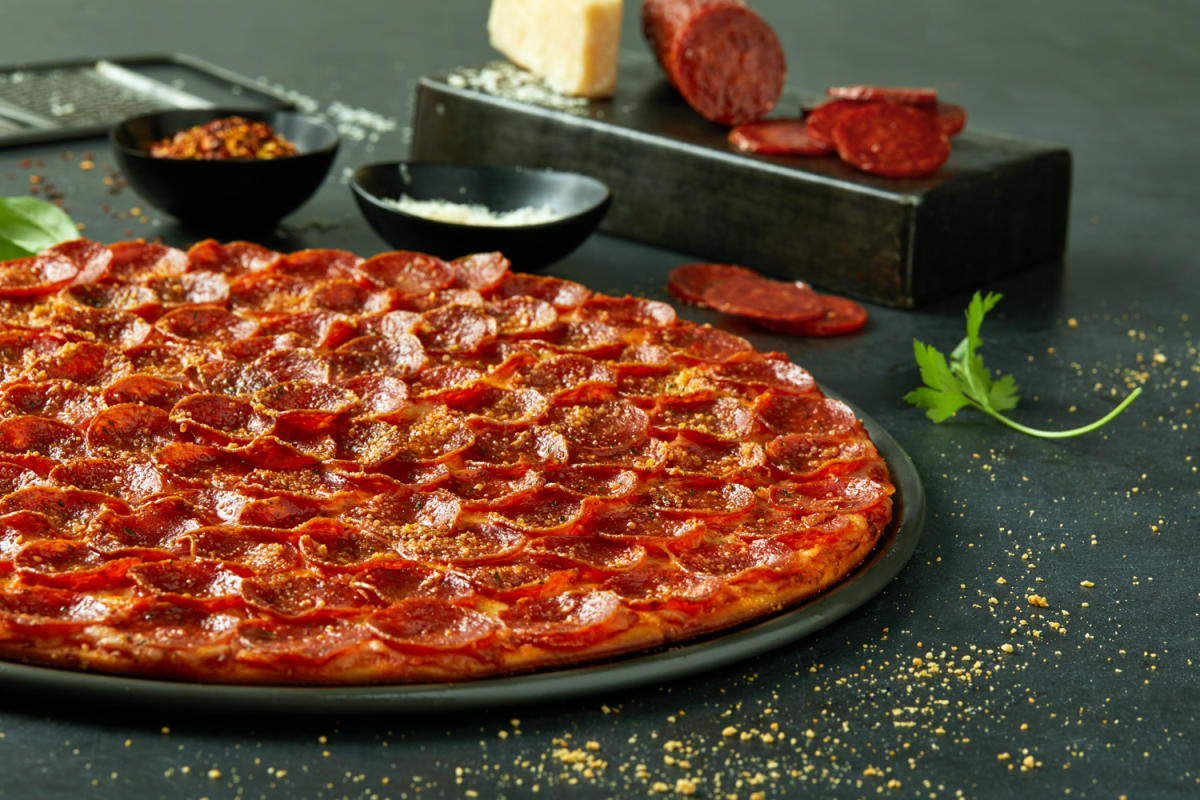 The Columbus-style pizzeria with the biggest reach is Donatos. Opened by the Grote family in the early 1960s, Donatos can now be found all over the Midwest. They're popular for their square cut pizzas like the classic pepperoni pizza – every large thin crust pepperoni pizza is loaded Edge to Edge®  with 100 pieces of crispy heritage pepperoni and aged smoked Provolone cheese. A new offering is the signature recipe cauliflower crust pizza, which is made on a 10" lower carb, gluten free, cauliflower crust.
Iacono's is a family favorite with three locations: in Shawnee Hills, in Hilliard and on Kenny Road on the northwest side. Favorites include the EBA with mushroom, pepperoni, sausage, onion, and green pepper, and the Green Beret with pepperoni, sausage, and onion. They're known for the buffet served at weekday lunches and Tuesday nights.
Massey's Pizza is a Columbus institution that's been revived in recent years. They even lay claim to the tavern cut of pizza, calling it "Massey's style." Relying on Old World traditions, Massey's signature pies have earned them the nickname "The Cadillac of Pizzas."
Follow the glowing neon sign to Rubino's in Bexley, where generations of residents have gathered for their classic thin crust pizzas. Order up a couple pizzas, and try their spaghetti and ravioli dinners.
Close by to Rubino's, Bexley Pizza Plus has earned national acclaim for their pizzas, from their signature Lorraine and Mega Meat, to the Steak Portabella, Ultimate and Pizzaz. 
Gatto's Pizza has been serving Clintonville from the same spot since 1952. Pick up one of their classic pies or order delivery, and make sure you order one with their signature sausage.
Tommy's Pizza has three locations – one across from Ohio State's campus, one further west in Upper Arlington and one in Dublin. Build your own crispy crust pizza or order the All-the-Way with pepperoni, sausage, mushroom, green pepper, and onion.
Villa Nova is an old school hangout on the southern edge of Worthington, known for cold beer, pastas, subs and generously topped pizzas. Try the taco pizza loaded with ground beef, refried beans, taco sauce, shredded lettuce, cheddar and tomatoes.
TAT Ristorante di Famiglia on the east side has been run by the Corrova family since 1929. They've warmly welcomed generations of Columbus families, serving Old World Italian dinners, including their homemade pizzas. (Fun fact: TAT stands for Transcontinental Air Transport, the first coast-to-coast air/train route that started in 1928 and stopped through Port Columbus International Airport.)
The next time someone sings the praises or Chicago or New York or St. Louis or Detroit style pizzas, be sure to let them know Columbus has its very own style, too! Now you know where to send them.