The Arnold Sports Festival returns to Columbus March 2-5. With new events like World Chase Tag and more than 100,000 people expected to attend, Columbus is gearing up to welcome the nation's largest multi-sports festival back to our city.
Between food and drink, deals and discounts and activities, here are best things to do in Columbus during the Arnold Sports Festival in 2023.
Food & Drink
There's no shortage of great food and drinks to be shared in Columbus. Whether you're looking for the ultimate burger or in search of your new favorite brew, our dining scene has everything you want and more. If you're looking for all the late-night dining options, check out this list of walkable places during The Arnold Sports Festival. 
courtesy of Ray Ray's Hog Pit
Meatsweats Box at Ray Ray's Hog Pit 
Recently named the Best BBQ in Ohio by Food & Wine, Ray Ray's Hog Pit has been serving up smokey satisfaction since 2009. We highly recommend the Meatsweats Box, all your favorite flavors in one order: smoked brisket, pulled pork, jerk chicken, dry rubbed ribs, and their own Ray Ray's hot link, with pickles and sauce. Their full menu is outfitted with smaller portions, group meal options and more. Ray Ray's boasts five locations across the city making tasty BBQ easily accessible no matter where you're staying. 
The Big Nasty at Standard Hall Brunch
Who doesn't love a good brunch? Standard Hall serves up great food and good times all day long, but the brunch menu might just be our favorite. Standard Hall serves up all your favorites like Loaded Hash and French Toast, but their stand-out menu item is the Big Nasty with Nashville hot chicken, sausage gravy, a sunny-side-up egg, and spicy honey topped with Chipotle mayo. Pair it with a DIY Bloody Mary and we promise you'll be planning your next trip back before you even get the bill. Brunch is served from 11 am to 3 pm Saturdays and Sundays. Standard Hall is located at 1100 N. High Street. in the Short North Arts District.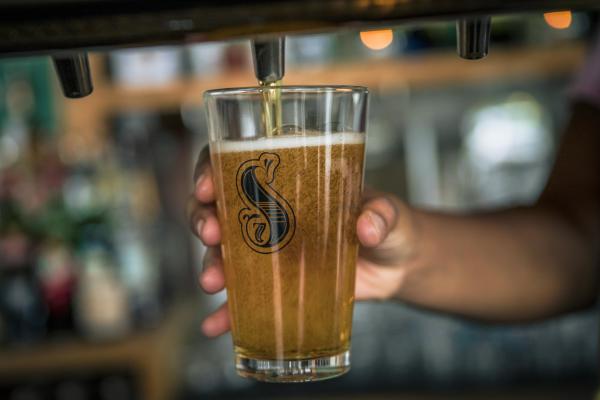 Draft beers at Seventh Son Brewering's taproom
Seventh Son Brewing x Franklin Park Conservatory Collaboration
Celebrating its 10th anniversary in 2023, Seventh Son Brewing is a local favorite among residents and visitors alike. Along with its sister locations (Getaway Brewing in Dublin, Ohio, and Antiques on High in Columbus' Brewery District), Seventh Son is partnering with Franklin Park Conservatory and Botanical Gardens (an iconic Columbus attraction) on a brand new beer release on March 2. Biome is a Botanical Belgian Wheat Ale featuring New Zeland hops, dragon fruit and dried chamomile. Funds from each beer sale go to support Franklin Park Conservatory and Botanical Gardens' nonprofit mission. Learn more about their partnership here. 
The Thurmanator from The Thurman Cafe 
People from across the country flock to The Thurman Cafe in Columbus' German Village neighborhood to get a taste of their renowned burger menu. Perhaps their most well-known burger, The Thurmanator, has been featured on the Travel Channel's television show, Man vs. Food and originated as the preferred fuel meal for athletes competing in The Arnold Classic. The Thurman Cafe is open from 11 am to 11 pm on weekdays and 11 am to midnight on the weekend. Visit Thurman's at 183 Thurman Ave.
Lunch at Martini Modern Italian
Martini Modern Italian has been a long-time favorite for Italian food lovers in Columbus. As part of the local group, Cameron Mitchell Restaurants, Martini is known for its modern twists on classic Italian dishes. Typically, Martini is only open for happy hour and dinner, but on March 3 and 4, Martini is opening for lunch from 11 am to 2 pm and serving up a special menu for The Arnold Sports Festival attendees. Check out their menu and visit Martini right across the street from the Greater Columbus Convention Center at 445 N. High St.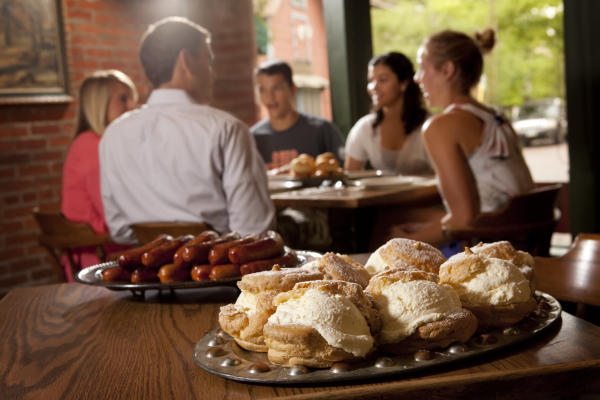 Cream puffs and the Bahama Mama at Schmidt's Restaurant und Sausage Haus
The Bahama Mama at Schmidt's Sausage Haus
Staying late? Visit Schmidt's Restaurant und Sausage Haus in German Village on Monday, March 6, and get half off their famous Bahama Mama platter, Bahama Mama sandwich or Fat Daddy Sandwich with a side. Don't forget to order one (or more) of their cream puffs!
Sights, Tours and Activities
Our city is full of tours and activities to enjoy while you're in town for The Arnold Sports Festival. Fill your weekend with these things to do in Columbus!
The Arnold Schwarzenegger Statue
You can't say you went to The Arnold Sports Festival without taking a photo with the Arnold Schwarzenegger statue. Located outside of the Greater Columbus Convention Center, the statue commemorates the return of the largest multi-sport festival in the nation year after year to Columbus and serves as a popular photo op for visitors and residents year-round since 2014.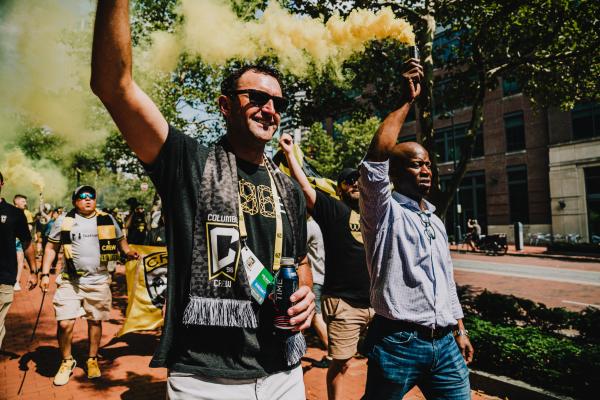 The March to the Match, courtesy of The Columbus Crew
The Columbus Crew Home Opener Celebration
As the proud first team in Major League Soccer, a Columbus Crew match is a must-see for sports fans visiting Columbus. On March 4, The Crew celebrates their season opener at Lower.com Field in Columbus' Arena District. Check out all the ways to join in the fun. 
The Columbus Blue Jackets vs. The Seattle Kraken
Hockey is alive and well in Columbus. The Columbus Blue Jackets take on The Seattle Kraken, Saturday, March 3 at Nationwide Arena, a short walk from the Greater Columbus Convention Center. Get tickets and know before your go with our guide on what to expect at a Blue Jackets game.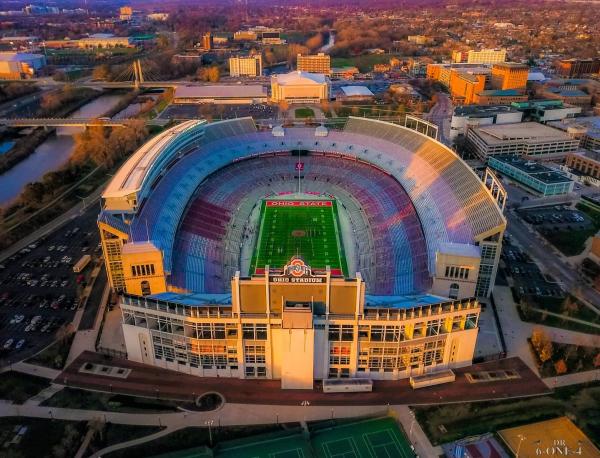 The Horseshoe courtesy of 6-Drone-4
The Ohio State University Campus
Located about a mile north of the Greater Columbus Convention Center, The Ohio State University campus is a bustling district full of sightseeing and activities. Celebrating its 100th year, a visit to Ohio Stadium (famously known as "The Horseshoe") is a must for any sports fan and a great photo opportunity. Other must-see stops include The Oval, an iconic grassy gathering place for students and visitors alike and the statues of Brutus the Buckeye scattered around campus. 
Walk-In Tours at the Ohio Statehouse
Take a look behind the scenes of The Ohio Statehouse. Built in 1861, The Ohio Statehouse is considered to be one of the most significant architectural accomplishments of its time. The Ohio Statehouse will offer free walk-in tours on weekdays, 10 a.m. to 3 p.m., and on weekends, 12 p.m. to 3 p.m.  Public tours start on the hour. Don't forget to stop by the Museum Shop on your way out!
Discounts and Deals
We've rounded up some of the best ways to save while you're in town for The Arnold Sports Festival. Take a look!
Attendee Savings Pass
The Experience Columbus Attendee Savings Pass offers discounts to those attending The Arnold Sports Festival. With deals like 50% off general admission at the Columbus Museum of Art and buy one get one free at Mikey's Late Night Slice, the Attendee Savings Pass is a must-have resource for your weekend in Columbus. Download the Attendee Savings Pass on your mobile device and present it at participating businesses to enjoy deals and discounts exclusively for you.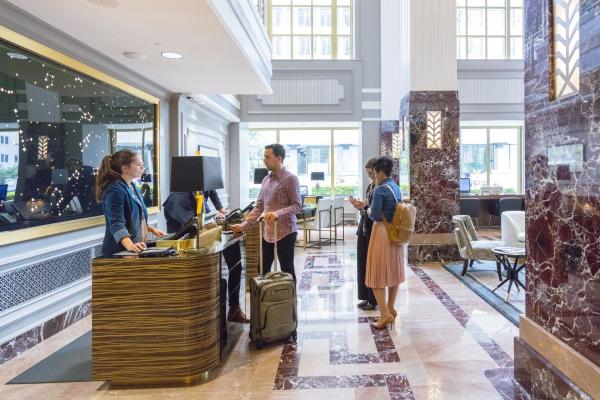 The Lobby at Hotel Leveque in downtown Columbus
Hotels & Attraction Tickets
Still need to book a Columbus hotel? We've got you covered. Book a two-night stay on ExperienceColumbus.com and you'll receive free attractions tickets to The Columbus Zoo or Franklin Park Conservatory. 
If you need tips on how to get around Columbus, we've put together a comprehensive Transportation Guide to help!
Columbus is ready for the return of The Arnold Sports Festival! Share your memories with us using #LiveForwardCbus on social.