Do you have just a little bit of extra time during your Columbus trip? Interested in getting to know the city? We've got some suggestions to explore the city if you have one, two, or four hours available!
One Hour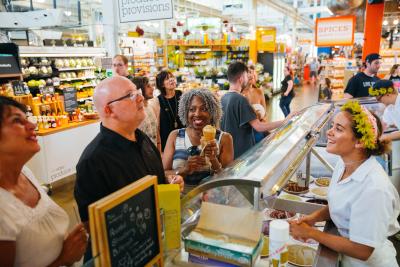 If you have one hour in downtown Columbus you can walk, catch the free C-Bus circulator or snag a CoGo Bike Share and head to the North Market. The market is a prime example of the city's entrepreneurial spirit and culinary prowess. Visit one of the many food stalls for a quick snack or a full lunch, like cinnamon rolls from Omega Artisan Bakery or fresh pretzels from Brezel. For a bigger meal, order a bowl of pho from Lan Viet, hearty pierogi from Hubert's Polish Kitchen, spicy Nepali dumplings at Momo Ghar or zesty Nashville-style chicken at Hot Chicken Takeover upstairs. If you still have time, walk one block north to Goodale Park to stroll the paths and see the elephant-shaped fountains at the pond.
Two Hours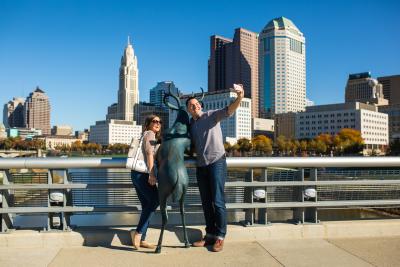 If you have an extra hour to spare, we still recommend lunch at North Market. Pick up your meal and find a seat upstairs – the open layout lets you watch all the market action below. After lunch, catch the CBUS, rent a CoGo bike, or walk your way down to the Scioto Mile. The new greenways along the riverfront offer scenic views of the city skyline, plenty of benches to sit and relax, delightful fountains at Bicentennial Park and even pieces of public art. Can you find all the deer sculptures? In the center of the Rich Street Bridge, pose by the deer with the city in the background.
Four Hours
With four hours around downtown Columbus, head to the North Market for lunch – or walk or ride the CBUS into the Short North Arts District for lunch and shopping. Try creative diner fare at Philco Bar + Diner, get your fill of colorful Mediterranean fast casual Brassica, enjoy upscale pub classics at The Pearl, or sneak down Pearl Alley for sandwiches and all-day breakfast at Tasi Cafe.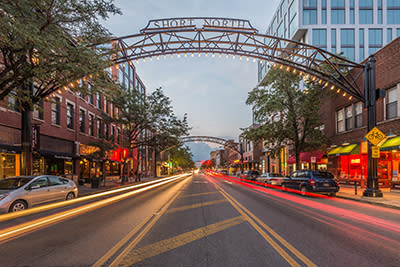 After lunch, visit the shops and galleries in Short North. See the rotating exhibitions at the Pizzuti Collection, hit up Hammond Harkins or Brandt-Roberts Galleries, shop for everything from vintage toys to clothing to paper goods. Afterwards, catch the CBUS, rent a CoGo bike, or walk your way down to the Scioto Mile. The beautiful Columbus riverfront features bike and pedestrian paths, public artwork, and beautiful views of the city skyline.
Alternatively, make your way down to German Village, an historic neighborhood with brick-lined streets and stunning 19th-century houses. Take a walk through spacious Schiller Park and admire the flowers and the ducks around the pond. See if you can find the umbrella girl statue, or discover Friedrich Schiller's likeness.
For an afternoon pick-me-up, visit one of the city's many coffee shops. (Pick up a Columbus Coffee Trail passport to help you explore!) In German Village sip cappuccinos or espresso at Winans Coffee + Chocolates or Pistacia Vera (and order a croissant or macaron, too!). If you're downtown, hide away with a latte at Hemingway's Coffee Nook next to the Columbus Commons, order a pour-over at One Line Coffee in the Huntington Center or choose a cappuccino at Cafe Brioso on Gay Street.
Still have time to spare? It's free to tour the Ohio Statehouse! Look up at the beautiful rotunda or explore the museum downstairs.