Columbus is the fastest-growing city in the Midwest and we've always got something to explore. Here's your guide to the best new places to visit in Ohio's capital city! 
See something we missed? Let us know, here.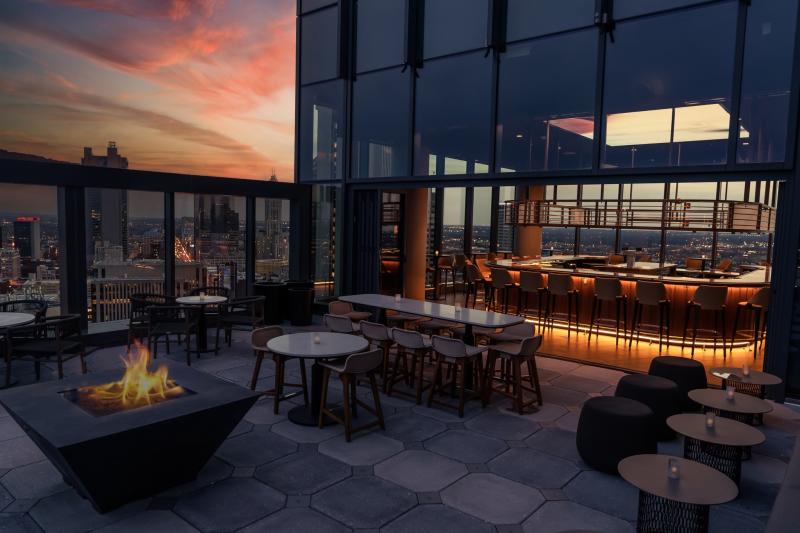 The view from Stories on High, the newest rooftop experience in Columbus
RESTAURANTS IN COLUMBUS
Agni
From Top Chef contestant, Avishar Barua, comes Agni, a chic new life-fire concept located in Columbus' Brewery District. Agni is fueled by the Bengali American celebration of Char, Sear and Grill. Make a reservation at Agni, and be sure to read Avishar's picks of the Top Columbus Restaurants You Didn't Know About.
Columbus Brewing Company Beer Hall and The Rabbit Hole
Columbus Brewing Company just opened a Beer Hall with an attached event space (The Rabbit Hole) in the Trolley District on the Near East Side of Columbus. CBC's new location has 24 beers on tap and globally inspired food. The Beer Hall is located at 200 Kelton Ave - plan your visit.
Stories on High
Enjoy stellar panoramic views of the Columbus skyline at the newly opened Stories On High - the tallest rooftop lounge in the city. Located on top of the Hilton Columbus Downtown, Stories serves up contemporary and classic interpretations of cocktails and small plates. Book your reservation and visit Stories at 404 N High Street. 
Speck Italian Eatery
Speck is officially open in the heart of downtown Columbus. Speck specializes in modern takes on classic Italian dishes backdropped by a stylish, cozy atmosphere. Speck is located at 89 N. High St. Book your reservation. 
Saucy Brew Works
What do you get when you pair a brewpub with a coffeehouse? Deliciousness. Visit their new location in Harrison West and enjoy a full menu of brews, pizzas and Saucy Coffee. Saucy Brew Works is also a stop on the Columbus Coffee Trail.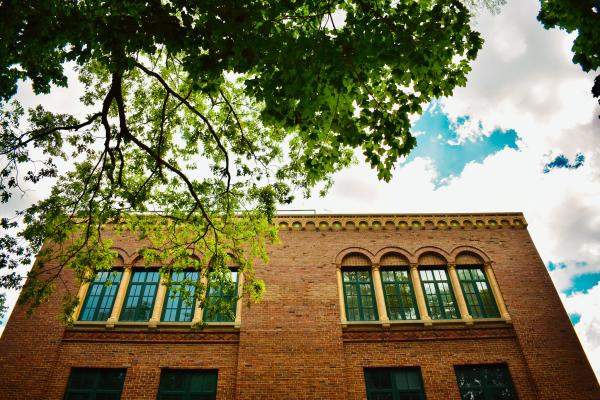 View underneath the tree canopy at Understory
Understory Patio
From the team who brought you Wolf's Ridge Brewing comes Understory, a brewing concept just steps off the Olentangy Trail. New this year is the outdoor patio space where guests can sip and snack underneath a canopy of trees. Learn more here and visit Understory at 2571 Neil Avenue.
Mandrake Rooftop
The newest nightlife hotspot has entered the chat. Mandrake Rooftop sits high atop the Moxy Hotel in the Short North Arts District and offers 270-degree views of the Columbus skyline. Guests can imbibe on creative cocktails and an extensive wine list while enjoying conscious plates like grass-fed steak and the "world's healthiest sushi". Learn more here and visit Mandrake at 810 N High Street.
Joya's
From Top Chef contestant, Avishar Barua comes a new concept that encourages you to #EatWithYourHands. This Bengali American Daytime Café is a must-visit for foodies near and far. Learn more and visit Joya's at 657 High Street.
East Market
There's a new market in town and we think it's well worth a stop. East Market just opened just South of Franklin Park Conservatory with 11 open vendors and three more in the works. Don't miss their outdoor, second-story patio! Learn more here and visit East Market at 212 Kelton Avenue, just north of Franklin Park.
Ginger Rabbit Jazz Lounge
The jazz scene in Columbus just got a whole lot cooler with the addition of Ginger Rabbit, an underground cocktail lounge. Catch live music every night! Visit Ginger Rabbit at 17 Buttles Avenue, just east of Goodale Park.
Parable Coffee (New location)          
One of your favorite local coffee shops just got a new address! Parable Coffee opened its brand-new location off High Street in Downtown Columbus. Parable is employee-owned and the city's first gratuity-free cafe. Learn more here and visit Parable at 149 S High Street.
Freedom a la Carte Cafe + Bakery
Serving up made-from-scratch cuisine paired with an incredible mission dedicated to human-trafficking survivors, Freedom a la Carte brings new life to downtown Columbus. This light and airy cafe is the perfect spot for your next coffee meeting! Visit them at 123 E Spring Street.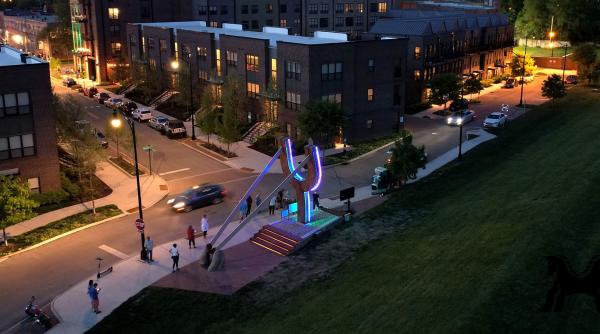 Aerial view of the Franklinton Slingshot courtesy of Lundberg Industrial Arts, Inc.
ART IN COLUMBUS
Franklinton Slingshot
From Artist Andrew Lundberg comes the new Franklinton Slingshot, a 20-foot slingshot sculpture that is said to reflect the renaissance and momentum of the Franklinton area and Columbus as a whole. Learn more here. 
South Side Monument
From the Parsons Avenue Merchants Association and the Neighborhood Design Center comes the South Side Monument. This new sculpture serves as the gateway to the South Side of Columbus and will evolve over time.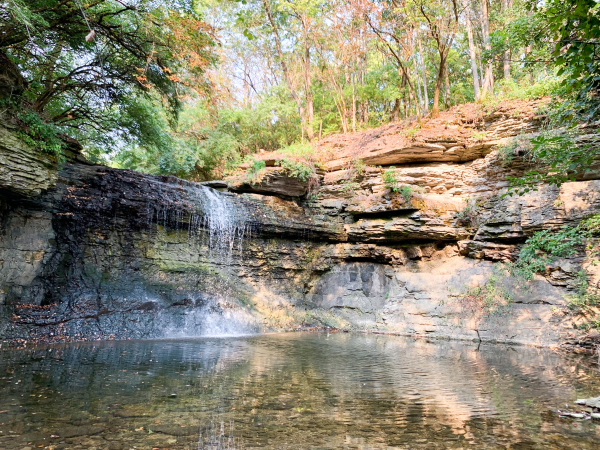 Views from the waterfall at the new Quarry Trails Metro Park
ATTRACTIONS & THINGS TO DO IN COLUMBUS
Tutankhamun: His Tomb and His Treasures at COSI
Opening March 18, this special exhibition offers guests a once-in-a-lifetime emersion into the archaeology of ancient Egypt all at COSI in downtown Columbus. The exhibition features more than 1,000 artifacts and engaging displays. Get tickets here.
Arena District DORA
The Arena District's Designated Outdoor Refreshment Area (DORA) runs along Nationwide Blvd. (including Arena Crossing) from Front St. to the Scioto River. It's activated three hours before the start of every Blue Jackets, Clippers and Crew home game until midnight, as well as for select special events. Grab a drink in a to-go cup from participating restaurants and bars and stroll our sports street with your beverage before the game starts! Learn more.
Columbus Live Music Trail
Whether you're a die-hard music lover or you're just dipping your toe, we've mapped out all the venues in Columbus where you can experience the sounds of our city. From a night with a favorite band to hearing new sounds with your friends, visit these participating music venues and be sure to check in digitally at each. Learn more.
Quarry Trails Metro Park - Coming Soon: Via Ferrata
Columbus Metro Parks has just opened its new park for the adventurers at heart: Quarry Trails Metro Park! From bike trails to waterfalls, experience this thrilling addition to the outdoor fun of the city. Coming soon, Quarry Trails will be home to the first urban Via Ferrata, a unique climbing experience featuring a horizontal technique. Learn more here.
See something we missed? Let us know, here.
Get out and explore Columbus' newest experiences and share your memories with us using #LiveForwardCbus.