Visitors and people who live in Columbus who use wheelchairs may need accessible transportation to get from the airport to their destinations and other locations. There are many options to consider including rideshare companies, buses, rental vehicles, and taxis.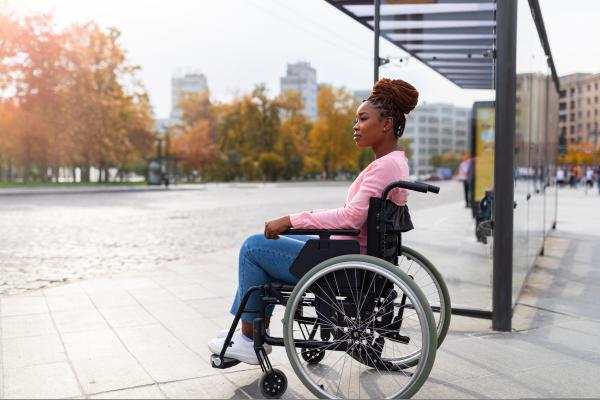 Rideshare Companies
Neither Uber nor Lyft has wheelchair-accessible vehicles with ramps available in Columbus. They do provide transportation for passengers if the wheelchair, walker, or folding scooter can fit in the trunk or back seat of the vehicle, and the passenger can transfer to a seat. Passengers can request a larger car on rideshare apps to make sure that their mobility equipment and luggage will be able to fit in the vehicle.
Information can be found on their websites regarding services and policies for people with disabilities.
Central Ohio Transit Authority (COTA Public Buses)
On all fixed routes, COTA buses can be lowered in the front for easier boarding, and ramps extended to accommodate people who use mobility devices. Wheelchairs and scooters will be secured by fastening them to the floor of the bus.
There is no COTA service from John Glenn Columbus International Airport.
People with disabilities and their personal care attendants may be entitled to a discounted fare.
Service animals are welcome to ride with their owners.
Automated announcements broadcast upcoming stops. There is a display screen above the bus driver that indicates where the bus is heading. A marque displays the next stop.
The Transit app can be used to plan your trip on COTA as well as on Uber and Lyft and to see the route in real time.
Additional information regarding accessible COTA services can be found here.
Customer Care (in English and Spanish): 614-228-1776
Renting Cars and Vans
Cars with hand controls can be rented at the John Glenn Columbus International Airport. Contact the car rental company at least 2-3 hours in advance to order the hand controls or request them online with your reservation. Be aware that some cars cannot be fitted with hand controls. Let the company know if you want the hand controls mounted on the left or right side of the steering wheel. Also, indicate if you want a spinner knob attached to the steering wheel.
Wheelchair-accessible vans are not available through the car rental companies at the airport. There are a few companies to contact in advance to arrange for the rental vans to be outfitted to your specifications and delivered.
Taxi Companies
There are several taxi companies in Columbus, however, if a wheelchair-accessible taxi is needed, contact Columbus Yellow Cab which has a small fleet of these vans. It is wise to call for a wheelchair-accessible taxi 2-3 hours in advance. Taxis services are available from 6:00 AM – 11:00 PM.
If a passenger can store their wheelchair or folding scooter in the trunk or back seat and transfer to the seat in the taxi, a regular taxi car or van can be utilized.
Explore more about accessibility in Columbus, here.