For the lovers of true Mexican cuisine in Central Ohio, there is no substitute for taco trucks. And, surprising as it may seem, few cities can deliver on the taco truck experience the way Columbus can.

This is not just my opinion, but also that of NYT food columnist, J. Kenji Alt Lopez. Alt Lopez's glowing response to his Columbus's truck experiences led to a local spot (Los Guachos) being rated as having the one of the top 5 tacos in the US by both Rachel Ray Magazine and the Food Network. It also inspired him to publish a replication of one his favorite dishes he had while in Columbus which includes this quote, "It all started when the good folks at Columbus Food Adventures took me on a whirlwind taco tour of Columbus, Ohio, which, believe it or not, has some of the finest taco trucks in the country."

The most established of our taco trucks date back to 2001, and from the first official count in 2009 to now, their numbers have grown from around 35 to well over 100! As such, what was once something you might have had to go out of your way to find has now become something easily accessible to almost anyone anywhere in Central Ohio. 

It should be further noted that they're especially easy to find since, unlike most other mobile food vendors, they almost never move around - they stay in one spot on private property and pay rent to the property owners. Also, cash is still king at the trucks - most don't accept credit cards. 

Below is a list of some of our favorites found in each area of the city: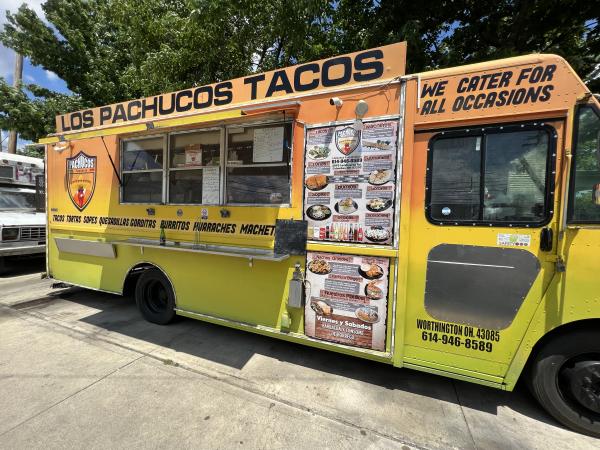 Los Pachucos credit: Bethia Woolfe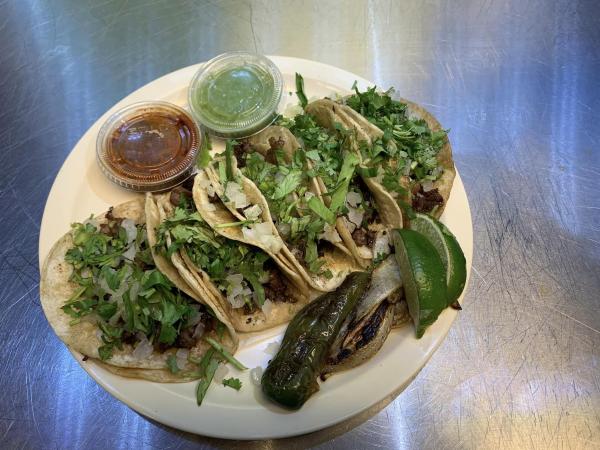 Credit: Los Pachucos Facebook

 
South Side: Los Pachucos
2095 Lockbourne Rd., Columbus OH 43207 

Expect a crowd just about anytime you visit Los Pachucos, and know that they're there because they're more than happy to wait for the deliciousness to come. This is especially true when it comes to the truck's signature dish called a 'machete', a large blade-shaped crescent of hand crafted masa stuffed with the meat of your choice, cheese, onions, jalapeños, and more, and grilled to perfection. Bring a friend, though - this hearty dish is roughly 14 inches long and easily a lunch for two! Or, for a perfect single serving dish, try a Gordita - a masa sandwich filled with beans, meat of your choice, lettuce, cheese, and crema.
Credit: Taqueria Jalisco Facebook.

 
North Side: Taqueria Jalisco
4640 Cleveland Ave., Columbus OH 43231

It's clear that Taqueria Jalisco is a labor of love for owners Jorge and Oscar Martinez. When we first visited them in 2009, we were charmed not only by their unfailingly sunny disposition but also their delicious range of meats all cooked to perfection. Try their carne asada (steak) in a street-style taco, or perhaps get adventurous with some lengua (beef tongue) atop a handmade sope (corn cake topped with refried beans, meat, cheese, lettuce, onions, and salsa).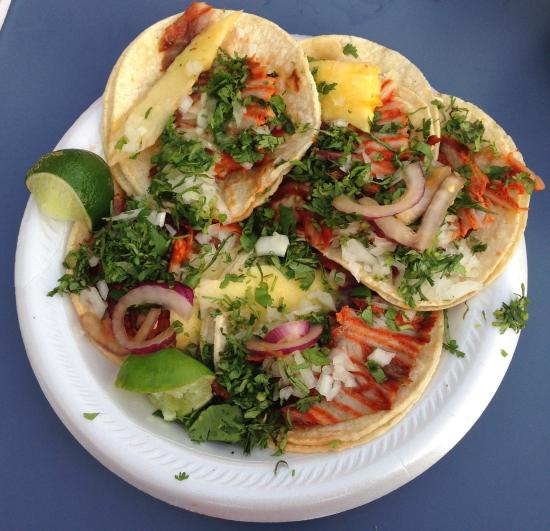 Los Guachos, credit: Bethia Woolfe.


 
West Side: Los Guachos
461 Commerce Square (In front of Club LaBoom)

Los Guachos may be well known in Central Ohio for their growing restaurant group, but the truck that started it all is still running, and it's still our favorite for their signature spit-roasted al pastor meat. Parked in front of a Mexican music venue, Los Guachos originally opened to feed hungry concert goers, but it's hours have extended enough to serve you their famous gringa (flour tortilla with toasted cheese, meat, cilantro, onions, and pineapple) even when there's no concert. We recommend it with the al pastor meat, and we always top it with their mild avocado salsa. Chili heads should ask for their habanero and onion relish.  
 
Central: El Nevado Francisco's Taqueria
1386 W Broad St., Columbus OH 43222

The Francisco family cooks top notch Mexican every day of the week, but for the adventurous, the weekends are where it's at. 'Especiales: Chivo Sabado & Domingo' is posted prominently outside the truck, and that means they're serving their tender, delicious goat on Saturdays and Sundays only. Their goat tostadas, which are more like crispy shelled goat filled tacos, are a sure bet, and the pros know to order a side of their rich and savory consommé (broth) to dip them in!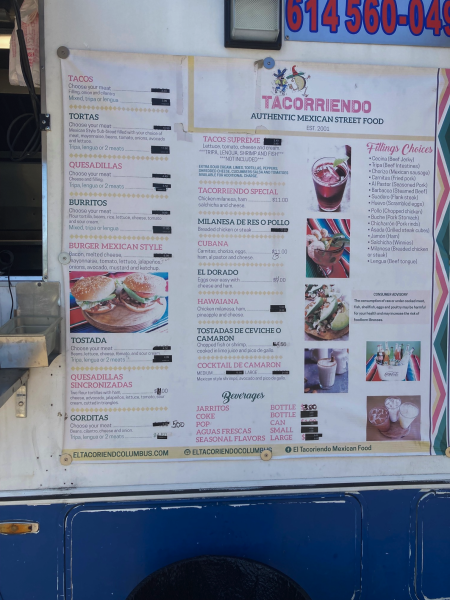 Tacorriendo Movil credit: Bethia Woolfe.


 
East Side: Tacorriendo Movil
3344 Allegheny Ave, Columbus OH 43209

Tacorriendo is one of the longest operating trucks in the city, and it's also one of the best for sampling the wide range of proteins that taco truck cuisine has to offer. From chorizo (spicy sausage) to cecina (cured beef) to buche (pork stomach) and lengua (beef tongue), they have over 15 unique choices, and they're more than happy to put them in tacos, quesadillas, torte sandwiches, and more. Tacoriendo is also one of the few trucks to consistently offer handmade tamales.