Whether you're working, staying, or just visiting downtown, there is no shortage of terrific spots for lunch. Checkout these delicious spots in these seven regions of the neighborhood.
PEARL AND LYNN ALLEYS
Down Pearl and Lynn Alley you'll find a number of hidden gems. Si Senor focuses on Peruvian favorites. Cafe Napolitana and the accompanying Back Alley Bar are known for classic pizzas. Both Ringside Cafe and Oliver's deliver solid burger options.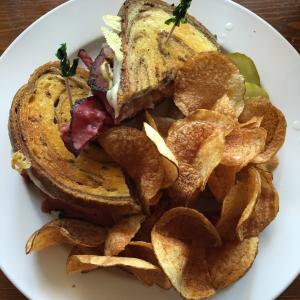 GAY STREET
The Gay Street District is lined with a variety of eats. Cafe Brioso leads the way with top notch coffee drinks to pair with soups and sandwiches. Due Amici covers classic Italian and Tip Top Kitchen & Cocktails is serves favorites like their pot roast sandwich or creamy mac and cheese. Plantain Cafe serves up a variety of Cuban favorites. Just across Third Street, Latitude 41 in the Renaissance Hotel has a lunch menu of sandwiches and flatbreads, while Nosh offers quick carryout sandwiches and snacks. Rishi serves delectable bowls of ramen and fresh-made sushi.
CAPITOL SQUARE
Capitol Square is surrounded by solid dining options. In the basement of the Ohio Statehouse is Capitol Cafe by Milo's, with a big range of sandwiches and entrees. Market 65 will custom-build your salads and wraps for you. Cinco serves up tacos, Lexi's on Third features deli favorites with plenty of corned beef, and Custom Chef creates clever sandwiches out of scratch-made sauces and sides. Broad Street Bagels offers breakfast and lunch sandwiches with bagels, while One Line Coffee has your caffeine fix.
SOUTH HIGH STREET
If you head down South High Street you'll find even more good eats. de-NOVO is a swanky spot with modern takes on comfort fare. PurePressed Juicery creates fresh-squeezed bottles of juice to keep you healthy and on-the-go.
GRANT AND GAY
Over near Grant Avenue and Gay Street, Lomonico's serves up wood-fired pizzas and other Italian classics. And the Hills Market Downtown is there for your shopping needs, and offers a hot bar, sandwiches, coffee, and more for lunch.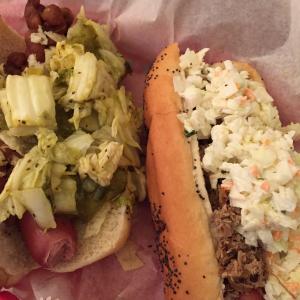 SOUTH FOURTH STREET
The intersection of South Fourth Street and East Main Street – becoming known as the Red Brick District – is full of inexpensive and lovable spots for lunch. The Walrus serves their take on pub fare, Sidebar 122 mixes Mediterranean and South American plates, Mikey's Late Night Slice offers their giant slices of pie to eat on site or to go, and Dirty Frank's has an eclectic menu of hot dogs with creative toppings. Little Palace serves gyros, burgers, pizzas, and submarine sandwiches, while El Camino Inn has a full menu of tacos.
OTHER HIDDEN GEMS
Scattered around downtown are other solid spots for lunch or snacks. The Columbus Commons features a regular rotation of food trucks during the warmer months, for instance. AJ's Cafe offers sandwiches and soups with a bit of an Indian flare, while SuperChef's has a colorful and creative menu. Cafe Illyria sticks to more breakfast and lunch classics and Hemingway's Coffee Nook in the 175 on the Park building is a little hide-away for coffee and snacks.
Wolf's Ridge Brewing serves up solid lunch menus to go with a pint of beer over a lunch meeting. Milestone 229 will give you a beautiful view of the Scioto Mile and the city skyline. Finally, the Warehouse Cafe is a little hidden gem in an old factory building; there they serve breakfast favorites and a big menu of sandwiches. Indian Oven offers dine-in and carryout options for flavorful Indian dishes. Oodles serves up noodle dishes and dumplings.