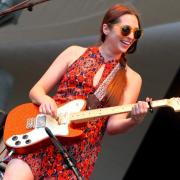 X
Free E-Newsletter
Keep up-to-date on upcoming and rescheduled events. Sign up today and get a chance at winning a gift care or attraction tickets.
Sign Up
COVID-19 Travel Alerts and Information
Capitalizing on Columbus' strengths as a forward-thinking city, we continue to "Live Forward" to help rebuild Columbus' once-booming travel economy and support community businesses impacted by the COVID-19 pandemic. Having ensured proper health and safety protocols are in place, including a citywide mask requirement, many of Columbus' vibrant businesses, including restaurants, attractions, shops and more, have safely reopened and are ready to welcome residents and visitors alike. There are things you can do to get back to work and to visit these businesses to continue to help to flatten the curve of COVID-19.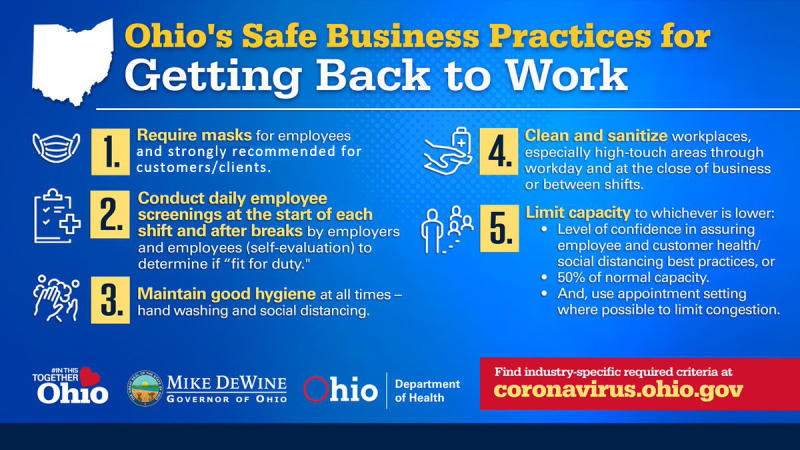 Sectors allowed to reopen:
(Specific guidelines must be followed for each. View them here).
Doctor and veterinarian offices 
Manufacturing, distribution and construction companies
General office environments 
Retail shops and services 
Hair salons, barber shops, nail salons 
Restaurants and bars
Campgrounds 
​Horse racing (no spectators)
​Public and club pools 
Sports leagues (no and limited contact)
Gyms and fitness centers
​Childcare centers
Movie theaters, golf courses, bowling alleys
Attractions
 
Continued closures:
K-12 schools. (Excludes all activities related to non-contact and limited contact sports; skills training, practice, and scrimmages for all sports; and pools and aquatic centers.)
Older adult day care services and senior centers.
Adult day support or vocational habilitation services in congregate settings.
Rooming and boarding houses, and workers' camps.
Certain entertainment/recreation sites. Including:

Auditoriums, stadiums, arenas.
Performance theaters and indoor concert and music halls.
Parades, fairs, festivals, and carnivals. (County fairs are permitted.)
Certain spectator sports, sports tournaments and organized recreational sports leagues. (Skills training, practice, and scrimmages for all sports is permitted. Non-contact and limited-contact sports are permitted. Batting cages, bowling alleys, tennis facilities, and golf courses are permitted to open.)
Some public and private pools. (Public pools and club pools regulated by local health departments are permitted to open. Use of swimming pools for single households also is permitted.)
 
Use these Columbus backgrounds on your next virtual meeting to inspire your next trip to Columbus.
Experience Columbus Visitor Centers
The Experience Columbus visitor center located at Easton is now open. The Arena District visitor center will open mid-July. The visitor center located in the Greater Columbus Convention Center will remain closed through the duration of 2020. During normal business hours, our staff are available to take calls (614-221-6623) with visitor and business questions. When visiting one of our visitor centers, masks are required and we must adhere to capacity limits.
Redemptions for Columbus Ale Trail, Columbus Coffee Experience and Made in Cbus Trail:
Redeem your trail passports at the Easton visitor center now or the visitor center in the Arena District beginning mid-July. 
To redeem digitally, please email Alexis Perrone at aperrone@experiencecolumbus.com with the following information:
Your Name
Email
Address
A list of the businesses visited
An image of the stamped trail guide page or pages
When we return to our offices we will send you your prizes.
Columbus Ale Trail participants can continue to redeem their books at The Ohio Tap Room, 1291 W. 3rd Ave., Columbus, OH 43212. This is for redemption points 4, 23 and finishers.
Thank you so much for your understanding. We hope you continue to support local business during this turbulent time.
What is Experience Columbus doing to slow the spread of Coronavirus?
Experience Columbus and Greater Columbus Sports Commission are committed to growing our Travel Economy, however, the health and well-being of our community, visitors and team are a priority. With the outbreak of the coronavirus, or COVID-19, we are taking precautionary steps to flatten the COVID-19 curve by cancelling all travel and working from remote locations until further notice. This is being done as a preventative measure out of an abundance of caution, and the expectation is that daily operations, though altered, will not be interrupted.
Capitalizing on Columbus' strengths as a forward-thinking city, we continue to "Live Forward" to help rebuild Columbus' economy and support the local community during the COVID-19 crisis. As the state of Ohio slowly begins the process to reopen, Central Ohio businesses are making the Live Forward pledge, a signed commitment to assure customers and guests that they are following all health and safety guidelines set forth by state and local health officials and relevant industry organizations for properly reopening during the COVID-19 pandemic
Our team will continue to monitor the situation in conjunction with our state, city and county health officials as well as the Centers for Disease Control and Prevention (CDC). Know that we are still hard at work to secure and maintain business for our community and are here to support our partners in any way we can through these periods of uncertainty.
We will keep you informed of any additional changes in operation as this rapidly changing public health situation continues. Thank you for your support as we navigate this unprecedented public health crisis.
Additional Resources