When you come to the 2019 ASAE Annual Meeting & Exposition in Columbus, you're going to be surprised – and in all the right ways. Here are four things to look forward to that will enhance your experience in a city that's breaking out on the national stage.
1. You won't have to worry about getting around.
When your plane touches down at John Glenn Columbus International Airport, you're minutes away from the door of your downtown hotel. A 10- to 15-minute ride in an Uber, Lyft or cab will get you there. Or you can take the AirConnect  express shuttle, which circulates between the airport, convention center and downtown hotels every 30 minutes and costs less than a latte – just $2.75 each way.
Once you're checked in, you'll likely be walking everywhere you go, since the Greater Columbus Convention Center and headquarter hotels are right in the heart of all the downtown activity.
If you want to explore a little farther out, the free CBUS Circulator passes along High Street, the city's main thoroughfare, every 15 minutes, traveling between the Short North Arts District and German Village. Along downtown's Scioto Mile, driverless shuttles operate in a loop between four attractions - the Smart Columbus Experience Center, Bicentennial Park, COSI and the National Veterans Memorial and Museum.
2. Take note of the collaboration.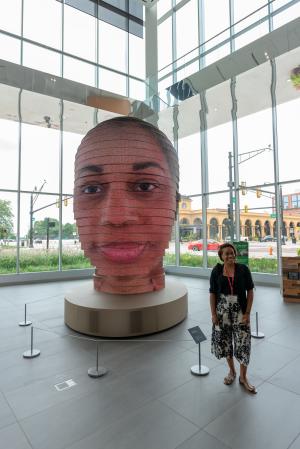 Everyone notices it – from the ASAE leadership who selected Columbus for #ASAE19 to the Harvard Business School (according to their 2015 case study) – there's an unparalleled spirit of collaboration in Columbus that makes it feel like the whole city is on your team.
On a large scale, Columbus' public and private sectors work together in uncommon ways to better the city. For example: Separate hospital systems team together on initiatives to care for the community. The beautiful waterfront walking paths and parks of the Scioto Mile were accomplished by a private and public partnership. Private dollars amplify Smart Columbus' public funding to help further its mission to build Columbus as a blueprint for future smart cities.
On a personal scale, you'll notice it when you treat yourself to a double scoop at Jeni's Splendid Ice Creams and find flavors made with whiskey from local distillery, Middle West Spirits, and black raspberries from local farms. If you check in to Hotel LeVeque, an Autograph Collection hotel, you'll enjoy in-room amenities like grooming products from Columbus maker, Cliff Original, or snacks from acclaimed local patisserie, Pistacia Vera. Even when you're inside the newly renovated and expanded convention center, you'll see hundreds of pieces of local art, including the 14-foot, 3D, interactive installation As We Are.
3. You'll want to explore the diversity.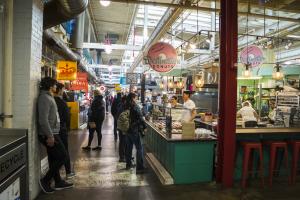 If you have time between sessions, walk across the street to the North Market, Columbus' food business incubator since 1874, where you can taste the diversity of the city – from Tibetan dumplings to Mexican street food and beyond.
Or take time after sessions each evening to explore one of the city's distinctive neighborhoods. German Village's historic charm and brick architecture make it one of the most atmospheric neighborhoods in the country. The Short North Arts District's galleries and nightlife make it a perfect choice for an energetic and artful night out. And Franklinton's edgy industrial vibe pays off with new breweries, gritty energy and a growing art scene.
4. Experience an innovation economy firsthand.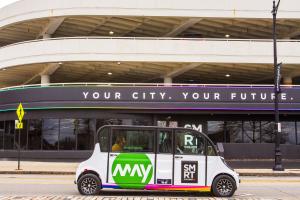 We're a city that's not content to stay still. You'll see that in our dedication to innovative transportation solutions. See for yourself at the Smart Columbus Experience Center how we're using technology to make getting around easier and improve quality of life for everyone in the region. Or check out the Columbus Idea Foundry, the world's largest maker space, where more than 200 small businesses use cutting edge technology to make their dreams into realities.
We're ready to welcome you. We know you're going to be impressed. And once you see our city for yourself, we're ready to help you plan your best meeting yet.