Live for the one you love! Whether it's Valentine's Day, a special occasion, or just a night out as a couple, book a table at one of these romantic spots in Columbus!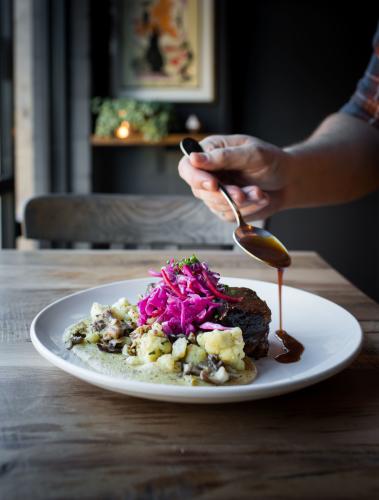 photo courtesy of Watershed Kitchen & Bar
Watershed Kitchen & Bar
Both the food and drink at Watershed Kitchen & Bar have earned national accolades since opening in 2010. Start with a drink from their expertly designed and engaging cocktail menu, which is rewritten with a new theme a few times a year. Then sample your way through the world-class menu of reimagined comfort foods; order a bit of everything with the chef's tasting menu. Enjoy a view of the attached distillery while you dine, and pick up a bottle of Watershed's award-winning vodka, gin, bourbon and other spirits from the bottle shop!
Watershed Kitchen & Bar is located at 1145 Chesapeake Ave, Suite D in Grandview. Learn more here. 
Third & Hollywood
Third & Hollywood's exposed brick walls, vaulted ceiling and stone fireplace make it a fun and intimate dining destination. It's both elegant and approachable, offering well-executed takes on favorite comfort foods like cheddar herb biscuits, burgers, grilled fish, and short ribs. Make a date for happy hour or Sunday brunch, too!
Third & Hollywood is located at 1433 W 3rd Avenue in Grandview. Find out more here.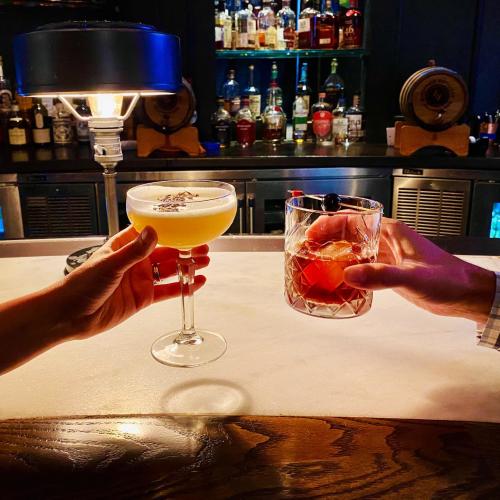 photo courtesy of Hotel Leveque
The Keep Kitchen & Liquor Bar
Dine under flickering gas lights at the cozy Keep Kitchen & Liquor Bar inside the LeVeque Tower. Stop by the cocktail bar for dinner and see if you can snag seats on the second-floor mezzanine overlooking the hotel lobby. Pair dinner and drinks with a stay at the constellation-themed Hotel LeVeque in the iconic Art Deco skyscraper.
The Keep is located inside Hotel Leveque at 50 W. Broad Street in Downtown Columbus. Learn more here. 
Veritas
Often cited as one of the city's top restaurants, Veritas can be found on the ground floor of the old Citizens Bank building in downtown Columbus. Chef Josh Dalton and his team craft a unique and ever-changing menu of small plates. For a special experience, reserve a table and choose the chef's tasting menu. Bonus: begin or end your meal with cocktails at The Citizens Trust, located upstairs in the old bank lobby.
Veritas is at 11 West Gay Street in Downtown Columbus. Find out more here.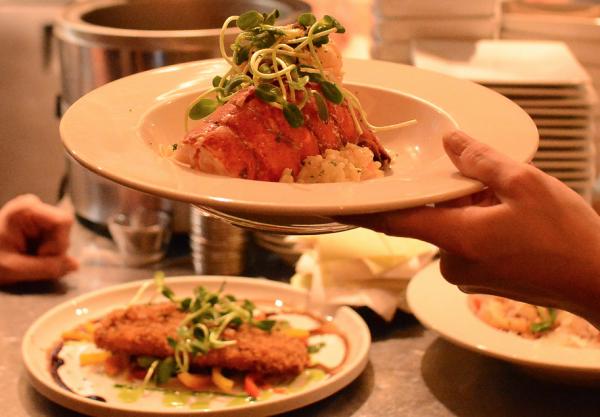 photo courtesy of Basi Italia
Basi Italia
Basi Italia is the very definition of a hidden gem, tucked down a brick alley in Victorian Village. In the quiet and intimate setting, husband and wife team John Dornback and Trish Gentile welcome guests with a stellar wine list, great cocktails and scratch-made Italian favorites. Visit during the warmer months and you can relax on their lushly appointed patio.
Basi Italia is located at 811 Highland Street in Victorian Village. Learn more about Basi, here.
Guiseppe's Ritrovo
Located in the heart of Bexley, Guiseppe's feels like a little escape to Tuscany. Grab your date and dine on Italian classics like grilled octopus, fresh burrata, cacio e pepe, and smoked chicken ravioli. Be sure to order from their expertly crafted cocktail menu, too!
Guiseppe's is located at 2268 East Main Street in Bexley. Find out more here.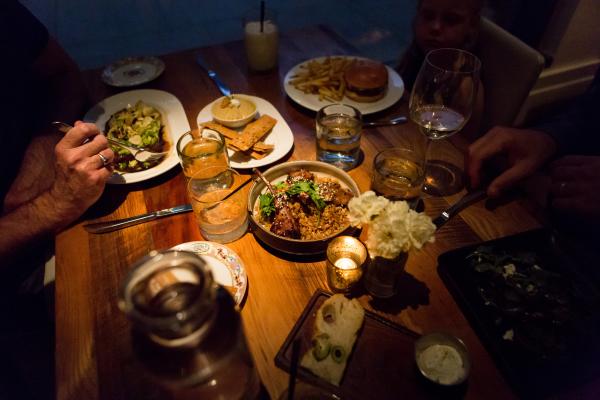 The Guild House
Romance is always in the air at The Guild House. A concept created by nationally-recognized restauranteur, Cameron Mitchell, this artisan eatery features creative, American cuisine amid a stylish backdrop (complete with a fireplace) in the heart of Columbus' Short North Arts District. 
The Guild House is located at 624 North High Street. Learn more here. 
La Tavola
La Tavola is a quiet haven in Grandview serving Old World Italian dishes made from scratch. Together you can savor pasta, pizzas, risotto and other delights, all supplemented by a handsome wine list. Keep an eye on La Tavola's social media for nightly specials, too.
La Tavola is located at 1664 West 1st Avenue in Grandview. Find out more here.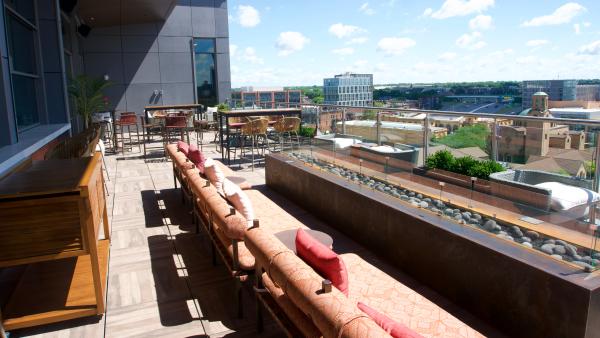 Lumin Skybar and Kitchen
Elevate your date night with an evening at Lumin Skybar and Kitchen. Perched atop the new AC Marriot Columbus, Lumin offers a seasonal menu of small plates and craft cocktails with a patio view of the Columbus skyline that will leave you in awe. Pro tip: come back in the winter for their chic, igloo dining packages. 
Lumin is located at 517 Park Street in the Arena District. Learn more here. 
Alqueria Restaurant
Taking its name from the Spanish word for "farmhouse," Alqueria is the creation of Jacob Hough and Patrick Marker, two former chefs from Barcelona in German Village. They cook up rustic but complex fare to please any crowd: cheese and charcuterie plates, glazed pork belly, farmhouse burgers, and Moroccan-spiced lamb shank. Don't miss their excellent cocktail list and happy hour specials.
Alqueria is located at 247 King Avenue in Victorian Village. Find out more here. 
No matter the occasion, Columbus has the perfect spot for a romantic meal with the one you love. Share your memories with us using #LiveForwardCbus.