The Columbus food truck scene is constantly growing and changing. Hungry visitors can find everything from tacos to Italian sandwiches, lobster rolls to Korean cheesesteaks, chicken tikka masala to steamed bagels at these eateries across the city year-round. 
Below is your beginning guide to the trucks you will find gracing the city streets, appearing at festivals, and parking at breweries. Many trucks gather every Thursday lunch from May to October at the Columbus Commons, while many appear at the Columbus Food Truck Festival and other summer events!
Ajumama – Laura Lee's Ajumama features Korean street foods like bulgogi cheesesteaks, kimchi bratwurst and hodduk – sweet griddle cakes filled with brown sugar, walnuts and cinnamon.
Aloha Āina – Formerly known as Aloha Streatery, this truck welcomes you with fresh rice bowls and crispy buns filled with pork, BBQ and pineapple.
Barroluco – The family behind Barroluco brings Argentinian dishes to the streets: empanadas, paella, churros and more.
Blu Olive – Blu Olive serves a collection of Italian sandwiches and build-your-own bowls.
Buckeye Donuts – Buckeye Donuts, a long-running campus institution, takes their hand-made donuts and breakfast sandwiches on the road.
Cousins Maine Lobster – This local franchise of a national brand features classic Maine lobster rolls.
Cupzilla – Cupzilla serves Korean barbecue with chicken, tofu, pork and beef.
Dos Hermanos – Although they've also opened a stall in North Market, the Dos Hermanos taco truck still brings tacos, fresh salsa and other treats to the city streets.
Ena's OuttaRoad – Ena's serves Caribbean favorites like jerk chicken, shrimp and callaloo in bowls, tacos and sandwiches.
Fetty's Street Food – Hailing from South Africa, chef Damian Ettish crafts a menu of Thai, Indian and South African street food.
Hai Poke – Hai Poke features different versions of poke, a Hawaiian fresh fish salad loaded with rice, vegetables and seasonings.
Kenny's Meat Wagon – Kenny Donnelly hand-makes all of his sauces and sandwiches, from Chicago-style Italian beef to buffalo chicken to BLTs with bacon.
La Poblanita – This truck has become a mainstay in Clintonville, where guests visit for tacos, tortas, tamales and other dishes.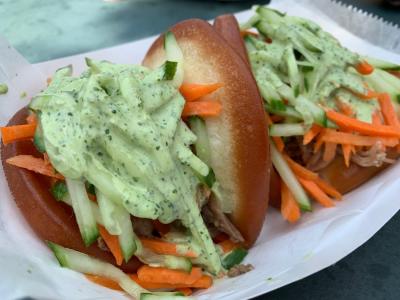 The Little Kitchen – The Little Kitchen features plant-based versions of all your favorite comfort foods.
La Popular – This truck has long been a favorite for tacos, migadas (an open-faced fried corn base topped with meat and vegetables) and special sauces.
Los Guachos – Regularly voted some of the city's best tacos, Los Guachos' original truck is parked on the west side, and known especially for their al pastor.
Los Potosinos – Parked in the King-Lincoln District, Los Potosinos is known for their wonderfully seasoned pollo al carbon.
Meatball Mafia – As you'd expect, Meatball Mafia brings you meatball subs and bowls, plus sausage subs and grilled cheese.
Mixing Bowl Asian Grill – Mixing Bowl lets you customize your own rice, noodle or salad bowls.
Nate's Steamed Bagels – Serving breakfast and lunch sandwiches on steamed bagels, plus sides of parmesan tater tots.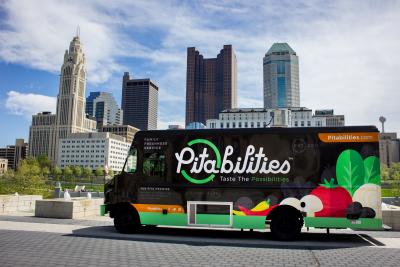 Pitabilities – This truck lets you build your own pitas and salads. Don't forget the feta fries!
Preston's Burgers – Often appearing at breweries around the city, Preston's serves burgers, fries, fried chicken sandwiches and more. (Read more about Preston's here!)
Sophie's Gourmet Pierogis – Sophie's features creative and traditional versions of hand-made pierogis.
Street Thyme – Owner Alex Emrich creates giant burgers with combinations like apple, bacon and brie, or sautéed mushrooms and Swiss.
Taco Nazo – Look for Taco Nazo's bright yellow truck on the city's northeast side. Visit it for tortas, quesadillas, gorditas and more.
Two Fatt Indians – This truck serves up Indian classics like saag paneer, chicken tikka masala, goat curry and more.
Looking to try a particular truck, or want to find your favorite? Use the Street Food Finder to locate trucks' daily appearances.