"When I was a boy and I would see scary things in the news, my mother would say to me, 'Look for the helpers. You will always find people who are helping.'" – Fred Rogers, "Mister Rogers' Neighborhood"
Columbus is full of helpers. In recent weeks, we've shared a lot of ways that you, members of our community, can help local businesses who have been impacted by shutdowns and cancellations. Without a doubt, everyone has done their part and stepped up to the plate in tremendous fashion. 
We would be remiss if we did not highlight the businesses themselves that are doing incredible things for their workers, our community and the country during this unprecedented public health crisis.
Employee Assistance
One of the hardest hit industry sectors throughout this pandemic has been hotels and event venues, whose cancellations have resulted in layoffs, furloughs and closures. 
Le Meridien Columbus, The Joseph, was one of the first Columbus hotels to close for the duration of this crisis, but its general manger, Jason Mack, has been personally preparing and packaging to-go meals for associates that are in need of extra assistance, and their delivery is coordinated by their HR manager, Michelle Parson.
Though the Hilton Columbus Downtown is still open, approximately 200 of its team members have been furloughed, all of whom are receiving pre-cooked family meals available daily for curbside pick-up. This service has also been extended to the nearly 200 team members at the Greater Columbus Convention Center (both facilities are owned by the Franklin County Convention Facilities Authority), who is also providing groceries to some team members.
Shifting Production Capabilities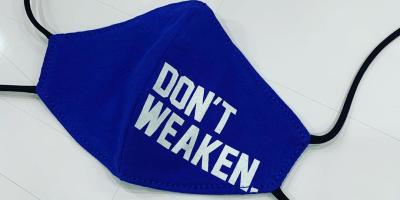 A number of businesses in the community have been shifting their production capabilities to provide supplies like hand sanitizer and PPE, of which our first responders and healthcare workers are in desperate need.
Local distillery Middle West Spirits has diverged from its usual production of alcohol to produce hand sanitizer for frontline responders, including EMS and shelter staff and The Columbus Foundation helped make necessary changes in the production facility by committing to purchase the first $50,000 of sanitizer to equip local EMS operations and homeless shelters. Watershed Distillery and 451 Spirits also both have products in the works.
Rogue Fitness, well known for its manufacturing and distribution of strength and conditioning equipment, is now producing surgical masks and has made its face shield design available for free to those with 3D printers. Feminine hygiene product producer Aunt Flow has also shifted to mask production. The creators at Griffen Hollow Studio are putting their skills to good use making plastic face shields, Honda is using its 3D-printing capabilities to create protective face shields for medical providers and Plaskolite is shifting production to making face shields and customer barriers for grocery stores, banks and pharmacies.
Developing New Technology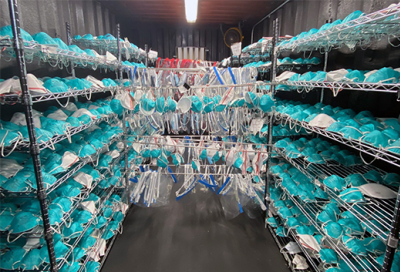 Some of the best news that has been shared during this crisis is that Battelle has developed a way to decontaminate those critical N95 masks we've been hearing so much about for their short supply. With the capability to treat more than 80,000 masks daily, the technology is already in use in Columbus with additional equipment being sent to hard-hit cities like New York, Seattle, Chicago and Washington, D.C. after being fast-tracked by the FDA.
In conjunction with The Ohio State University Wexner Medical Center, Battelle has also rolled out a new COVID-19 test that can deliver results in as little as five hours and allow for more than 200 tests to be processed per day. The hope is to get up to processing 1,000 per day in the near future.
Making Donations and Volunteering
As COVID-19 made its way to Ohio in mid-March, L Brands, parent company of Bath & Body Works, Victoria's Secret and Pink, immediately suspended all e-commerce operations for Victoria's Secret and Pink to make hand soaps and sanitizers from Bath & Body Works priority. Since then, it has been able to donate 500,000 bottles of soap to first responders and nonprofits through The Columbus Foundation. 
COhatch, an organization that provides co-working spaces, has launched COhatch Delivers!, in which team members spend their time helping high-risk individuals stay isolated. Their team of dedicated volunteers has been able to pick up groceries for seniors, deliver meals to families in need, create thank you cards and bake cookies for healthcare workers and donate meals to the staff at Nationwide Children's Hospital. 
If reading these stories has inspired you to find out how you can help too, check out some of the options we recommend!