Nothing works up an appetite quite like a winter day spent outside. Trekking through snow and icy temperatures can be daunting, but powdery vistas and tranquil footfalls make the experience worthwhile. The best part? Heading back to one of Columbus' many delicious dining options to reflect on your experience and refuel. Here is a list of suggested outdoor winter adventures and where to eat when you return to the city.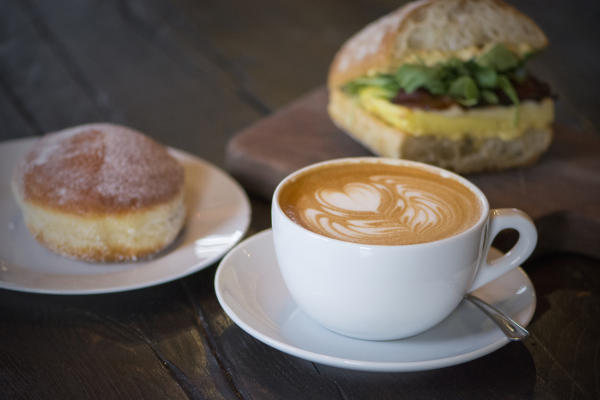 Highbanks Metro Park
Activities: Cross-country skiing, hiking, trail running, sledding, photography
Highbanks Metro Park is one of the most popular parks in the Columbus area, thanks to its location, challenging yet accessible terrain, and the assortment of activities that can be accommodated there. Gaze down at an icy Olentangy River from the Overlook Deck. After a snowfall, the Coyote Run Trail opens up to cross-country skiing and sledding. Tributaries that have cut into the bluff make for hilly hiking or trail running, while occasionally opening up to panoramic valley views. Opt to bring the camera or binoculars, as a variety of predatory birds scour the skies at this park, including bald eagles!
Bite: Fox in the Snow, various locations
Fuel up for a big day trekking through the woods with Fox in the Snow's famous egg sandwich: fluffy egg, spicy arugula, hearty bacon, and a slather of creamy mustard aioli between ciabatta. Be sure to arrive early so you can snag a table. This Italian Village neighborhood hotspot tends to fill up quickly, especially on the weekends. But the wait is worth it for the caffeine boost, perfect pastries and spunky service.
Clifton Gorge State Nature Preserve
Activities: hiking, photography
Tucked away in the town of Clifton, about 40 minutes from Columbus, sits the secluded Clifton Gorge State Nature Preserve. A short but scenic stroll offers two miles of trail along the Little Miami State Scenic River. Gaze down past the limestone walls from several viewpoints on the Rim Trail, or up at Amphitheater Falls from the Gorge Trail. Be prepared to climb stairs if you want to see the Gorge from above and below.
Bite: Wolf's Ridge Brewing, Discovery District
Hop from one ridge to another. Wolf's Ridge Brewing in Columbus' Discovery District features a seasonal menu, so a winter meal might look like farm-raised meats, hearty root vegetable stews and specialty Ohio charcuterie boards, all paired with house-brewed beer. The community-style seating in the front room provides an opportunity to share the adventures of your day with a neighbor, or cozy up in the back taproom if shareables and beer flights are more your style.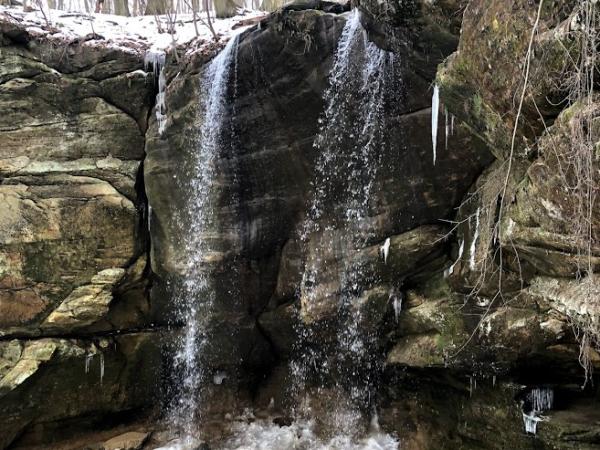 Mohican State Park
Activities: hiking, mountain biking, trail running, snowmobiling, photography
Traipse under icy waterfalls on the Lyons Falls Trail at Mohican State Park, an hour northeast of Columbus. This 2-mile loop takes hikers along the Clearfork-Mohican River and past two waterfalls that typically ice over in the winter. Once you reach the end of the Lyons Falls Trail, take the connector trail past the dam and across the river to the Pleasant Hill Trail. A flat stroll along the river will lead to the park's iconic covered bridge before dropping you back off at your car. Mohican State Park also has a 22-mile mountain biking trail through the Mohican Memorial State Forest. This trail can be ideal for trail running as it offers solitude and takes runners past all the park's hotspots.
Bite: Harvest Pizzeria, various locations
Warm up next to Harvest Pizzeria's wood-fired oven and sample their array of shareables, salads and crispy, crunchy, charred pizzas. A few of their modestly-proportioned but funky-flavored pizzas are ideal for a group. Try the Spicy Yuma, loaded with gouda, chorizo, corn, jalapeno and a chipotle tomato sauce; or veggie lovers might like the Mushroom, featuring a variety of fungi grown in Athens County. In fact, almost every vegetable or meat featured on the menu is sourced from local farmers.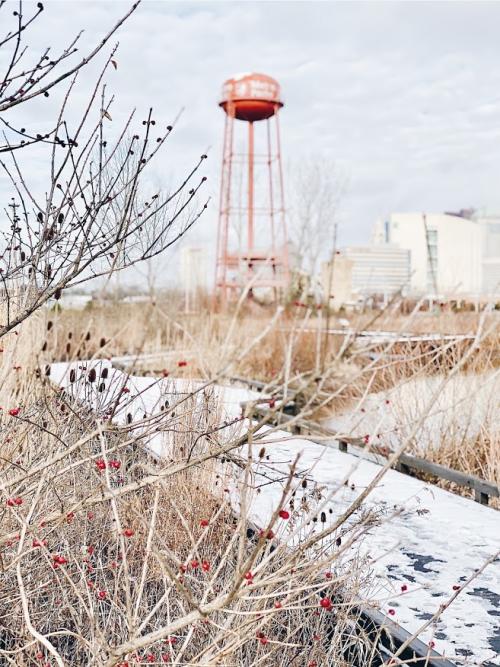 Scioto Audubon Metro Park
Activities: bird watching, obstacle course, rock climbing, hiking
Winter is one of the best times of year to spot wildlife, including our friends with feathers. Bird identification takes patience and practice, but stop into the Grange Audubon Center at the Scioto Audubon Metro Park for assistance on what birds are active nearby and where they can be spotted. Not only is this a good way to warm up, but the volunteers are a fount of knowledge and always welcome newbies. If you're looking for more intensity, test your athletic prowess on the obstacle course, featuring a rope net, balance beams, tire flip and log jump. This park is just south of Downtown so skyline views abound from every spot, especially the Metro Parks water tower.
Bite: Schmidt's Sausage House
Walk or ride your bike from Scioto Audubon to Schmidt's Sausage House in German Village. Schmidt's has been a Columbus staple since 1886, serving up authentic German bites accompanied by frequent live music. When you're finished, head across the street to The Red Stable, a quaint little barn in the heart of the neighborhood, to pick up Ohio-made gifts and trinkets to take home with you.