The Franklinton neighborhood, located on the west side of the Scioto River across from downtown Columbus, is growing and changing. The Franklinton Arts District focuses around the galleries, artist studios and maker spaces in the neighborhood, showcasing them the second Friday of every month at Franklinton Fridays. Whether you're looking for coffee or a hearty breakfast, lunch, a night out for dinner, or a place for drinks in between gallery visits, here's what you'll find in Franklinton!
Strongwater Food & Spirits: Strongwater is located in an old office and warehouse space on Town Street, open most days for lunch and dinner. The menu spans everything from arancini and grilled street corn to fried chicken, jackfruit tacos and mushroom risotto. Strongwater's menu easily adapts for vegetarian, vegan and gluten free diets.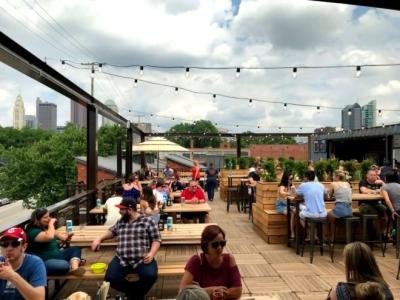 BrewDog: the Franklinton outpost of this Scottish brewery features a full kitchen serving pub fare like burgers, wings, tacos. Pair that with a huge selection of BrewDog beers, plus ground floor and rooftop patio spaces, and it's a favorite hangout.
Rehab Tavern: a neighborhood favorite bar, featuring beer and cocktails, bar snacks and paninis, live music and comedy nights.
Land-Grant Brewing & Ray Ray's Hog Pit: the collegiate-themed Land-Grant serves a wide selection of house-brewed beers, from their IPAs and brown ales to their rotating themed series and specialty collaboration beers. Bonus: a Ray Ray's Hog Pit truck is parked on-site to complement your beers with their signature brisket, jerk chicken, ribs, hot links and all the sides.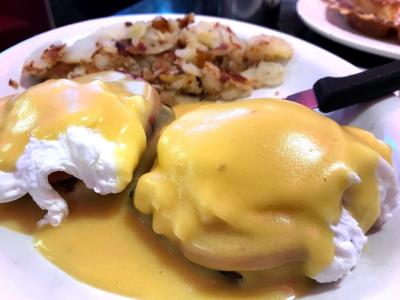 Tommy's Diner: the family-owned Tommy's Diner has been serving hearty breakfast and lunch to locals for more than 30 years. Stop by to say hi to Tommy, Kathy, Michael and the whole crew, while you dig into omelets, corned beef hash, gyros and meatloaf surrounded by classic diner décor.
Josie's Pizza: Josie's has been slinging pies on West Broad Street since 1959. Visit this family-run spot for pizzas, subs, sandwiches and snacks.
Red Door BBQ: offering slow-roasted barbecue from a carryout window, Red Door features daily specials like burnt ends, brisket, pulled pork, baby back ribs, wings, plus sides like beans, cole slaw, greens, mac & cheese and more.
Bottoms Up Coffee: Bottoms Up is a bakery and coffee shop serving overnight oats, empanadas and sandwiches – all with the purpose of providing support to families in the Franklinton neighborhood. They do this by offering diapers to families in need and hosting community events.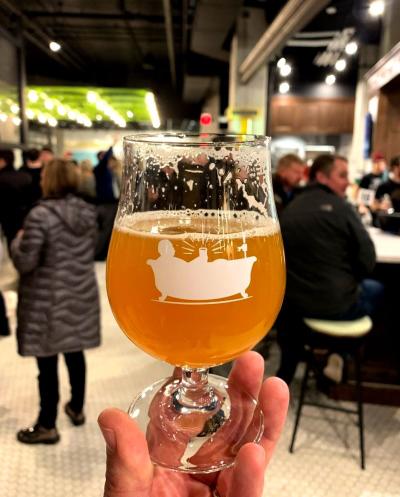 Taft's Brewporium: this Cincinnati transplant recently joined the Gravity development, with a spacious taproom for enjoying beer, games, New Haven style pizzas and plenty of creative bar snacks.
Roosevelt Coffeehouse: Roosevelt is a favorite hangout for espresso, a pour over, a cappuccino or a specialty latte. The shop serves coffee with a social purpose: profits from Roosevelt are used to support initiatives that fit human trafficking or raise money to alleviate poverty and provide clean drinking water.
*COMING SOON* One Line Coffee: One Line is set to add a third Columbus shop – joining stores in the Short North and on Capitol Square downtown – serving pour overs, espresso drinks and local snacks. Their new Franklinton shop will also offer expanded food and beverage menus.