This is part three of a three-part series exploring bleisure travel insights and their implications for Columbus travelers. You can read parts one and two here and here, respectively.
A 2018 Travelport study tells us that technology is a key part of the millennial bleisure experiences, with 44 percent saying a lack of immediately accessible travel information is a major pain point. Experiencecolumbus.com, named among the 25 best tourism sites in the world by Skift, has all the information needed to plan a fun-filled trip in one location. Once in the city, the recently launched, free Columbus2GO app makes it easy to find cool things nearby using just the phone's Bluetooth signal.
We've already curated suggestions for what to do with free time between meetings, so if limited on time this is an ideal place to check. However, we know from GBTA's study that bleisure travelers typically extend their trips for an average of three days, so we've put together a few ideas to help fill that time in the city that U.S. News & World Report called one of the "30 most fun places to live in the U.S."
Columbus' vibrant neighborhoods (University District, Short North Arts District, Arena District, Downtown and German Village) are collectively referred to as the "Five on High" since they sit on a five mile stretch of High Street, the city's main thoroughfare. They offer endless entertainment options with restaurants, bars, clubs, shops, galleries and more.
Ohio's capital city is home to many top-ranked, world-class attractions. Check out Shadowbox Live!, America's largest resident theater company or discover a wealth of Columbus-made products and locally owned businesses on the Made in Cbus Trail. Feed a giraffe its lunch at "Jungle" Jack Hanna's home zoo, the Columbus Zoo and Aquarium. Get hands-on at COSI, home to the first-of-its-kind American Museum of Natural History Dinosaur Gallery. Check out Franklin Park Conservatory and Botanical Gardens, the only botanical garden in the world with a permanent collection of glass artwork by Dale Chihuly. The National Veterans Memorial & Museum will open in late-2018 and will be the only place where the stories of our veterans, their families and the Fallen – across all branches of service and all eras of conflict – will be told together.
Associations Now tells us that bleisure is even inspiring fashion in that travelers need versatile clothing that work in both business and casual settings. Fashion-forward Columbus is the perfect place to shop for this look, as it has the third-highest concentration of fashion designers in the country, behind New York and Los Angeles. Hit up the Short North's eclectic boutiques or check out Easton, dubbed the "Rodeo Drive of the Midwest" by USA Today.
Columbus is a foodie force to be reckoned with and has consistently been gaining national recognition in recent years. Explore the booming beer and coffee scenes by traversing the easily navigable Columbus Ale Trail and Columbus Coffee Trail. Or, take on the city's delicacies with Columbus Food Adventures or Columbus Brew Adventures.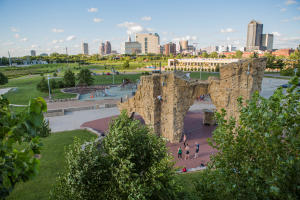 For outdoor adventures, the country's largest free outdoor climbing wall is accessible by taking paths along downtown's Scioto Mile, at the Scioto Audubon Metro Park. More than 100 public and private golf courses, including three ranked among the top 100 in the world, led Golf Magazine to declare Columbus the number two golf city in the country.
When considering even just this small sampling of ideas, it's clear that there is something for every bleisure traveler interested in experiencing all that Columbus has to offer.